You need to know about the world's most advanced surveillance state
In Xinjiang, a four-hour flight from Beijing, a nightmare is unfolding. China is organizing what is easily the world's most sophisticated persecution campaign.
The remote western region is home to a Muslim ethnic minority called the Uighurs. China has accused them of forming separatist groups and fueling terrorism. Since last year, thousands of Uighurs and other ethnic minorities have disappeared into what the state calls "political education centers."
Their apparent offenses? Using Western social media apps or studying abroad in Muslim countries, according to relatives of those detained.
In Xinjiang, growing a beard can get you reported to the police. So can naming your child Muhammad.
Here's the thing: That's only the what of the story. The how is also deeply terrifying.
The 21st-century surveillance state
There's the human policing: In Xinjiang, driving or taking a bus to a neighboring town, you'd hit checkpoints where armed police officers might search your phone for banned apps like Facebook or Twitter. They might scroll through your text messages to see if you've used any religious language.
Then there's the technology: China's government has invested heavily in top-of-the-line surveillance tech in the region, from facial recognition cameras at petrol stations to drones that patrol the border.
All the data is catalogued in a database that's then used to identify potential threats.
One human rights advocate put it quite succinctly: "It's an open prison."
But it goes further than that
The state is pressuring Uighurs who are abroad to spy on fellow exiles. How do they convince them? With the threat of sending family members to the secretive reeducation camps.
China is also offering free physical exams in Xinjiang — to gather and store biological data from millions of people. The data ranges from DNA samples to iris scans.
As our reporter writes, "It's a corner of the country that has become a window into the possible dystopian future of surveillance technology, wielded by states like China that have both the capital and the political will to monitor — and repress — minority groups."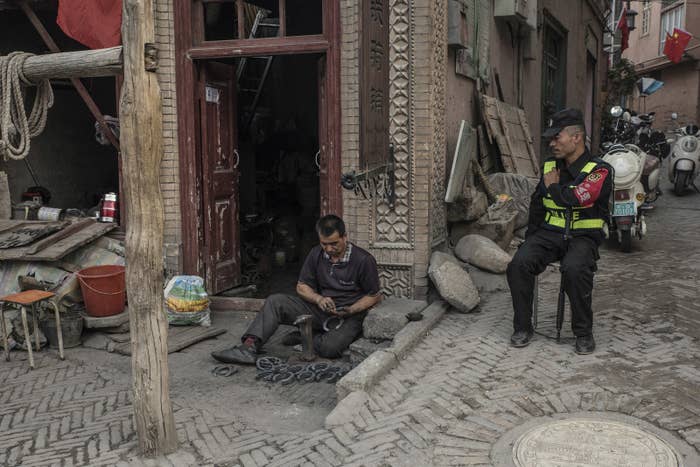 SNAPSHOTS
Famed actor and 1970s sex symbol Burt Reynolds died at age 82. No cause of death was immediately released; the actor's family said that, while he had been dealing with health issues, "this was totally unexpected." Few names are more synonymous with the 1970s than Reynolds, yet few actors have been able to stay relevant for as long a time as he did.
The bows at the end of Frozen on Broadway were interrupted by a man raising a Trump banner — so the Troll King snatched it. Timothy Hughes, who plays the Troll King, grabbed the flag and posted video of the incident on his social media with a caption asking, "How frightening is it that our show's messages of love, acceptance, and diversity have become the opposition to supporting Trump?"
Police raided the home of the couple who raised $400,000 for a homeless man after accusations they mishandled the money. Johnny Bobbitt said he never received the full amount raised for him by Kate McClure and Mark D'Amico. A judge ordered the couple to place the remaining funds in an escrow account. But Bobbitt's lawyer told ABC News the money is gone.
A young anti-gun activist was shot and killed walking to the store. Delmonte Johnson was on the sidewalk in Chicago when someone pulled up in a tan car and fired shots, striking him multiple times in the chest and stomach. He was a member of Good Kids Mad City, an advocacy group founded in the wake of the Parkland school shooting.
Twitter permanently suspended the accounts of Infowars and its founder, Alex Jones. After weeks of equivocation, the decision followed a series of provocations from Jones that Twitter deemed in violation of its "abusive behavior" rules. While many of Silicon Valley's largest platforms moved quickly last month to remove Jones' content, Twitter had allowed him to remain.
A doctor ended up working with a nurse who cared for him 30 years ago as a preemie. The heartwarming reunion was originally shared on the California hospital's Facebook page, where it went viral because, well, it will probably make your day.
Some thoughtful reads to spend the weekend with
Most of us have collected wisdom from places people would least expect. In a tender and moving essay, Ingrid Rojas Contreras tells of the lessons she learned from her mother, who was a psychic for a living. Contreras describes how her mother's teachings about the art of divination gave her the skills she needed to become a writer: "Good divination is the art of a good story… Nobody wants the truth, but everyone wants a story."
I've never done needlework, but after reading this delightful contribution from Kate Atkinson(!), I'm certainly thinking about it. Atkinson writes of a time in her life when she threw all of her creativity into needlework, and she describes it with magnetic romance. From the piece: "A labor of love, literally. It took weeks — flowers, birds, and butterflies in every stitch known to woman. 'Er, thanks,' he said when presented with it, because, let's face it, no man has ever considered a hand-embroidered cushion cover to be at the top of his gift list."
This week, Nike unveiled Colin Kaepernick as the face of its new campaign. Some people inexplicably burned their Nike products in protest of this decision. Hanif Abdurraqib wrote a thought-provoking piece on why the endorsement rings hollow. Here's a taste: "The belief that Colin Kaepernick is controversial exists only because we are in a country where iconography can be valued more than the people living under it. What he's asking for isn't particularly uncommon, though the actions he's taken (both in protest and in donation of time and money) are ... the campaign feels like a performance to appeal to Colin Kaepernick as merely a controversy machine."
Carve out time to think about what makes you proud of yourself today,
Elamin
This letter was edited and brought to you by Elamin Abdelmahmoud and BuzzFeed News. You can always reach us here.
For the latest news and updates, download the BuzzFeed News app for iOS and Android (available in Canadian, UK, Australian, and US app stores).