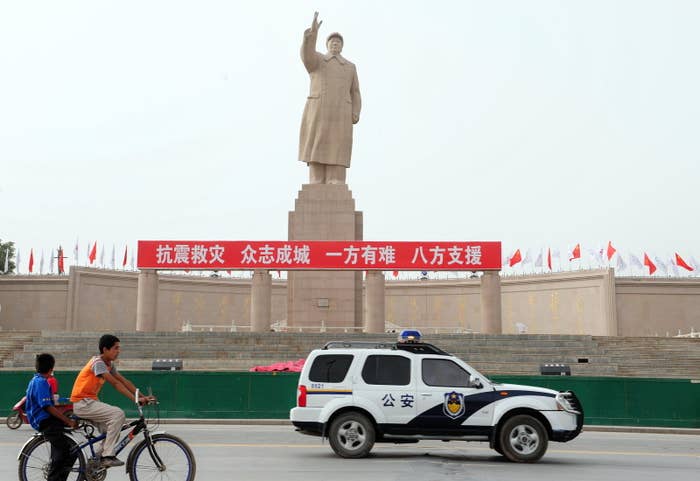 From DNA samples to iris scans, Chinese authorities are using free physical exams to gather and store biological data from millions of people who live in the country's far west region of Xinjiang, Human Rights Watch said on Wednesday, citing an official document that suggests the government's surveillance program in the region is even wider than previously believed.
Xinjiang, the historical home of the Uighur ethnic group, has become a testing ground for heavy-handed, high-tech surveillance measures by the government over the past year. China says the measures are necessary to combat extremist violence, but critics say they violate the basic privacy rights of millions of people, particularly ethnic minorities.
Human Rights Watch added it's not clear whether those who take the physical exams realize their personal information is being recorded and stored.
Everyone who lives in the Muslim-majority Xinjiang, and is between the ages of 12 and 65, is being targeted for their biometrics, says the document, which was posted on the website of a local government located in the region. But for those deemed to be threatening the stability of the government and their families — a broad category that could include people who criticize the government or engage in religious practices — the data is being collected regardless of age. It's unclear what period of time the program spans, though the document appears to have been circulated in July.
Authorities are making house calls to collect the data and setting up "collection points" in the region, the document says. The DNA information is sent to police for "profiling," it adds, saying the program's goal is to verify the size of the region's population.
It's clear, though, that China's leadership sees the collection of DNA as key to security in the region. In August, Meng Jianzhu, the country's top domestic security official, specifically called for the use of a DNA database to maintain stability there.
Some of the data is being collected through a free health examination program called Physicals For All, which the government says is voluntary. Human Rights Watch found, however, that some Uighurs reported being compelled to participate.
The new report comes after BuzzFeed News reporting found that the government has poured billions of renminbi into surveillance technology, from facial recognition cameras to iris scans. The government has also implemented heavy policing by officers who check residents' social media activities and apps they have on their phones.