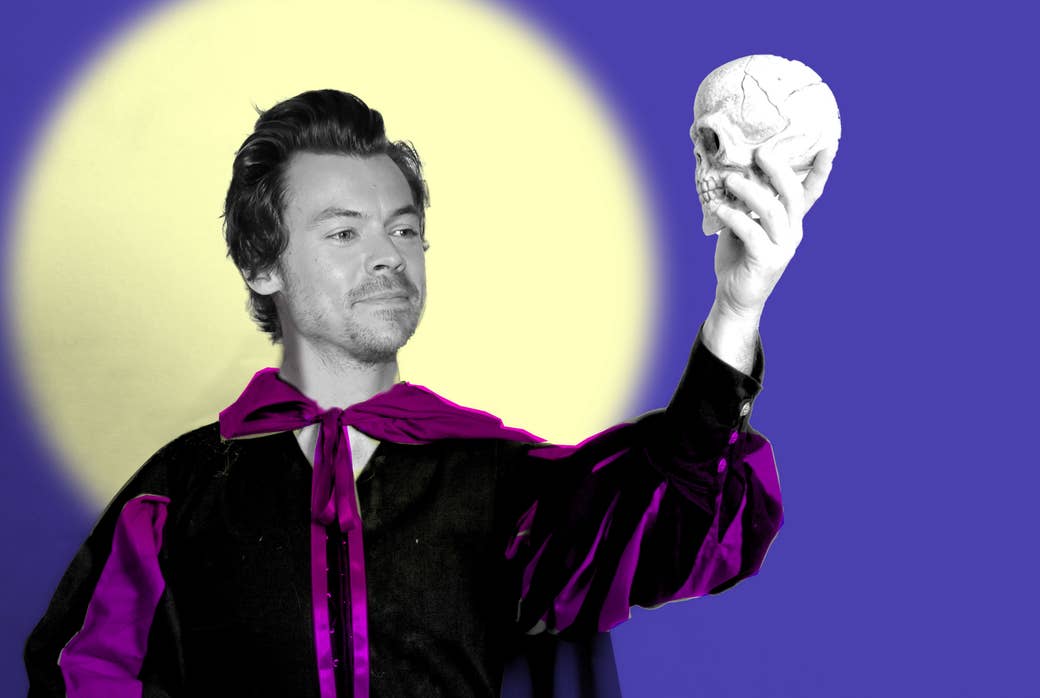 This week, Harry Styles's massive hit "As It Was" managed an astonishing 14th week at No. 1. The result means the effervescent tune, from his third album, Harry's House, is now tied for the fourth-longest reign atop the Billboard Hot 100. If it manages to hold on for two more weeks, it'll be tied for second-longest. (Lil Nas X's "Old Town Road" is still No. 1, with 19 weeks.) By all measures, it's a runaway smash.
I kept thinking of this dominant run as I sat down for a screening of My Policeman at the Toronto International Film Festival last week. Styles stars as the titular police officer in a period drama that flits back and forth between the '50s and the '90s to reveal how its characters have been forever altered by a love triangle. Not exactly the kind of movie that usually sells out screenings at TIFF, especially at one of the festival's larger venues. But there we were, a full house, with an unmistakable giddiness vibrating through the audience as the lights dimmed and the movie began. How is an audience's experience of a film changed by the knowledge that its lead actor is currently perched atop the pop charts?
Styles is, of course, not the first singer turned actor to put out a movie while having a successful song — Jennifer Lopez was at the top of the box office and the album charts at the same time in 2001 with The Wedding Planner and J.Lo, and Eminem pulled off the same feat in 2002 with 8 Mile and "Lose Yourself." Like Lopez and Eminem, Styles's acting turn is earnest — at least judging by the press he's been doing. He told Rolling Stone that he was drawn to My Policeman because "it's about love and about wasted time to me." But unlike Lopez, whose acting career predates her music career, or Eminem, whose big acting role benefitted from being from a movie based on his own life, the Styles pivot feels forced and inorganic. This isn't helped much by the fact that Styles himself is a poor actor.
My Policeman is not good. The film never gets out of first gear and remains subdued, not skillfully holding tension like some movies. But even still, Styles is unambiguously the weakest part of a janky and uneven film. Save for a single scene that relies on his natural charisma and playfulness, he is largely unconvincing as a closeted police officer and stiff as a performer. For much of the first act, you can practically feel him figuring out what acting is in real time. Unfortunately for Styles, My Policeman is not the only film he is starring in at the moment — this week, the much-maligned Don't Worry Darling arrives in theaters, but ahead of its release there has been thorough documentation of just how bad Styles is in it.
Whereas Styles's first acting role didn't demand much of him — he was praised for a brief and mostly silent performance in Christopher Nolan's 2017 film Dunkirk — its follow-ups seem to demand more from him than he is capable of. It's not uncommon for pop stars to try their hand at acting, or even put in exceptional performances. Lady Gaga earned a Best Actress nomination for A Star Is Born. But because of Styles's dearth of talent, it occasionally feels contrived, like a play at pop star omnipresence.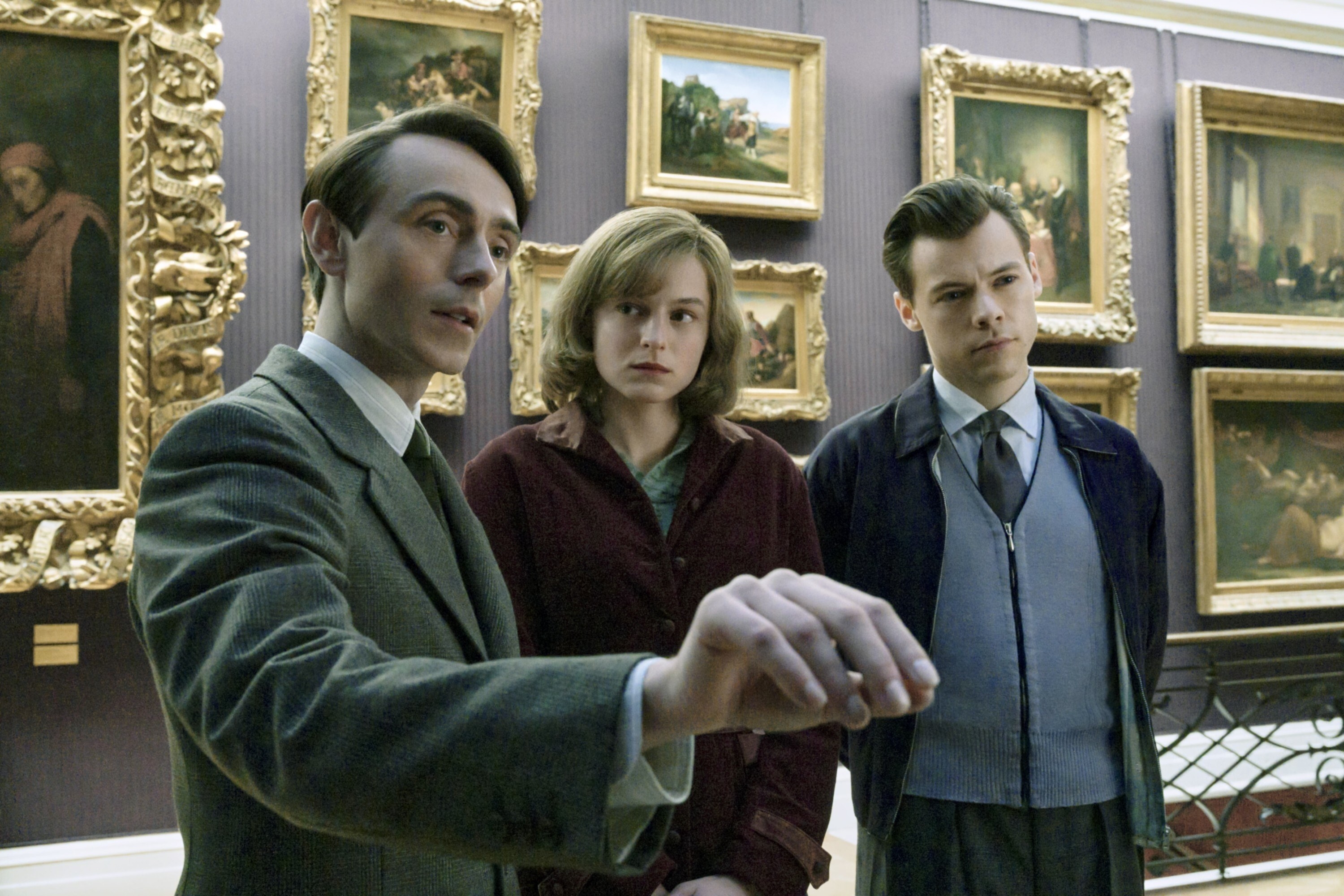 Styles plays Tom, a simple beat cop who begins an awkward courtship with Marion (Emma Corrin), a teacher who is frustrated that their relationship isn't moving forward fast enough. When Tom introduces her to Patrick (David Dawson), a museum curator with refined taste, the three form a close bond that is later threatened when Marion discovers that Tom and Patrick's relationship is far more intimate than she first thought.
In the scenes set in the '90s, we discover that Tom and Marion (Linus Roache and Gina McKee) are still together in their retirement, but when Marion brings home a now-ill Patrick (Rupert Everett), the dissolution of the past triad comes back to haunt all three.
Michael Grandage's film, an adaptation of the 2012 novel by Bethan Roberts, depends highly on the connection between past and present: You need to believe the characters in the '90s are marked, and perhaps tortured, by the events of the past. Regrettably, the film's primary device for getting this across is via long lingering glances and shots of a lovely beach. There's little believable continuity between the younger and older versions of the characters. My Policeman is not a failure of a film — it just doesn't amount to much.
But Styles's involvement in the film is definitely of interest. It was Styles who sought out the role — Rolling Stone reported that he read the script and requested a meeting with Grandage ("Styles showed up with every line memorized," the story notes). While plenty of straight or straight-passing actors have played gay characters before, with Styles the move has the added dimension of potentially telegraphing something about the singer's celebrity, too: Those unfamiliar might perhaps find themselves surprised by the depth of the conspiracy theory that Harry Styles has long been in a relationship with his former bandmate Louis Tomlinson (ship name: Larry Stylinson).
His My Policeman role collides rather too neatly with the insistent discourse of whether Styles is queerbaiting. In the same Rolling Stone profile, he is tastefully opaque: "I think everyone, including myself, has your own journey with figuring out sexuality and getting more comfortable with it." Styles doesn't owe the public his sexual orientation, but he has quietly turned the relationship speculation into a bit of theater. (On speculations about his relationship with his Don't Worry Darling director Olivia Wilde, he simply noted, "I don't think I've publicly been with anyone.") For this to be only his third film, pursuing the part of a character who chooses to hide his sexuality with a straight-presenting relationship is rather on the nose. As Alison Willmore noted in Vulture, My Policeman "feels like it's part of a larger calculation intended to drive the remnants of a certain obsessive swath of his fanbase out of their gourds."
In 2015, WikiLeaks published troves of internal documents from various major corporations, including Sony Records. Among them was a presentation deck on how each member of One Direction should be marketed. Liam Payne's personality should be "sensible" and "caring," while Zayn Malik should be positioned as "vulnerable" and "a player."
For now, Styles's acting career does not seem to be coming to an end any time soon.

The story didn't make many headlines beyond the One Direction fandom, which was naturally incensed about being so nakedly played. But nearly a decade later, what is most striking about that marketing plan was how closely Styles seems to have stuck to it. Sony thought his personality should be "cheeky" and "beautiful" and "adorably slow," and Styles's celebrity has long maintained an off-the-cuffness, like he can't believe he's famous either, mixed with light mischievousness.
It occurred to me in the theater, watching My Policeman, that for many people in the audience, his acting abilities are completely beyond the point: It does not seem to matter much that Harry is not any good at this. It matters much more that he is participating. When Styles's Tom receives oral sex from a man in My Policeman, the audience's giggles and whoops did not match the tone of the film — instead, it felt like viewing a celebrity you know well, fulfilling a crucial part of their mythology onscreen. My Policeman felt like an extension of Styles's lore rather than an honest attempt at capturing a moving story.
For now, Styles's acting career does not seem to be coming to an end any time soon. He has been cast in the Marvel Cinematic Universe as Eros, the cheeky and beautiful brother of the MCU's former big bad, Thanos. He is also reportedly in talks to join a Christopher Nolan project. There may well be a successful acting future for Styles at some point. If there is, one hopes it goes a step further beyond the whiff of Doing It For The Brand. ●