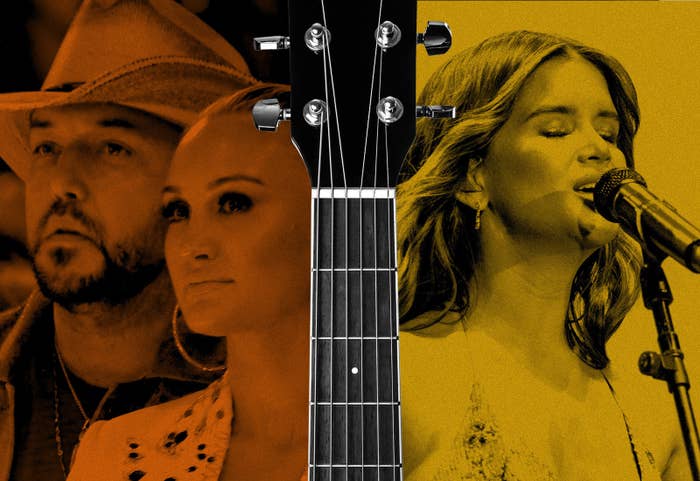 It's not often that country music news breaks out of publications focused on the genre, but the last two weeks have been an exception.
It all began when Brittany Aldean, fashion entrepreneur and wife of country music giant Jason Aldean, posted a makeup transformation video on Instagram with the caption, "I'd really like to thank my parents for not changing my gender when I went through my tomboy phase. I love this girly life."
Singer Cassadee Pope responded on social media. "You'd think celebs with beauty brands would see the positives in including LGBTQ+ people in their messaging," she wrote. "But instead here we are, hearing someone compare their 'tomboy phase' to someone wanting to transition." Then, Aldean doubled down on the false equivalency and wrote on Instagram that "advocating for the genital mutilation of children under the guise of love and calling it 'gender affirming care' is one of the worst evils." Aldean was echoing a common conservative anti-trans talking point criticizing parents who seek transitioning and other gender-affirming care for their trans children.
The social media-based argument escalated after Grammy-winning superstar Maren Morris joined in, commenting on Pope's tweet that "it's so easy to…not be a scumbag human? Sell your clip-ins and zip it, Insurrection Barbie," pointing out the Aldeans' long-standing support of Donald Trump. In reply, Aldean, who runs a conservative fashion line with slogans like "Alexa, change the president," launched "Barbie-inspired" clothing that reads "Don't Tread on Our Kids."
Ideologues quickly latched on. First, right-wing provocateur Candace Owens came after Morris. Then, Jason Aldean's PR agency dropped him, reportedly over his wife's comments (though they carefully noted in their parting statement that they will always be "fans of his music"), which made Sen. Ted Cruz get involved and ask if the agency was "OK with the genital mutilation of children?" Finally, earlier this week, Aldean went on Tucker Carlson's show, and the Fox News host called Morris a "lunatic country music person." He also called for her to be kicked out of country music. Morris immediately started selling shirts with the phrase "Lunatic Country Music Person," with the proceeds going to a trans youth organization. She has already raised more than $100,000.
This feud may be high profile, but for those keeping track, it is just the latest turn in a long-standing battle over country music and who it belongs to. And yes, the anti-trans people and racists and their supporters still have a lot of power. That's hardly news. But the good news is the people pushing country to become more progressive are transforming the space, and it's working even if country radio mainstays would rather it not.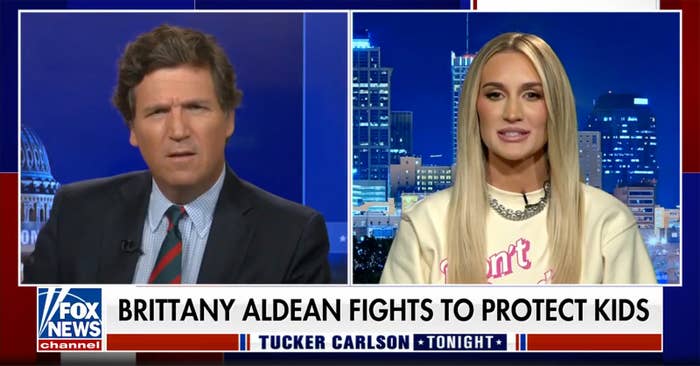 In nearly every other genre, radio is an add-on. In country music, it's the most reliable gateway to superstardom. And country radio has traditionally been corporate, conservative, straight, white, and dominated by men. The radio institution holds considerable sway over whose voices are in fact elevated.
But even as radio remains king in Nashville, it is losing its exclusive grip on how country artists find audiences. Thanks to streaming, radio is no longer the only ticket to stardom — and country radio is worried about losing its monolith status. As streaming brings younger audiences, the backward values that have long reigned in the genre don't look so sturdy anymore.
As streaming brings younger audiences, the backward values that have long reigned in the genre don't look so sturdy anymore.
It's possible, if you have not been paying attention to country music, to be surprised that the genre is filled with artists willing to support gay rights or condemn anti-trans views and racist remarks. Many people find comfort in the myth of country as a stagnant, outdated genre. But this hasn't cohered with reality for some time.
Maybe you think, sure, Kacey Musgraves has had a lot of success with queer audiences, but isn't that new? Musgraves's relationship with queer audiences goes back at least as far as the drag queen listening party for her 2015 album Pageant Material, or even her 2013 single "Follow Your Arrow."
When "Follow Your Arrow" won Song of the Year at the 2014 Country Music Association Awards, cowriter Brandy Clark became the first openly gay country artist to win a CMA (Shane McAnally, the song's other cowriter, is also gay). But since then, things have accelerated. Last year, TJ Osborne — one half of the CMA-winning duo Brothers Osborne, came out in an interview with Time magazine, becoming the only openly gay artist signed to a major country label. The same year, when singer Brooke Eden sang with country legend Trisha Yearwood at the Grand Ole Opry stage, Yearwood sweetly changed the words for her hit "She's in Love With the Boy" to reflect Eden's relationship with a woman. In 2020, the fringe-masked Orville Peck, who is gay, released a duet with none other than Shania Twain.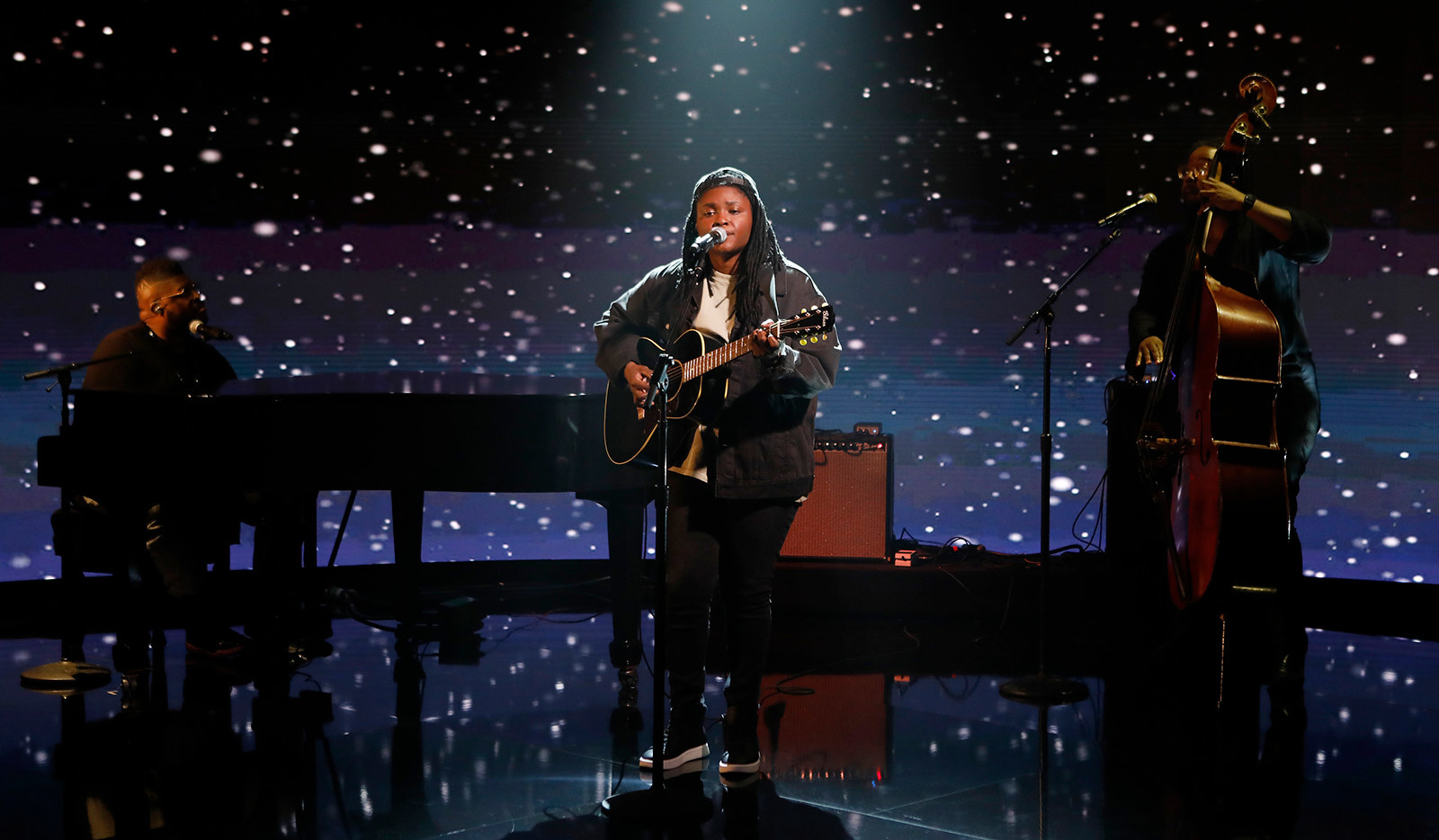 In other words, while it may not be frequent, mainstream country music support for queer artists is no longer a rare event, either. And this push has created space for a new generation of extraordinary queer country artists who are remaking the genre in their image. Joy Oladokun has written devastating songs about coming out to her church. D'orjay the Singing Shaman meditated on her place in the genre, asking, "I love country music / Will country music love me?" Harper Grae has explored similar themes in her music.
It's important to note that while these artists are reaching new audiences and finding plenty of success — Oladokun was nominated for Emerging Act of the Year at the 2021 Americana Awards, and has performed on The Tonight Show and The Late Show — they have done so without the help of country radio.
It's been heartening to see the growth of country music media spaces run by people other than straight white men.
As a result, a fractured and divided view of the genre is emerging: From the inside, the traditionalists hold the power. For everyone else, joyous and inclusive country music has become the norm. Country music has become more diverse, more queer, less white, less male than ever, and there is so much to celebrate. Shania Twain wants you to know that "Man! I Feel Like a Woman" is for "everybody."
I don't want to overstate the nascent and growing change in country music. It was so disappointing to see the CMA nominations come out this week, only to discover that only one Black artist, Breland, has a nomination while powerhouses like Mickey Guyton and Brittney Spencer were overlooked. Meanwhile, Morgan Wallen, who was caught on video drunkenly shouting the n-word in 2021, appears to have been reinstated to his perch at the top of the genre, nominated for the prestigious Entertainer of the Year award. CMA nominations are decided by people in the country music industry, many of whom are beholden to country radio and its power, and that ecosystem will not change overnight. Kacey Musgraves sold millions of records and won the Album of the Year Grammy without much support from country radio, but for now she remains the exception.
It is not a surprise, then, that Brittany Aldean was nodding along as Tucker Carlson suggested that Maren Morris be kicked out of country radio. Outside of country, it seems an almost retrograde call to action. In the context of country, it's effectively calling for the country establishment to severely punish Morris, who has had three No. 1s and is one of relatively few women who get consistent radio play.
But the big difference is that we no longer have to treat country radio as the only arbiter of what matters. It's been heartening to see the growth of country music media spaces run by people other than straight white men, including Apple Music Country's Proud Radio hosted by Hunter Kelly and Record Bin Radio hosted by Kelly McCartney. The organization Black Opry has made its mission to support Black artists and audiences in country and Americana music. Music blog Country Queer has been extensively covering LGBTQ artists in country for years. Meanwhile, Marissa Moss painstakingly chronicled how women fought for their place in the genre in her new book Her Country.
It's easy to take the old story of country music at face value. It's also the lazy thing to do. Respected and well-known artists like Maren Morris are pushing back against anti-trans sentiments, and that is just the tip of the iceberg. Underneath it, a shift is underway to wrestle country music out of the hands of the toxic traditionalists. Yes, the gatekeepers still have the microphone. But some of us have left the room, because we want to hear ourselves, too.●