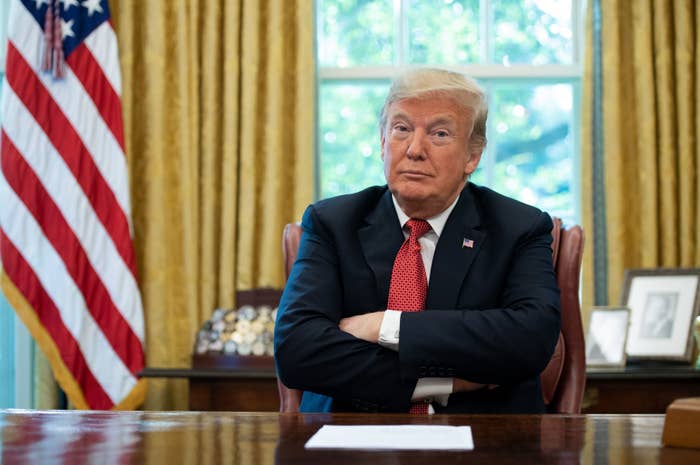 When the Trump administration issued a directive in August that expanded a "religious exemption" for federal contractors who are accused of discrimination, activists feared the worst. The policy was essentially legal guidance, but it targeted LGBT rights specifically.
Now their fears have escalated.
The Trump administration is currently planning to create a formal religious-liberty regulation for businesses with federal contracts, which would create a loophole in an Obama administration policy protecting LGBT workers, according to several people familiar with the Labor Department's plans who spoke to BuzzFeed News. Unlike the August directive, a regulation would carry more legal force and is tremendously difficult to undo.
It is unclear if the regulation will limit its scope to strictly religious corporations — for instance, a Jewish charity with a federal contract. The directive refers to the Supreme Court's decisions in Hobby Lobby and Masterpiece Cakeshop, which concerned closely held, for-profit businesses with religious owners, not religious corporations.

On Wednesday, the Office of Management and Budget confirmed on its website that the Labor Department "plans to update its regulations to comply with current law regarding protections for religion-exercising organizations." A Labor Department spokesperson said the draft text is not available but is expected to be released in December. The spokesperson did not respond to questions about what qualified as a religious-exercising organization under the proposal.

LGBT advocates are horrified that such a policy, which builds on the same logic as August's directive, could cement legalized discrimination.
"We just should not be going down the path of permitting discrimination with government funds, and there's no reason to open up this can of worms," Sarah Warbelow, legal director of the LGBT advocacy group Human Rights Campaign, told BuzzFeed News.
Courts generally give more deference to the federal government's regulations, since they go through a rulemaking process that can take a year or more. And reversing those rules can require an equally long procedure, and possible lawsuits, all but ensuring that the next administration would be stuck with the same policy.
Sen. James Lankford of Oklahoma, a Christian Republican, has pushed for the regulation, saying there are fresh questions about the rights of contractors in light of recent court decisions and White House policies.
"I look forward to seeing the proposed rule from the Department of Labor through a normal, transparent rule-making process," Lankford told BuzzFeed News this week.
Warbelow met this month with Craig Leen, acting director of the Labor Department's Office of Federal Contract Compliance Programs (OFCCP). The division enforces rules designed to prevent contractors from discriminating against their workers, including Obama's 2014 LGBT-rights order.
Leen said the regulation was forthcoming, Warbelow said, but he didn't share a timeline. The Trump administration also said it anticipated rulemaking on this front in its August directive.
Ian Thompson, a legislative representative at the ACLU, told BuzzFeed News the Labor Department confirmed it plans to move forward with a regulation on religious liberty for contractors. "A formal regulation could serve to further entrench the position that engaging in taxpayer-funded discrimination against LGBTQ people can be permissible as long as it is framed as 'religious liberty,'" he said. "We made clear that taxpayer-funded discrimination against LGBTQ people is unacceptable."
But Warbelow said she got the impression the regulation may not just bolster anti-LGBT discrimination — a goal embraced by the evangelical right — but also allow religious contractors to discriminate against people of other faiths and women who fail to meet gender norms.
"No one should be afraid they could be fired at any moment if their employer gets clearance from OFCCP to do so," Warbelow said.
The Labor Department did not answer questions from BuzzFeed News about the forthcoming regulation. But Warbelow and Thompson said Leen indicated the draft rule will be based on the directive, which builds on decades of existing policy.
After President Lyndon B. Johnson banned discrimination by federal contractors by executive order in 1965, President George W. Bush added a narrow religious exemption. Bush's amendment lets religious corporations make employment decisions based on their faith — like Catholic charities hiring only fellow Catholics.
President Obama expanded Johnson's underlying nondiscrimination order to also protect LGBT people working for federal contractors in 2014, but he left Bush's narrow exemption in place.
Now the Labor Department contends that two new executive orders from Trump and three Supreme Court rulings have shifted the circumstances in which a contractor can discriminate in the name of religion. (BuzzFeed News has previously reported additional details on the directive, the cases, and the Trump orders.) But none of the Supreme Court cases cited by the Labor Department in its directive actually concern employment discrimination.
How does the Labor Department think those Supreme Court rulings apply to contractors making employment decisions? A department spokesperson didn't answer. The Labor Department also did not explain the circumstances in which a religious exemption may apply.
For Lankford's part, he said, "While the exemption was put into place by President Bush and maintained by President Obama, there have been interpretation questions."
Although the Labor Department hasn't revealed the text of the regulation, the exact wording may not influence how broadly the Trump administration chooses to apply it.
As long as a religious liberty regulation exists, a defendant can cite it, and enforcement officials can say to grant the exemption — even absent any actual law or court ruling saying they must.
Ambiguity in religious liberty laws, policy, and litigation has been inherent to the evangelical right's strategy; vague laws occasionally result in favorable interpretations by courts. For instance, the Religious Freedom Restoration Act was applied to say that Hobby Lobby could deny contraception coverage.
But now that conservatives control the executive branch and, thus, run the offices that deal with civil rights complaints, they can apply religious exemptions as broadly as they like.
Indeed, Attorney General Jeff Sessions asserted in a 2017 guidance memo, "Religious employers are entitled to employ only persons whose beliefs and conduct are consistent with the employers' religious precepts."
"As a general matter," Sessions added, "the federal government may not condition receipt of a federal grant or contract on the effective relinquishment of a religious organization's hiring exemptions or attributes of its religious character."
The Labor Department did not answer repeated requests from BuzzFeed News about why the religious liberty regulation was needed and whether officials believe that employers should be allowed to discriminate against workers. An agency spokesperson first sent a prepared statement about past policies — not the forthcoming religious liberty policy. When BuzzFeed News pressed again for information about the regulation, the spokesperson sent another statement about policies from decades before. Asked how they had any bearing on a new regulation, the Labor Department spokesperson didn't answer.