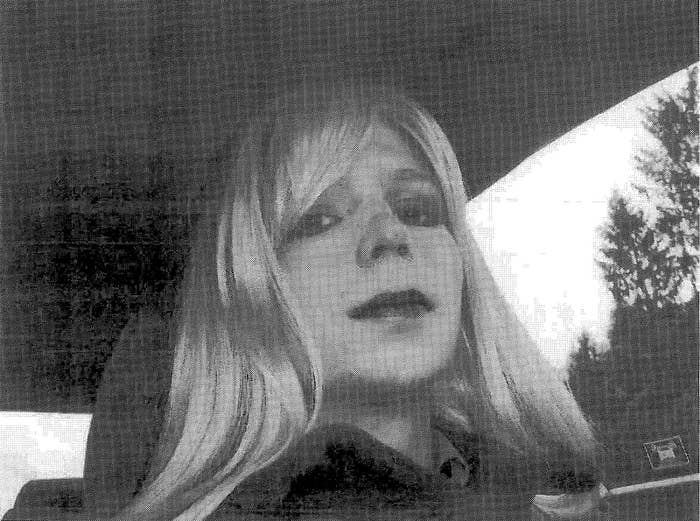 President Obama on Tuesday commuted the sentence of Chelsea Manning, an Army intelligence analyst arrested in 2010 and sentenced to 35 years in prison for leaking hundreds of thousands of military documents.
Manning was convicted of violating the Espionage Act in 2013 by a military court and served seven years of her sentence. She will now be released on May 17, the White House announced.
Manning, arrested as Pfc. Bradley Manning, was accused of leaking more than 700,000 documents to WikiLeaks in what became the biggest breach of classified information of US national security history.
Among the records and cables that Manning released through WikiLeaks, one video showed US forces executing an airstrike in Iraq that killed two Reuters journalists and at least 16 more civilians. Incident reports, and the names of local residents who cooperated with the US military and thousands of State Department from around the world, were also released.
Manning had access to the information an intelligence analyst in southern Baghdad, and famously labeled CDs holding thousands of the nation's top secrets as Lady Gaga's music to sneak the information out of country.

Manning was convicted in a military court of six violations of the Espionage Act as well as 14 others offenses. Immediately after receiving a 35-year sentence and a dishonorable discharge, Manning said she would be known in prison as Chelsea Elizabeth Manning.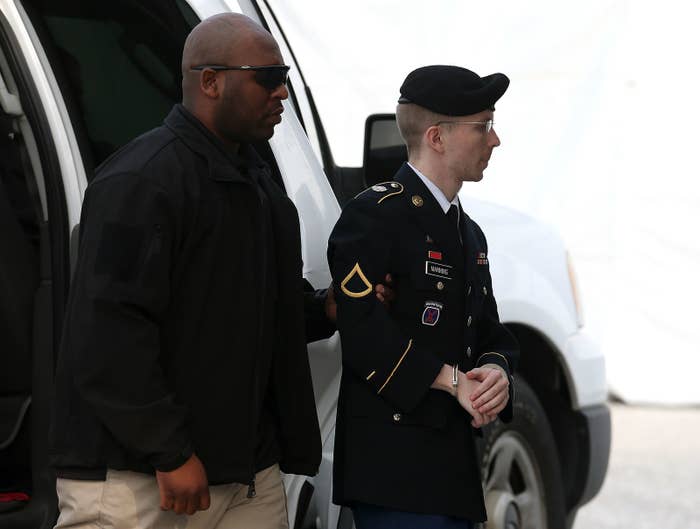 The Obama administration's decision to commute Manning angered many in the military, who believe she compromised US national security while more than 100,000 troops were deployed in Iraq and Afghanistan. Moreover, many were surprised by the move, which had provoked an angry reaction by the administration at the time of the leak.
"The president continues to believe [Manning's] actions were criminal and not good for the country" a White House official said Tuesday, but noted Manning had expressed remorse and regret, which was a factor in Obama's decision.

"There were steps the United States had to take to mitigate the damage" from Manning's leaks, the official said.
A lawyer for Julian Assange, the founder of WikiLeaks, said Assange welcomed the commutation and added that Manning should never have been prosecuted.
"She should be released immediately. Likewise, publishers of truthful information serve the public interest, promote democracy, and should not be prosecute," attorney Barry Pollack said in a statement.
WikiLeaks had last week tweeted that if Obama granted Manning clemency, Assange would agree to be extradited to the US. On Tuesday, Pollack said whether the US would seek extradition of Assange remained unclear.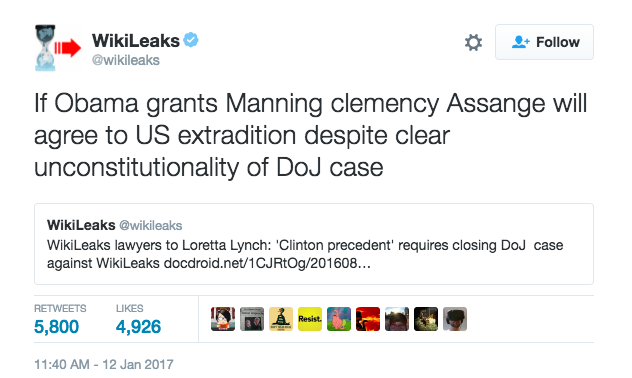 "For many months, I have asked the DOJ to clarify Mr. Assange's status. I hope it will soon," he said. "The Department of Justice should not pursue any charges against Mr. Assange based on his publication of truthful information and should close its criminal investigation of him immediately."
In addition to Manning's commutation, Obama shortened the sentences of 206 other people, including a pardon for retired Marine Gen. James "Hoss" Cartwright, who was charged with making false statements during an investigation into leaked classified information. In addition, Obama commuted two death sentences to sentences of life in prison: Arboleda Ortiz, sentenced to death in 2000 for a drug-related murder, and Dwight Loving, sentenced to death following a court martial for two murders committed in 1988 while he was stationed at Fort Hood in Texas.
Cartwright had been on the short list to become the Chairman of the Joint Chiefs of Staff when, in 2013, he became the target of a leak investigation after David Sanger, a New York Times reporter, wrote a book in which he reveled a program known as Stuxnet, a US-Israel computer virus used to cyber attack Iran's nuclear centrifuges.
Cartwright denied he had shared the information. But last October, he pleaded guilty in the US District Court for the District of Columbia to making false statements during the leak investigation. In January, prosecutors asked a judge to sentence Cartwright to a two-year prison sentence.
Cartwright's "service to country weighed heavily in the president's decision," White House officials said. In addition, based on testimony in court, he did not intend to do harm to the United States, the officials said.

Shortly after Manning was sentenced, she announced she was a transgender woman and made pleas to be treated in accordance with her gender identity. She attempted suicide last June. Three months later, she began a hunger strike in a bid to receive gender affirmation surgery. Within days, Army officials said they would provide treatment, her lawyers told BuzzFeed News at the time.
A petition asking for President Obama to release Manning received 116,870 signatures — more than the threshold typically needed for some type of response from the White House. "Chelsea has already been incarcerated longer than any whistleblower in U.S. history," the petition says, adding, "Chelsea's disclosures were in the public interest, and no one came to any harm from them."
Manning's clemency request to Obama read, "I have served a sufficiently long sentence. I am not asking for a pardon of my conviction. I understand that the various collateral consequences of the court-martial conviction will stay on my record forever. The sole relief am asking for is to be released from military prison after serving six years of confinement as a person who did not intend to harm the interests of the United States or harm any service members."
Manning's case had won support from digital-free-speech advocates, particularly nonprofit group Fight for the Future.
"As someone who has become friends with Chelsea over the last year, speaking to her on the phone, but has never had the chance to see her face or give her a hug, I am overjoyed that she will now be able to share her beautiful self with the world," Evan Greer, a campaign director with the group, told BuzzFeed News.
Chase Strangio, a lawyer with the American Civil Liberties Union who has been representing Manning, applauded Obama for doing the right thing in commuting her sentence.
"Since she was first taken into custody, Chelsea has been subjected to long stretches of solitary confinement — including for attempting suicide — and has been denied access to medically necessary health care," Strangio said in a statement. "This move could quite literally save Chelsea's life, and we are all better off knowing that Chelsea Manning will walk out of prison a free woman, dedicated to making the world a better place and fighting for justice for so many."
Leaders with Amnesty International said that the commutation was long overdue. Manning's actions had revealed human rights violations and she had acted in the public interest, the group said.
"Chelsea Manning exposed serious abuses, and as a result her own human rights have been violated by the U.S. government for years," Margaret Huang, executive director of Amnesty International USA, said in a statement. "President Obama was right to commute her sentence, but it is long overdue. It is unconscionable that she languished in prison for years while those allegedly implicated by the information she revealed still haven't been brought to justice."
Edward Snowden, himself famous for leaking classified information, thanked Obama and all those who had worked on Manning's case.
He also thanked Manning for what she had done.
"Thank you for what you did for everyone, Chelsea," he tweeted. "Stay strong a while longer!"
BuzzFeed News legal editor Chris Geidner contributed to this report.