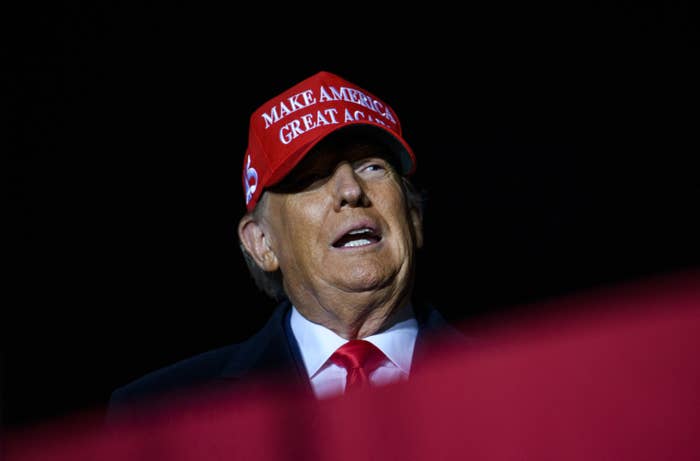 He's back (officially) — but did he ever truly go away?

Donald Trump made it official on Tuesday night by announcing he would once again be seeking the Oval Office in 2024.

Yes, the former president who incited an attempted insurrection at the US Capitol with lies about his 2020 election loss — lies he continues to spread to this day, having escaped conviction in impeachment proceedings thanks to his Republican allies — and who has spent much of the last few years either vowing revenge against political enemies or battling a suite of criminal investigations now wants American voters to let him once again lead the democratic system of government he has worked so tirelessly to undermine.
"In order to make America great and glorious again, I am tonight announcing my candidacy for president of the United States," Trump told the crowd at the Mar-a-Lago Club in Palm Beach, Florida.
"America's comeback starts right now," he said. "Two years ago, we were a great nation, and soon we will be a great nation again."
A few minutes before his scheduled 9 p.m. ET announcement on Tuesday, paperwork for his 2024 run was filed with the Federal Election Commission.
His announcement comes as Republicans largely underperformed nationally in last week's midterm elections. Many in the GOP have blamed Trump for the outcome since many of his endorsed candidates, such as Mehmet Oz in Pennsylvania and Blake Masters and Kari Lake in Arizona, lost to Democrats.
Since the election, Trump has been on the defensive, using his social media platform, Truth Social, to lash out at possible GOP presidential rivals, such as Florida Gov. Ron DeSantis, who coasted to an easy reelection victory.

Trump's announcement also comes as he finds himself in a sea of legal troubles related to the cacophony of investigations into him by both federal and state agencies.

The most imminent and urgent of these for Trump appears to be the investigation into his handling of classified documents since leaving the White House, which culminated in an extraordinary search on his Florida compound Mar-a-Lago over the summer. Attorney General Merrick Garland is under immense pressure as he decides whether to indict the former president for violations of the Espionage Act, mishandling government documents, and obstruction of justice.
But Trump also faces the possibility of charges connected to his sprawling efforts to overturn his loss in the 2020 election. He has been subpoenaed by the congressional committee investigating the Jan. 6 attack on the Capitol, which said he "personally orchestrated and oversaw a multi-part effort to overturn the 2020 presidential election and to obstruct the peaceful transition of power." A federal judge has also already said Trump signed court documents he knew were false as part of this scheme.
That's not to mention the numerous state investigations into his postelection conduct and his business, or the defamation lawsuit from E. Jean Carroll, the woman who said Trump raped her in the mid-1990s.
Trump reportedly ended his first term by wondering whether he could pardon himself; in a possible second one, he will have that opportunity.
After functionally giving up on being chief executive late in his first term while presiding over an unchecked pandemic and hundreds of thousands of American deaths, Trump would be asking for another shot at a job he's only ever been fleetingly interested in carrying out. And he'd be reengaging with an electoral system and basic democratic principles that he has spent the last few years single-mindedly fixed on eroding. He would be asking his supporters to once again come out and vote for him in a system he swears is corrupt.
There is still time to see if Trump will actually follow through with a campaign.
Trump's third campaign would be substantially different from the first two, and something unseen in mainstream American political history. He would be an explicitly anti-democratic candidate after pressuring state officials for years to overturn the 2020 election results in his favor.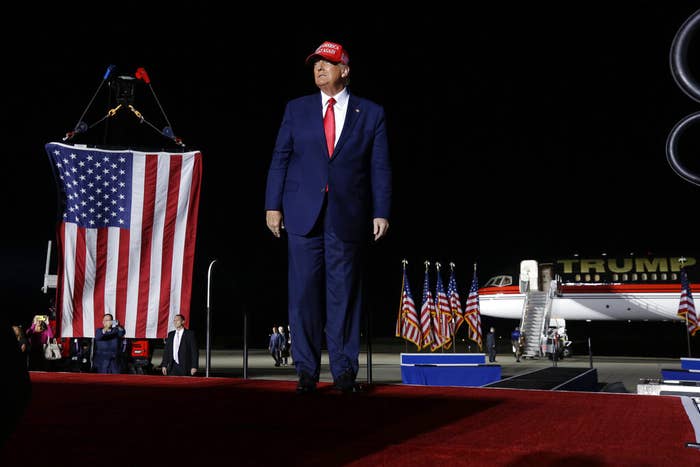 His support for those who rioted in Washington, staging an insurrection at the Capitol as members of Congress attempted to certify Joe Biden's electoral win, turned even some longtime Republican allies against him — but not enough. He closed his first term as the first president to be impeached twice, and although he was not convicted during his postpresidential Senate trial, seven Republicans voted against him.
Trump's announcement also sets off an eerily familiar cycle of questions: How serious is Trump, really? Is this just an attempt to keep attention on himself, an opportunity to pull in much-needed money? Will there be any real resistance or competition from within a Republican Party that has largely and obsequiously bolstered him as its unequivocal leader?
The reality will likely freeze much of the potential Republican presidential field. For the generation of Republican politicians who have molded themselves into Trumpist followers, there may be more to lose than gain in announcing a presidential campaign against their leader.
Republicans like former vice president Mike Pence would have little space to run in a primary that includes Trump, even as the Pence–Trump relationship soured in its final days. Two women who will potentially run — former South Carolina governor Nikki Haley and South Dakota Gov. Kristi Noem — have only hinted at a run should Trump decide not to. Sens. Tom Cotton, Rick Scott, Tim Scott, and Ted Cruz; former secretary of state Mike Pompeo; and Florida Gov. Ron DeSantis are also considered potential 2024 presidential candidates, but may find limited support while running against a former president they've openly idolized. All but DeSantis have visited Iowa since the 2020 election.
The few Trump detractors in the party — people like Maryland Gov. Larry Hogan, Massachusetts Gov. Charlie Baker, or Rep. Liz Cheney — may be able to ultimately present themselves as the alternative, but that path spectacularly failed to gain traction in 2016 or 2020.
The Republican National Committee — which will determine rules of engagement and any possible debates if there's a primary — could very well remain under Trump's control, via RNC Chair Ronna McDaniel. Trump backed McDaniel for another two-year term.
It's also unclear whether, even if Trump were to win the Republican nomination, the election would be a 2020 rematch with Joe Biden. There have long been questions as to whether the president will choose to run for a second term at age 82, although he has said publicly that he will. Trump would be 78 on Election Day 2024.
Trump is no stranger to teasing presidential bids that go nowhere. It's something he was quite practiced at doing before his 2016 run. And even then, after his dramatic ride down the golden escalator at his eponymous Trump Tower to declare his candidacy in June 2015, many doubted he would follow through.
The same caveats apply this time, but with different considerations. Declaring himself a candidate, and even filing the official paperwork to be one, doesn't mean Trump will be in the race once the primaries begin. There are practical benefits to going through those motions, though. Being an official candidate would allow Trump to raise money that could fund activities like the large rallies his ego craves and keep his political brand alive. His campaign raised more than $170 million in the weeks after Election Day as part of its effort to bankroll dubious legal challenges to the results in several states.
Only one president — Grover Cleveland — has ever served nonconsecutive terms, and his last one ended in 1897. The last former president to seriously try was Theodore Roosevelt in 1912, who ran on his own Bull Moose Party line after losing the Republican nomination.
And though it's rare for one-term presidents to run again, it's common for losing nominees to consider or be considered for another run. Democrats Al Gore and John Kerry both were talked about as potential future candidates after their Electoral College losses, while Hillary Clinton's name has been circulated by some loyalists since her 2016 loss to Trump. Republican Mitt Romney seriously contemplated a 2016 run after losing to Barack Obama in 2012.
For Trump, though, announcing the 2024 campaign essentially keeps something going that hasn't stopped since summer 2015: the endless Trump campaign, which now has run for the better part of a decade.
Whatever happens at the election, though, the breed of toxic and damaging politics known as Trumpism will likely continue for the rest of our lives.