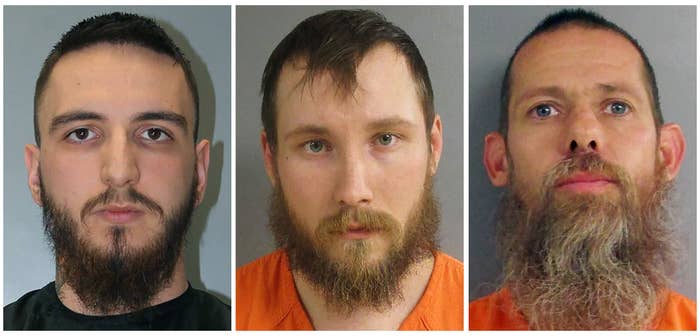 Three more men were convicted on Wednesday on terrorism and gang charges of terrorism over the foiled plot to kidnap Michigan Gov. Gretchen Whitmer.
A jury in Jackson County found Joseph Morrison, Paul Bellar, and Pete Musico guilty on all charges, including providing material support for terrorist attacks and gang membership.

The trio were founding members of a far-right paramilitary group, the Wolverine Watchmen, and had plotted with other men to kidnap the Democratic governor and hold a sham "treason" trial for her in response to her pandemic lockdowns.
They had hoped the kidnapping would trigger a civil war or "boogaloo."
Using informants and undercover agents, the plot was foiled by the FBI in October 2020, resulting in Michigan prosecutors filing charges against some of the men and federal authorities filing charges against others.
"Make no mistake, the quick actions of law enforcement saved lives," Michigan Attorney General Dana Nessel said in a statement on Wednesday. "We are pleased the jury clearly understood that."
"These defendants believed violence was an appropriate way to address an ideological grievance," said FBI spokesperson Special Agent Mara Schneider. "Today's verdict sends a clear message they were wrong."
The trio will be sentenced on Dec. 15.
In August, two other men involved in the plot, leader Adam Fox and Barry Croft, were convicted in federal court on charges of conspiracy to commit kidnapping and conspiracy to use a weapon of mass destruction.
Two other men, Daniel Harris and Brandon Caserta, were acquitted in April.