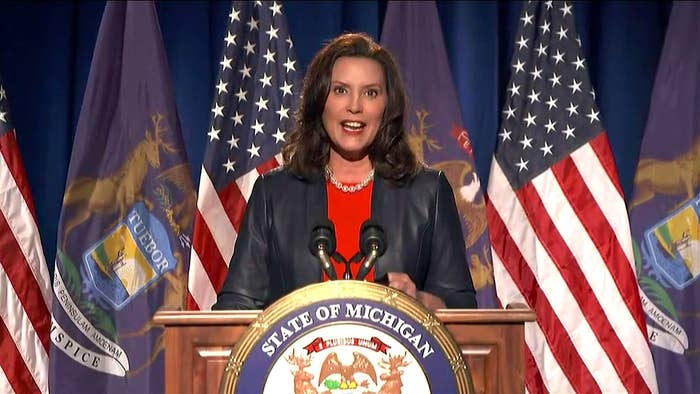 The FBI announced Thursday that investigators had thwarted a plot by a right-wing militant group to kidnap Michigan Gov. Gretchen Whitmer at her vacation home before the Nov. 3 election.
The affidavit, filed under seal in federal court on Tuesday but unsealed on Thursday, names six men — Adam Fox, Barry Croft, Ty Garbin, Kaleb Franks, Daniel Harris, and Brandon Caserta — to be charged over the kidnapping plot. The men were arrested on Wednesday.

"Snatch and grab, man. Grab the fuckin' Governor. Just grab the bitch," Fox allegedly told the others. "Because at that point, we do that, dude — it's over."
At a press conference Thursday, Michigan Attorney General Dana Nessel also announced that state prosecutors have filed charges against seven additional men known to be members or associates of the militia group Wolverine Watchmen under the Michigan Anti-Terrorism Act. These men allegedly wanted to target law enforcement officers in their homes, made threats of violence intended to start a civil war, and were planning an attack on the state's capitol building that involved kidnapping government officials, including Whitmer. They have also been arrested.

"I knew this job would be hard, but I'll be honest — I never could have imagined anything like this," Whitmer said during a press conference Thursday afternoon as she thanked federal and state partners for foiling the plans of 13 members of the two militia groups, whom she described as "sick and depraved men."
Their meetings and trainings came as President Donald Trump and his supporters intentionally muddied the waters about — and, in some cases, riled the nation against — science-based guidelines to prevent the spread of the coronavirus, such as closing gyms. The far right portrayed those who didn't adhere to the guidelines as patriots, and those who did as being against personal liberty. Trump has in the past embraced violent far-right groups who oppose the racial justice movement and coronavirus lockdowns. "LIBERATE MICHIGAN!" he tweeted in April.
Last week, during the presidential debate, Trump told the Proud Boys, a far-right extremist group known for instigating violence, "to stand back and stand by," when he was asked to condemn white supremacists and militia groups.

During her remarks, Whitmer said the president's comments were a refusal to denounce white supremacists and "hate groups like these two Michigan militia groups."
The Michigan governor in part blamed Trump's rhetoric for the groups' actions.
"When our leaders speak, their words matter. They carry weight," she said. "When our leaders meet with, encourage, or fraternize with domestic terrorists, they legitimize their actions, and they are complicit. When they stoke and contribute to hate speech, they are complicit."
On Thursday, Joe Biden echoed Whitmer's statements, telling reporters, "The words he utters matters."
Biden said he thinks Trump's "LIBERATE MICHIGAN" tweet encouraged militias.
"Why won't the president just say 'Stop, stop, stop, stop — and we will pursue you if you don't'?" the Democratic nominee said.

Whitmer, a Democrat, implemented a wide range of shutdown methods when the coronavirus pandemic was declared and Detroit quickly became a hot spot for the virus. The state then saw drive-by protests and armed right-wing demonstrators occupy the state capitol building over the lockdowns.
"All of us in Michigan can disagree about politics, but those disagreements should never ever amount to violence," US Attorney Matthew Schneider said during a joint press conference announcing the operation.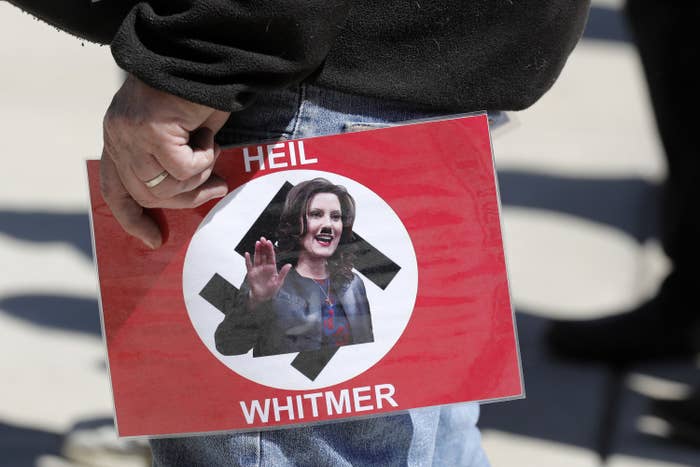 According to the charging papers, the FBI first became aware of the Whitmer kidnap plot in early 2020 over social media, where agents discovered a group of men, including Croft and Fox, discussing "the violent overthrow of certain government and law-enforcement components."
They planned to get others to join them. On June 6, approximately 15 people gathered in Ohio, where they spoke about state governments they believed were violating the Constitution. They specifically named Michigan and Whitmer.
"Several members talked about murdering 'tyrants' or 'taking' a sitting governor," reads the affidavit.

Shortly after, on June 14, Fox spoke on the phone with one of the FBI's confidential sources and told them he needed "200 men" for his plan "to storm the Capitol building in Lansing, Michigan, and take hostages, including the Governor." Fox said Whitmer would be tried for "treason," and that the plan would take place before the 2020 presidential election on Nov. 3.
Six days later, a group of people, including Fox and Garbin, met at Fox's business in Grand Rapids to discuss their plans. The meeting took place in the basement of a shop, which, according to the court documents, "was accessed through a trap door hidden under a rug on the main floor." Fox had collected cellphones of attendees before they went through the hidden trap door, but one of the FBI's sources wore a recording device and captured audio of them discussing the use of "Molotov cocktails" to destroy police vehicles during the planned assault on the state capitol.
Fox also complained specifically about the state's closure of gyms because of the coronavirus pandemic, calling Whitmer "this tyrant bitch" in a livestreamed video to a private Facebook group on June 25.

In a phone conversation on July 24 recorded by an unnamed confidential informant and given to the FBI, Fox allegedly talked with the informant and Garbin about how tyrannical the government had become. Fox was recorded on the call saying: "In all honesty right now ... I just wanna make the world glow, dude. I'm not even fuckin' kidding. I just wanna make it all glow, dude. I don't fuckin' care anymore, I'm just so sick of it. That's what it's gonna take for us to take it back, we're just gonna have to — everything's gonna have to be annihilated, man.
The men would meet regularly in rural Michigan "where they engage in firearms training and tactical drills." Over the weekend of July 10–12, five of the charged men, along with others, did firearms training and attempted to build two improvised explosive devices, using "black powder, balloons, a fuse, and BBs for shrapnel." However, the IEDs didn't explode. "The construction of the devices was faulty, and they did not detonate as planned," the charging documents state. Explosive devices were referred to in code as "cake" and "cupcake," and a mention of a "baker" was understood by one of the confidential sources to be an explosives manufacturer.
The discussion to attack Whitmer's vacation home seemed to begin over several days in July, according to court documents. Garbin discussed shooting up the governor's vacation home. Fox said they should abduct her as she either arrived or left either her personal vacation home or her official summer residence and suggested destroying her boat. On July 27, Fox texted a group chat that included three of the other charged men, "OK, well how's everyone feel about kidnapping?"
In late August, Fox and two others drove past Whitmer's vacation home, taking photographs and videos and made plans for further surveillance by boat. On the weekend of Sep. 12–13, the six charged men, along with an FBI informant and an undercover agent, met up again just an hour and a half drive from the vacation home. Croft detonated an IED he made from a firework. Croft and Fox discussed plans to detonate a bridge near her home to distract the police, and the group joked about how they were "adult napping" not "kidnapping." "Kidnapping, arson, death. I don't care," Franks allegedly said.
Four of the charged men planned to meet on Oct. 7 to pay $4,000 for explosives for the bridge and exchange equipment. Instead, the men were arrested.

For their investigation, the FBI relied on undercover agents, confidential informants, and recordings of meetings, phone calls, and group chats. The affidavit notes that the FBI paid one of the confidential informants approximately $8,600 for expenses related to the investigation.
The alleged domestic terrorist group had already been brought to the attention of the FBI by a local police department after members of the group tried to get home addresses of officers, and a source from the group told the FBI about its plans "to target and kill police officers."

The men would meet regularly in rural Michigan "where they engage in firearms training and tactical drills."
Fox, whom the charging documents indicate was the ringleader and instigator of the plot to kidnap Whitmer, was a member of at least two public Facebook "militia" groups: "Militia Wanted Michigan" and "Michigan Home Guard." Although Fox's profile and the groups' pages have been removed from the website, cached versions of these sites show that he regularly posted and participated in discussions with other members over the past year. On June 23, he posted in the "Militia Wanted Michigan" group that he had created another (now-deleted) Facebook group called "Michigan Patriot III%ERS." The "Three Percenters" are a far-right militia group with chapters across the country, named for the false historical claim that only 3% of Americans fought against the British in the Revolutionary War.
Fox's Twitter account reveals his support for Trump and seven years of deep-seated hostility toward prominent members of the Democratic Party, such as Barack Obama, Hillary Clinton, and Nancy Pelosi.
Caserta was one of the most active members of the group on social media. The day before his arrest he posted two TikTok videos. "The price of freedom is eternal vigilance, and indifference to this notion is the means by which the people can and will secure their own oppression," he said in one of the videos. "Wake the fuck up."
On his Facebook account, which has since been deleted, Caserta posted a message the day before his arrest, saying, "Is it morally legitimate to initiate violence and theft against non violent people?" He also posted images in support of the Kenosha, Wisconsin, shooter Kyle Rittenhouse, shared messages opposing vaccination, and spouted misogynist views.

State officials said more than 200 state and federal law enforcement officers were involved in the investigation, and that search warrants were executed in more than a dozen cities around the state.
"There has been a disturbing increase in anti-government rhetoric and the re-emergence of groups that embrace extremist ideologies," Nessel said in a statement. "These groups often seek to recruit new members by seizing on a moment of civil unrest and using it to advance their agenda of self-reliance and armed resistance."
As part of the investigation, Nessel said, state officials filed a total of 19 felony charges against seven men — Paul Bellar, Shawn Fix, Eric Molitor, Michael Null, William Null, Pete Musico, and Joseph Morrison. The charges under the state's anti-terrorism laws include gang membership, threat of terrorism, providing material support for terrorist acts, and carrying or possessing a firearm during the commission of a felony.
"The nature of this case is rather unprecedented, but it does send a very vivid reminder that while we may be in a time period of discourse, possibly even divisiveness and fighting across the nation, law enforcement stands united," Col. Joseph Gasper, director of the Michigan State Police, said. "We will take swift action against anyone who is planning or seeking to commit harm to anyone in the state of Michigan."
Correction: Kyle Rittenhouse was charged in connection with fatal shootings in Kenosha, Wisconsin. The city was misstated in a previous version of this post.