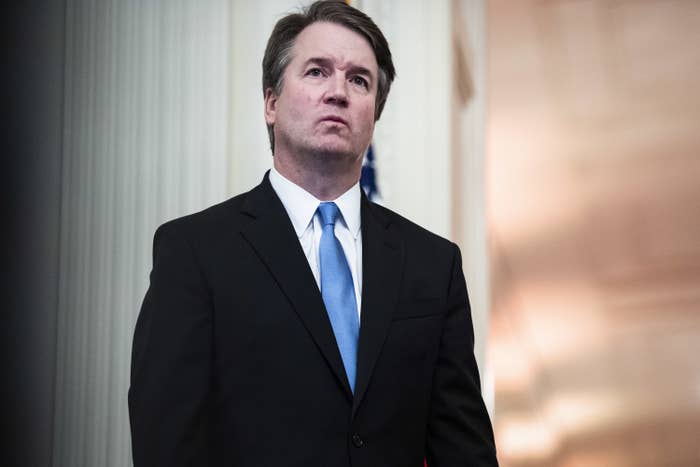 A 26-year-old California man who was arrested near Supreme Court Justice Brett Kavanaugh's home early Wednesday has been charged with attempted murder after he allegedly told authorities he planned to kill the judge.
The man, identified in charging documents as Nicholas John Roske, was taken into custody at roughly 1:50 a.m. in Montgomery County, north of Washington, DC. He faces one count of "attempts to kidnap or murder, or threatens to assault, kidnap or murder" a federal judge, according to the criminal complaint filed in US District Court on Wednesday.

"The man was armed and made threats against Justice Kavanaugh," Patricia McCabe, a court spokesperson, told BuzzFeed News in a statement.
A police source told BuzzFeed News the suspect was a 26-year-old from California who has since been handed over to the FBI.

According to court documents, Roske was carrying a suitcase and a backpack with tactical gear, a knife, a pistol, pepper spray, zip ties, a hammer, a screwdriver, a crowbar, and duct tape, among other items.
He told police he was angry about the court's possible overturning of federal abortion rights, as well as last month's deadly mass shooting at an elementary school in Uvalde, Texas, according to the documents. Roske also said he had been "thinking about how to give his life a purpose" in deciding to carry out the planned assassination. He told authorities he planned to kill himself after killing Kavanaugh, the affidavit stated.
The Washington Post was the first to report the arrest.

Protesters have demonstrated outside the homes of Kavanaugh and other justices since a draft opinion leaked last month and signaled the court was on the verge of striking down the landmark reproductive rights case of Roe v. Wade.

Kavanaugh and other conservative justices appointed to the court had said in their confirmation hearings that Roe deserved to be respected as precedent.
Chief Justice John Roberts has ordered the Marshal of the Court, which provides security to the justices, to investigate who may have leaked the opinion, which he stressed was not final and could change.
Speaking on the Senate floor after news of the arrest broke Wednesday, Minority Leader Mitch McConnell said, "This is exactly, exactly the kind of event that many feared a terrible breach of the court's rules and norms could fuel."