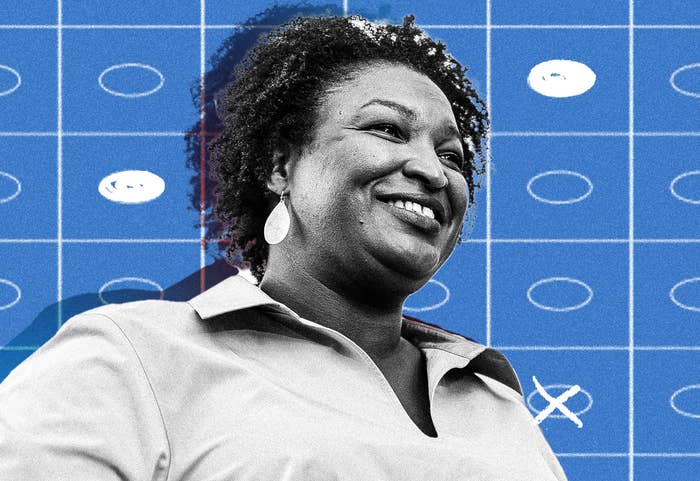 Polls had shown Kemp leading Abrams in the run-up to Tuesday's vote, with the final Atlanta Journal-Constitution poll putting the Republican incumbent at least seven points ahead.
Kemp was able to differentiate himself from other Republicans across the country, and even in his own state, by painting himself as someone who had stood up to Trump while maintaining his conservative bona fides.
The governor drew Trump's ire in the 2020 election by refusing to pressure Georgia Secretary of State Brad Raffensperger to overturn President Joe Biden's win. "He's done absolutely nothing," Trump said in the election's immediate aftermath. "I'm ashamed that I endorsed him. But I look at what's going on. It's so terrible." (Trump and his allies are now facing criminal investigations in the state for their actions regarding the 2020 election.)
At a September 2021 rally in Georgia, Trump even joked with his crowd of supporters that Abrams might have done a better job in the governor's mansion. "Stacey, would you like to take his place?"
Trump subsequently endorsed former senator David Perdue in the Republican primary, but Kemp cruised to an easy victory in May.
Yet Kemp was by no means progressive when it came to voting rights. In March 2021, he signed into law a series of new restrictions that, among other things, imposed new ID requirements for absentee ballots, limited the use of ballot drop boxes, and criminalized the handing out of food or water to voters waiting in lines.
Abrams blasted the law, which was signed by Kemp in front of a painting of a plantation where Black people were once enslaved, as "Jim Crow 2.0." Major League Baseball officials also moved an All-Star game out of Atlanta in protest of the new legislation.
There has also been a deep divide between Abrams and Kemp on abortion, with the governor having signed a restrictive six-week ban in 2019 that went into effect this year upon the Supreme Court's overturning of Roe v. Wade.
The Democrat had pledged that, if elected, she would work with the state legislature to try to reverse the six-week ban.