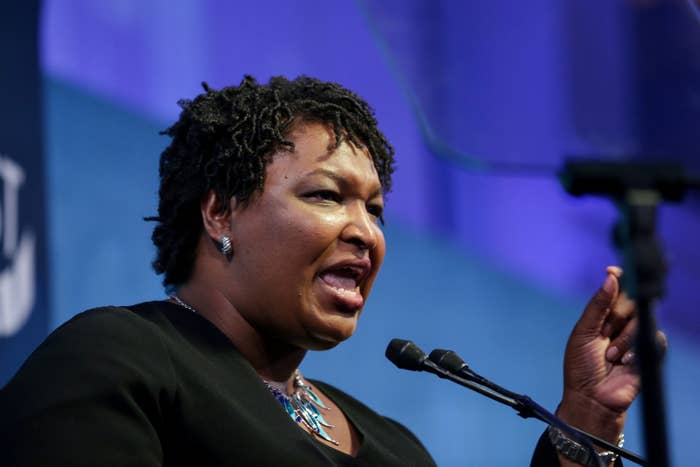 Stacey Abrams knew voter rights would become a central fight in her Georgia governor's race before it even began.
Democrats have lost statewide elections on average by about 200,000 votes since 2002. By Abrams' estimation, there were 800,000 people of color of voting age who weren't registered to vote. It was why, in 2014, she designed the New Georgia Project, the voter registration group that eventually forced Georgia Secretary of State Brian Kemp to restore tens of thousands of cancelled registrations and to reopen closed voting precincts.
Abram insisted to BuzzFeed News this summer that she was prepared to respond to voting registration issues, and for them to become a factor in her race. Kemp, now Abrams' Republican opponent in the governor's race, is an "aggressive voter suppressor," Abrams told a group of black journalists in August. "We know what he's going to do. This is not new."
Kemp's office is now holding over 53,000 voter registration applications for what it is calling voter roll maintenance, the Associated Press reported this week. Those applications are predominantly for black voters, according to the AP. The holds have become a national news story, bringing even more focus to a race that was already one of the most competitive in the country.
Georgia voters with a pending status or in so-called "purgatory" can still vote at their polling location on a regular ballot if they bring valid identification, something Kemp has been emphasizing since the AP report. Kemp has also tried to flip the blame for the holds onto Abrams, saying the New Georgia Project was "sloppy" in its registration forms.
Abrams' campaign has called on Kemp to resign as secretary of state while he runs for governor. MoveOn.org also called on Kemp to resign, saying it was "fed up with Brian Kemp's long effort to disenfranchise voters." The Lawyers' Committee for Civil Rights Under Law said it sued Kemp over his "discriminatory exact match scheme" in 2016 and won. The group is now suing Kemp's office again.

The Abrams campaign's aggressive response to Kemp's actions in the press and by allied groups reflects a robust voter protection program Abrams herself built into the campaign.
In a recent interview with BuzzFeed News, Abrams said that as the person "ultimately responsible" for the campaign, she made voter protection one of its core components. "That as a candidate," she said, "means that we have to run a campaign that anticipates that those are going to be the impediments, and we're going to make certain that voters are not going to be hobbled in their ability to cast their votes."
She told BuzzFeed News that as a state legislator and as minority leader in Georgia's House of Representatives, she was able to help block some of the voter suppression tactics that had been successful in Florida, North Carolina, and Texas, steps she considers among her proudest accomplishments. (A voter ID law, which civil rights groups say disproportionately discriminates against people of color and that Abrams decries as "aggressive," remains.)
"I come from a family devoted to civil rights," Abrams said. "My mom and dad fought for the right to vote before they were old enough to do so themselves. So yes, it's a conversation for me to have ... with voters about why their right to vote has to be protected and about the work that I've done and will do to expand that franchise."
It's a message she's pushed throughout her campaign. "If you want the best life possible, don't let them take your rights away from you," she told an audience of 20,000 in Atlanta recently. Alongside pitches on education, expanding Medicaid, and other policy, Abrams said she's had to talk about automatic voter registration, to make certain people "don't find out that you've been purged from the rolls without notice." And to make certain that the illegal cancellations that happened under the New Georgia Project don't happen to others. And that people fighting for the protection of the right to vote have the protection of the governor of Georgia.
Seth Bringman, a spokesperson for the Democratic Party of Georgia, says the state party was the first in the country to hire a permanent, full-time voter protection director. "The party runs a volunteer-run 24/7 hotline voters can call with questions or to report incidents of voter disenfranchisement," said Bringman.
"We promote our hotline in campaign materials, on social media, and in press releases, and we are eager to take voters' calls," Bringman said in an email to BuzzFeed News, adding that call volume has increased in the last two days with the AP report. "Voters often call with questions about their polling location, questions about voting early, or questions about their voter registration."
The campaign's most extensive statements on Kemp's registration holds came not from Abrams but from her director of strategic communications, Abigail Collazo. In a press release on the heels of the AP report, Collazo said, "As he has done for years, Brian Kemp is maliciously wielding the power of his office to suppress the vote for political gain and silence the voices of thousands of eligible voters — the majority of them people of color. This isn't incompetence; it's malpractice."