It's been three months since the Supreme Court struck down Roe v. Wade, eliminating the federal right to an abortion. Since then, 16 states have banned or limited abortion, and eight other states have had their bans blocked while lawsuits are pending.
As things stand in Congress, Democrats don't have the votes to pass a federal law protecting abortion rights, and most pollsters say that's unlikely to change in the aftermath of the midterms. (Republicans so far also haven't rallied around a proposal by Sen. Lindsey Graham for a national ban.) With action unlikely at the federal level, that's left the future of abortion access in the hands of state lawmakers, governors, and attorneys general — and reproductive rights advocates are hoping voters are motivated to turn out.
"Abortion rights and access are on the line, up and down the ballot, in states across the country this November," Ally Boguhn, communications director at NARAL Pro-Choice America, told BuzzFeed News. "What happens this November could make all of the difference in some of these places."
Here are six states where voters could have a big impact on the future of abortion access for millions of people.
Pennsylvania
In spite of the attempts by Republican lawmakers to restrict abortion over the last few years, it remains legal up to 24 weeks of pregnancy in Pennsylvania. That's because each bill passed by Republicans, who control both houses of the state's general assembly, has been vetoed by Gov. Tom Wolf, a Democrat.
But Wolf is term limited, and now Democratic Attorney General Josh Shapiro and Republican state Sen. Doug Mastriano — who have opposing views on abortion rights — seek to be his replacement.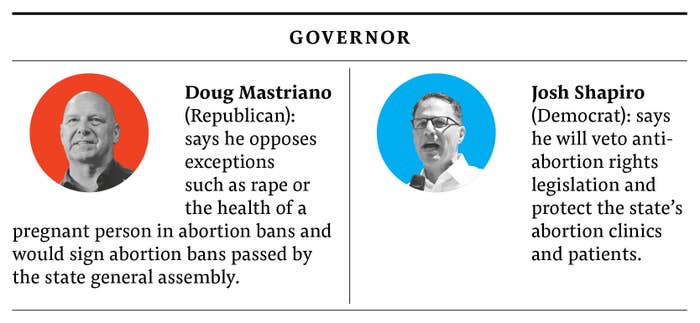 Shapiro is a longtime abortion rights advocate. In a statement sent to BuzzFeed News, Manuel Bonder, spokesperson for Shapiro for Pennsylvania, said that Shapiro "has always defended a woman's right to choose, and as Governor, he will protect reproductive rights and stand up for real freedom."
In contrast, Mastriano, who is endorsed by former president Donald Trump, called the Supreme Court's decision to overturn Roe v. Wade a "triumph for innocent life." In 2019, he sponsored a bill to ban abortions from around six weeks. In a primary debate in April, he said legal abortion was "a national catastrophe." He has stated that he opposes any exceptions to abortion bans.
"If Pennsylvania elects an anti-choice legislature and an anti-choice governor, abortion access in the state could disappear overnight as early as January," Julie Zaebst, senior policy advocate for the ACLU of Pennsylvania, told BuzzFeed News.
"An abortion ban in Pennsylvania would not just affect state residents; Pennsylvania is currently seeing huge numbers of patients from Ohio and West Virginia who would have to travel even farther to get the care they need," she added.
Arizona
On Friday, a judge allowed a near-total abortion ban dating back to 1901 to be enforced in Arizona. The law has no exceptions for incest or rape, but it does allow abortion in cases where the pregnant person's life is in danger.
It brings new urgency for abortion rights advocates to elect candidates who would not enforce laws restricting abortion and would work to reverse them.
With current Republican Gov. Doug Ducey term limited, voters will decide between Republican candidate Kari Lake, who has been endorsed by Trump, and Democratic candidate Katie Hobbs, who is currently Arizona secretary of state.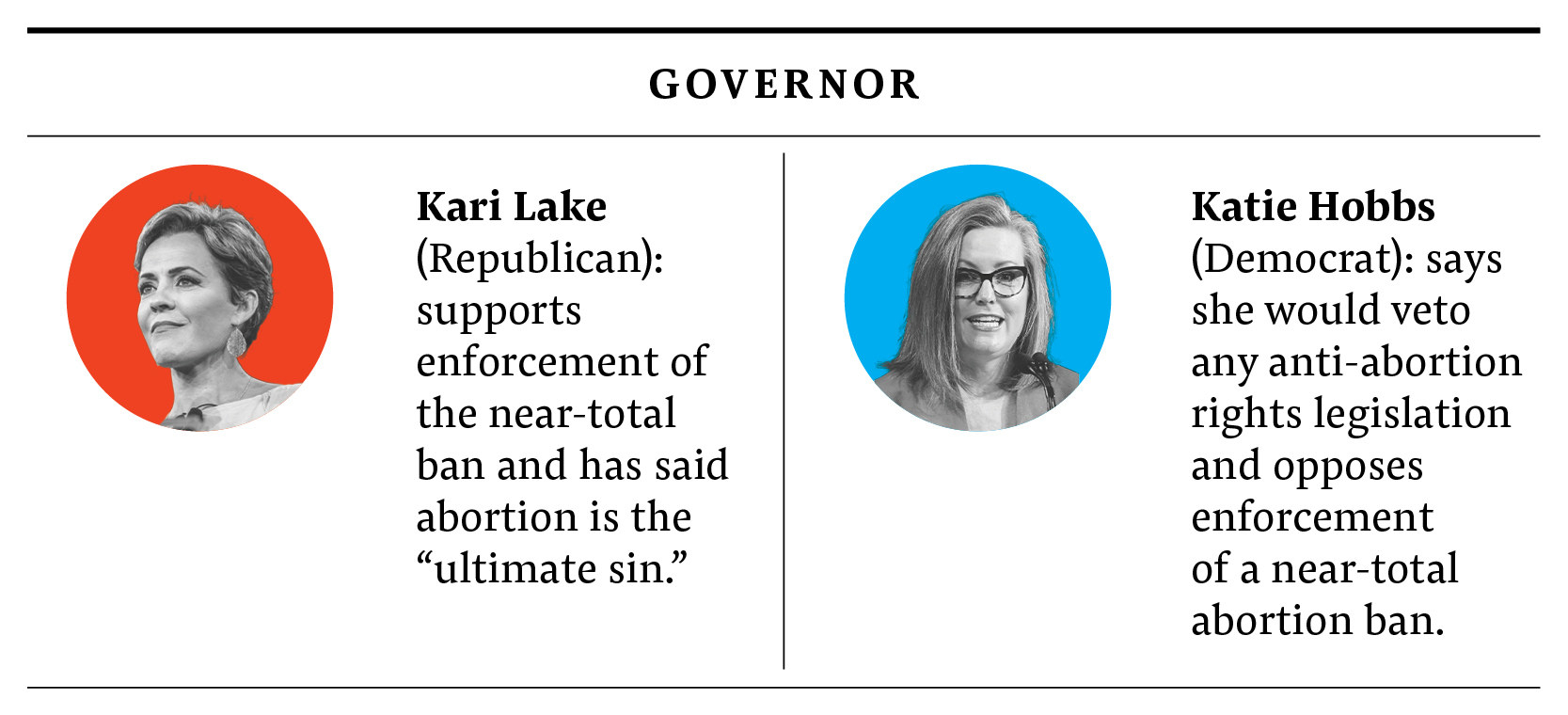 Throughout Hobbs's campaign, she has been vocal about her support of reproductive freedom, stating on her website that "the decision to have a child should rest solely between a woman and her doctor, not the government or politicians."
In a statement to BuzzFeed News after following the judge's decision, Hobbs said that she was "terrified of the devastating impacts that this draconian abortion ban will have on Arizonans."
"On Day One as Arizona's governor, I will call a special session of the state legislature to overturn this territorial-era law," she said. "As outlined in my reproductive rights plan, I will use every tool at my disposal to restore and expand abortion rights in Arizona. And if any legislation restricting reproductive access arrives on my desk, I promise to use my veto plan to block it."
Lake did not respond to a request for comment from BuzzFeed News, but she told KTAR News in May that abortion is "the ultimate sin" and said that if elected, she would enact "pro-life legislation."
On her campaign website, she says that "every life starting at conception is worth saving."
Michigan
Access to abortion in Michigan has been in the hands of the courts since Roe was overturned; the Supreme Court's decision paved the way for a 1931 state law banning the procedure without exceptions to once again take effect. A state judge recently declared it unconstitutional, but an appeal could still be brought forward by conservative members of the state legislature.
Abortion rights advocates are now hoping to remove any uncertainty about whether abortion will remain legal by amending the state constitution.
"The future of abortion access is quite literally on the ballot this year," a spokesperson for Planned Parenthood Advocates of Michigan said. "Through the power of direct democracy, we can ensure that medical decisions remain between patients and their doctors."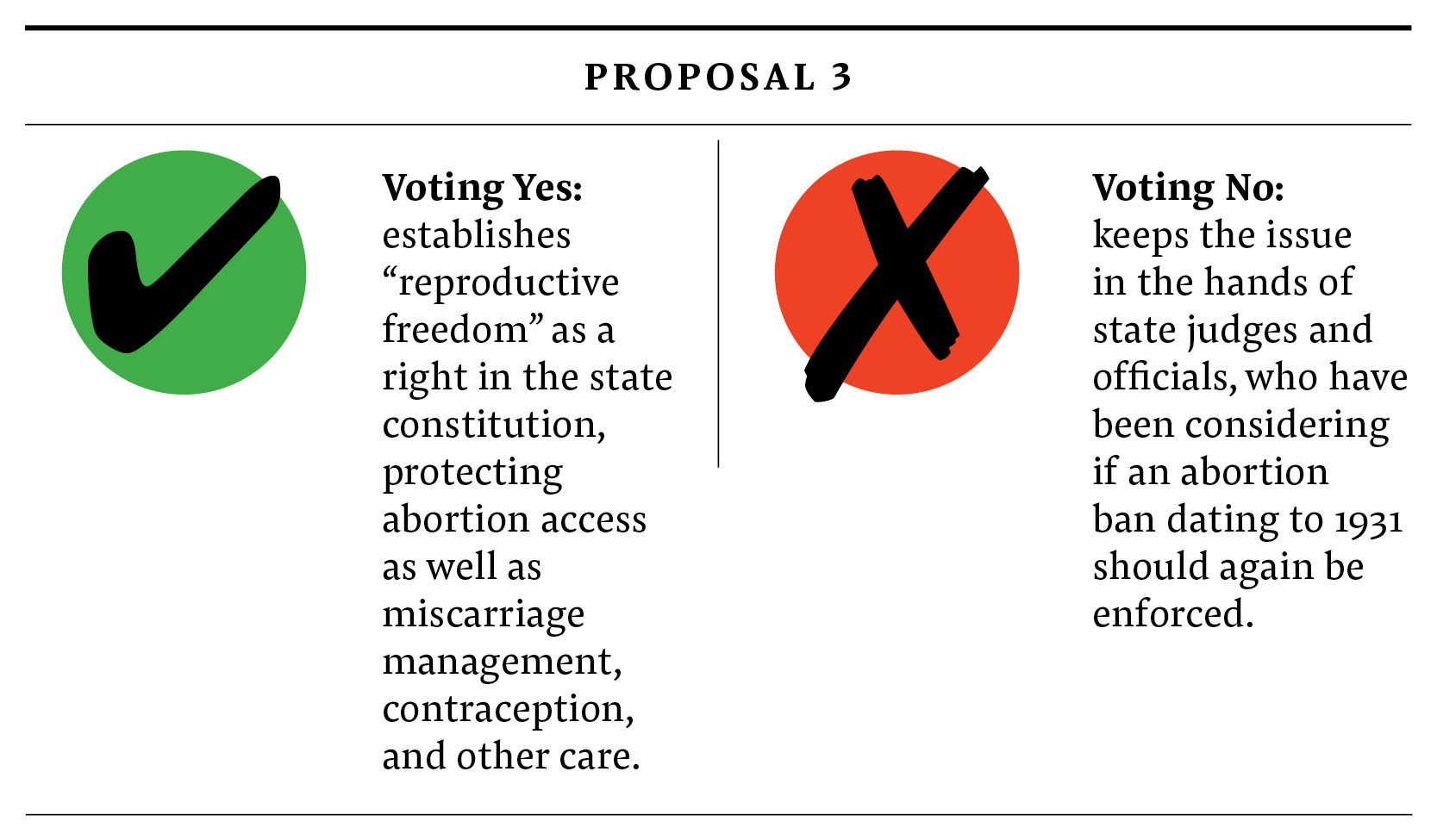 The ballot measure for the amendment, known as Proposal 3, would establish the right to abortion in the Michigan Constitution, ensuring the abortion ban from 1931 does not take effect. The amendment would also protect other aspects of what it calls "reproductive freedom," including an individual's right to make choices about miscarriage management, birth control, prenatal care, and IVF.
"This is an absolutely unprecedented moment for women in Michigan," said Sommer Foster, co–executive director of Michigan Voices, a nonprofit that has been campaigning alongside the ACLU of Michigan and Planned Parenthood Advocates of Michigan in favor of the ballot measure. "If we do not act, our children will have fewer constitutional rights than their parents."
In opposition, the group Citizens to Support Michigan Women and Children is campaigning against the ballot initiative, telling BuzzFeed News that the proposed amendment is "too confusing and too extreme for Michigan."
"This poorly-worded amendment would repeal dozens of state laws, including our state's ban on tax-funded abortions, the partial-birth abortion ban, and fundamentally alter the parent-child relationship by preventing parents from having input on their children's health," said Christen Pollo, spokesperson for the group.
(The amendment would not change the state's ability to regulate abortions after a fetus is viable, which happens around 24 weeks of pregnancy.)
Georgia

Republican Gov. Brian Kemp signed Georgia's six-week abortion ban into law in 2019, and after a long back-and-forth in the courts, it went into effect in July. In November, Georgia voters — 55% of whom say they don't support the ban — will decide whether to reelect him or elect his Democratic opponent, Stacey Abrams.
Abrams and Kemp previously faced off in the governor's race in 2018, with Abrams losing by about 50,000 votes. She has said that, if elected, she will work with the state legislature to reverse the six-week ban in 2023, and she's made Kemp and her starkly opposing views on the matter a centerpiece of her campaign.
"In a state where pregnancy is too often fatal, he is proud of denying women the right to make medical decisions for themselves," Abrams wrote in a statement. "In a state that is already first in maternal mortality, sixth highest in infant mortality, and one of twelve states that refuses to expand Medicaid and provide health care to low-income communities, this ruling cements the failures of this administration and devastates the realities of women."
"I will fight Brian Kemp's extreme, dangerous, and callous law to give women back our power and the right to decide," Abrams added.
Those views align with likely voters in the state, according to an ACLU poll. The vast majority of those voters say people have a right to privacy in making decisions related to their bodies, said Andrea Young, executive director of the ACLU of Georgia.
"40% of them said that in November, they will vote for candidates who support abortion access," Young said in a statement sent to BuzzFeed News. "The current Governor is responsible for ending most early abortions in our state. His policies have aggravated the crisis in healthcare for women."
Even if the ban isn't popular, Kemp has said he remains committed to it. "Under my leadership, Georgia will remain a state that values life at all stages," he wrote in a statement in May, adding, "Georgians should rest assured that I will continue to fight for the strongest pro-life law in the country."
Wisconsin
After the Supreme Court overturned Roe, some abortion providers in Wisconsin shut down, fearing that the state would revert to an 1849 ban that made exceptions only to save the life of the pregnant person. Whether that ban is enforced has hinged on the governor and attorney general.
State Attorney General Josh Kaul has pledged not to enforce it, and Gov. Tony Evers has said he will grant clemency to any doctor who is prosecuted by a district attorney in the state. Both Democrats are now up for reelection, and they're facing Republicans who support the ban.
"Evers believes politicians shouldn't be inserting themselves into personal, intimate reproductive healthcare decisions," his spokesperson Kayla Anderson said.
In June, Evers and Kaul filed a lawsuit challenging the 19th-century ban, which Republicans sought to have dismissed. The outcome has not yet been decided. Evers also called a special legislative session for next month, seeking to change the state's referendum process, the first step to allowing voters to someday get abortion rights on the ballot and bypass Republican lawmakers.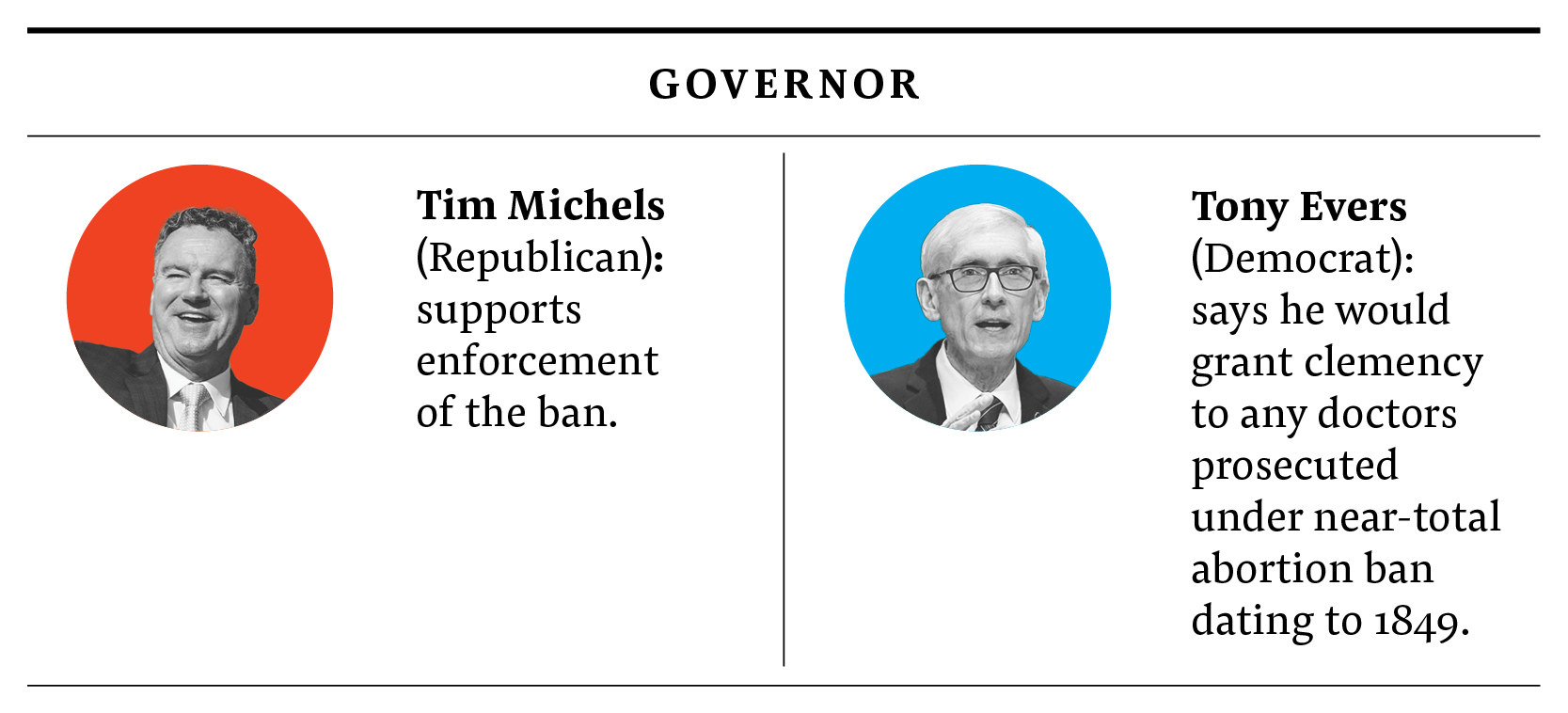 In contrast, the Republican candidate for governor, Tim Michels, has said that he supports the state's abortion ban. In a campaign speech this summer, Michels said the 1849 ban "mirrors my position on abortion," adding, "it's from my faith. And I made no apologies for it."
A few days ago, however, Michels slightly softened his stance and said that he would support an abortion ban that includes exceptions for rape or incest.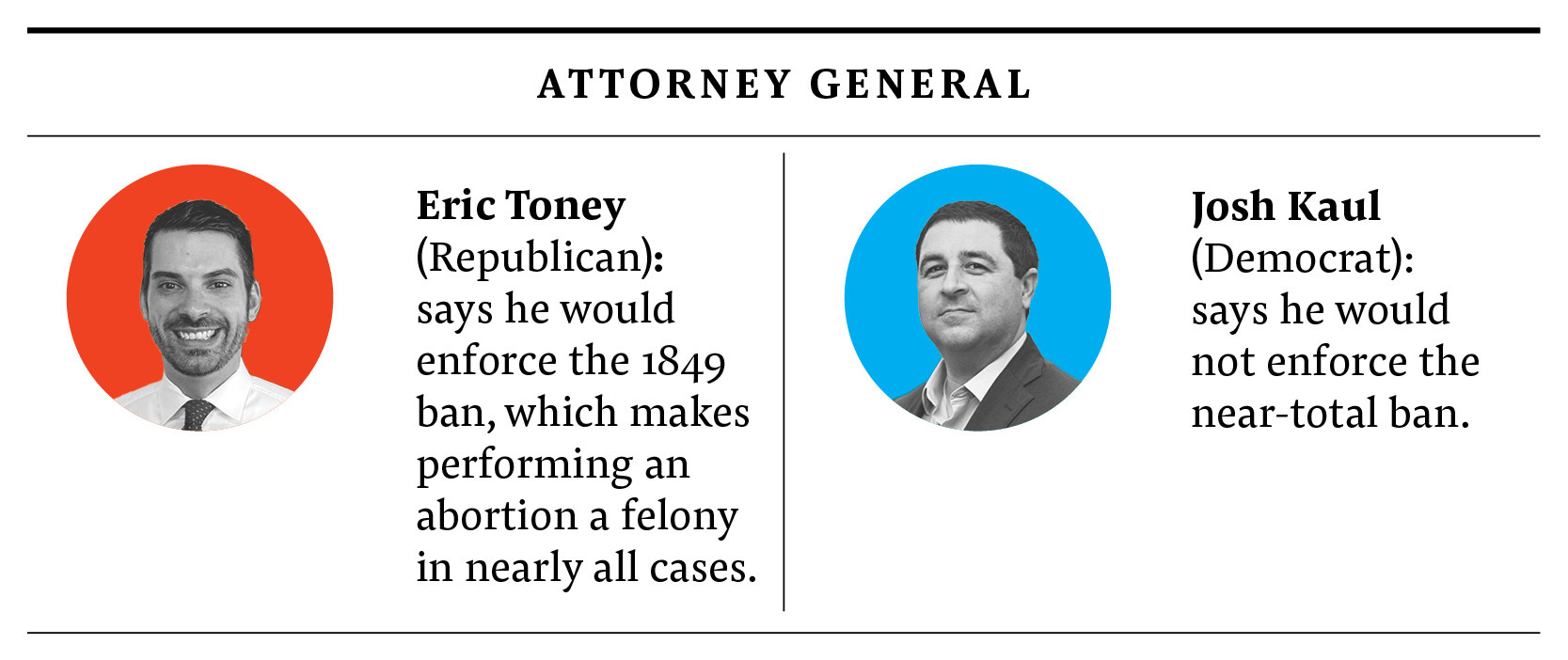 The Republican candidate for attorney general, Eric Toney, has also said he would enforce the 1849 abortion ban.
"I am pro-life, and I will enforce and defend the laws as passed by the legislature and signed into law," Toney said in May.
With Republicans already in control of the state legislature, an anti-abortion governor and attorney general could mean even more erosion of reproductive rights in the state, said Tanya Atkinson, president of Planned Parenthood Advocates of Wisconsin.
"Who we elect to the Governor's mansion will determine whether we as Wisconsinites have access to essential health care and the freedom to control our lives," Atkinson said in a statement. "Without Tony Evers in the Governor's mansion and Josh Kaul as Attorney General, abortion will continue to be criminalized, women could be prevented from traveling across state lines to access needed medical care, and birth control access will be put at risk."
Kentucky
Abortion is banned in Kentucky except in cases where a pregnant person's life or health is in danger. Legal challenges are ongoing, but the ban went into effect on July 15. Now, voters will decide if they want to go a step further: to amend the state constitution to say there is no right to or protection for abortion.
The ballot measure, known as Amendment 2, asks for a simple yes or no on adding this phrase: "To protect human life, nothing in this Constitution shall be construed to secure or protect a right to abortion or require the funding of abortion."
In August, voters in Kansas rejected a similar constitutional amendment, with unexpectedly high turnout numbers that were seen as early proof that abortion rights supporters were mobilizing. So far in Kentucky, the pro–abortion rights campaign to defeat the ballot measure has raised more than four times as much money as the anti-abortion "yes" campaign, the Associated Press reported. ●
Correction: A previous version of this post included a photo of another man instead of a photo of Josh Kaul.