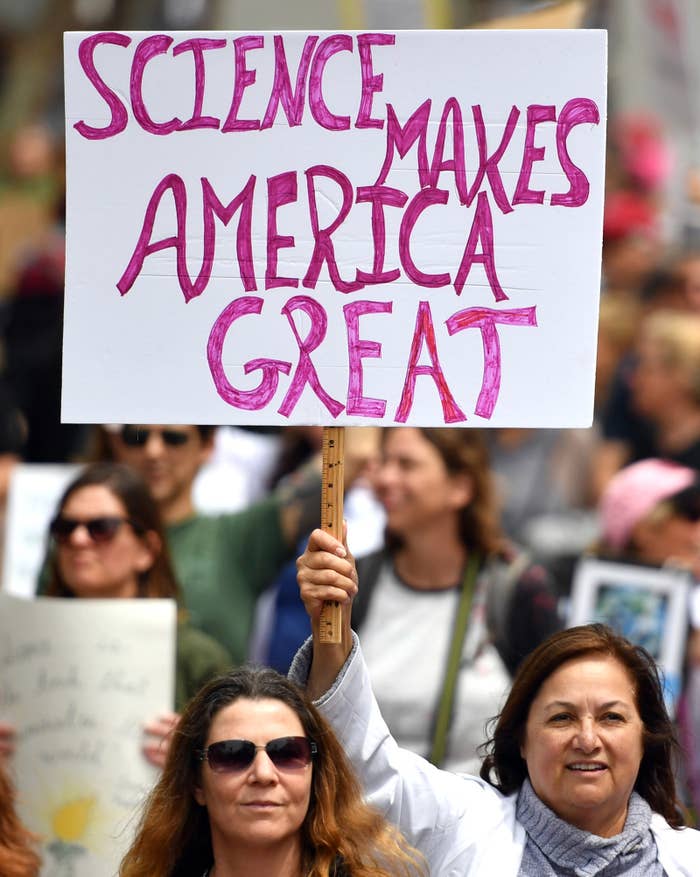 The election results are in, mostly, and the high hopes for science-backed candidates marching on Washington, DC, have worked out for at least six candidates.
More than a dozen scientists, engineers, and doctors won primary races to run in the midterms for Congress in 2018. All but one were Democratic Party candidates. Many of them were endorsed by 314 Action, an advocacy group for scientists and other technical experts involved in politics, promoted with the #ElectScientists hashtag on Twitter.
Of those, a half-dozen appear to have won their contests and are headed to Congress, including Elaine Luria of Virginia's 2nd District and Lauren Underwood of Illinois's 14th District, who both defeated incumbent Republicans.
Of the already projected winners backed by 314 Action, five are engineers, and one is a dentist, Jeff Van Drew of New Jersey's 2nd District. The engineers include biochemist Sean Casten of Illinois's 6th District, ocean engineer turned lawyer Joe Cunningham of South Carolina's 1st District, and Chrissy Houlahan, who's also been a science teacher, of Pennsylvania's 6th District. Cunningham saw his expertise come into play in campaign debate over offshore drilling.
An injection of scientists into Congress will matter for more than the expertise they bring, former Rep. Rush Holt, head of the American Association for the Advancement of Science (AAAS) told BuzzFeed News. "What they will bring is a professional respect for expertise missing in a lot people and their representatives," he said.
Numerous challenges facing the country outside the science or education arenas could use a scientific outlook in Congress, Holt said. "I guarantee you that they will daily see places where their colleagues are debating an issue where they can say, 'there is scientific expertise here we are ignoring'," such as voting security, the subject of a recent National Academies of Sciences, Engineering and Medicine report.
As well, having scientists in Congress makes it easy to recruit more scientists to run, Shaughnessy Naughton of 314 Action told BuzzFeed News. "I think what they've shown is that if they run a credible campaign, they can win," she said. "And it speaks to science's creditability in really leveraging their background to run good races."
Two PhD scientists backed by the coalition, Mel Hall of Indiana and Randy Wadkins of Mississippi, lost their races. Only one current member of Congress, Democrat Bill Foster of Illinois, a physicist, has a science PhD. There are no scientist senators, although Jacky Rosen, a former computer programmer supported by 314 Action did win a race for a Senate seat in Nevada.
Although the March for Science has received a lot of attention in its two years of existence — and Trump administration moves to kill off climate change policies from the Obama administration have made waves — science was not a major issue in the midterm elections. A vote to tax carbon emissions failed in Washington state and one to increase the use of renewable energy didn't pass in Arizona.
Still, science mattered in some races. Florida's governor race, in particular, saw the issue of red tide, a toxin-releasing algae spurred by agricultural runoff that's been killing marine life in the Atlantic Ocean, bubble up as a major concern. Republican Ron DeSantis won that race.
"It's interesting how many issues came up that involved some kind of science," Katie Rodihan, communications director for Democrat Kim Schrier, told BuzzFeed News. Schrier ran in Washington state's 8th Congressional District against Republican businessman and politician Dino Rossi. That race was still too tight to call Wednesday morning.
Debate over the minimum wage, tariffs, and climate change figured into Schrier's campaign, in a region worried about both forest fires and sales of airplane engines to China. Health care was another big issue. Schrier, a physician, used her own Type 1 diabetes to decry Republican opposition to Obamacare.
Schrier was ahead of Rossi by 53% to 47% at the time of publication.
UPDATE
This story was updated with comment from Rush Holt and Shaughnessy Naughton.