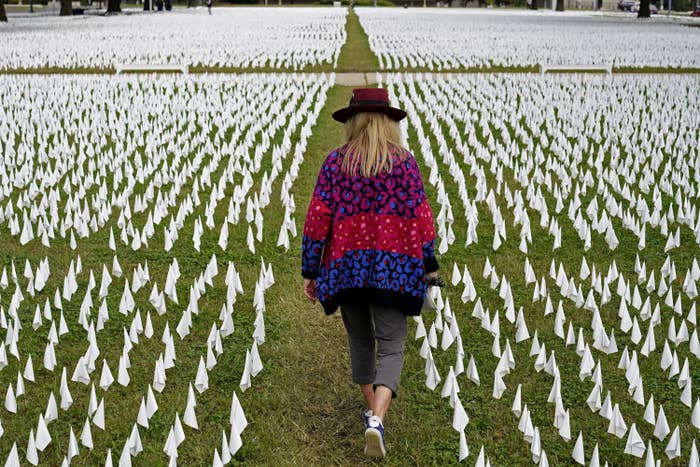 The journalists at BuzzFeed News are proud to bring you trustworthy and relevant reporting about the coronavirus. To help keep this news free, become a member and sign up for our newsletter, Incoming.
States with higher coronavirus death rates may see declining voter support for President Donald Trump and other Republican candidates, possibly by margins large enough to swing tight election races, a new study has found.

Less than a week away from an election that many view as a referendum on the White House's handling of the pandemic, coronavirus cases are now rising in nearly every US state, hospitalizations are spiking, and there are worrying signs that deaths are increasing again.
The new study, which polled hundreds of thousands of Americans across the country, found that when a state's COVID-19 death rate doubled within a month's time, Trump's approval rating dropped by 0.5%, independent of all other factors. The decline in support, reported in the journal Science Advances on Friday, mirrored the effects that casualties of the Korean War, Vietnam War, and Iraq War had on past presidents' approval ratings with voters.
Led by political scientist Christopher Warshaw of George Washington University, the researchers also asked whether people changed which candidates they were planning to vote for. Across states, every monthly doubling of coronavirus death rates caused a 0.37% drop in the number of people who said they planned to vote for Trump, the study found. The drop in support for Republican senators was even steeper, at 0.79%.
COVID-19 deaths per 100,000 people in key swing states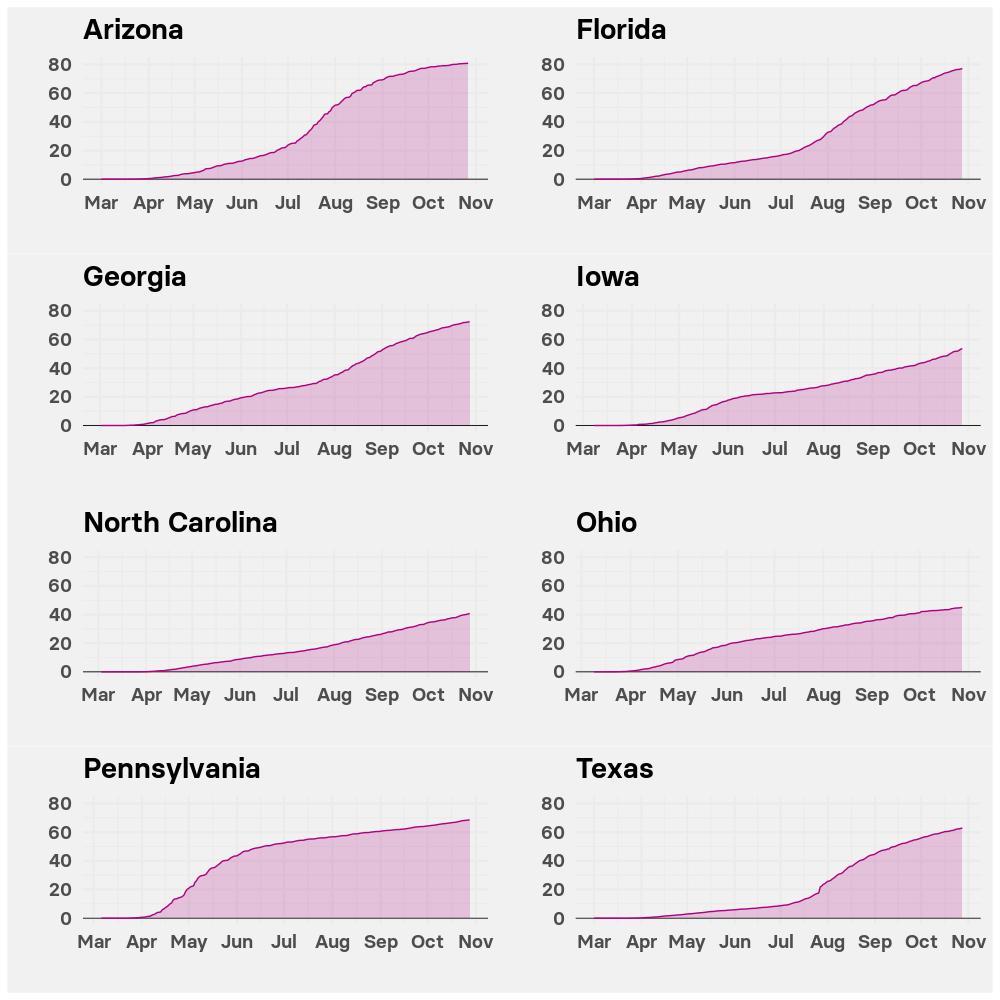 These small margins could be big enough to shift close races. In 2016, the election result difference in swing states such as Michigan was just 0.23% — and some swing states in 2020, such as Iowa, appear to be just as tight. The new analysis found that the trend was particularly visible in swing states such as Michigan, Wisconsin, Pennsylvania, New Hampshire, Arizona, and Florida, with the potential to sway both the presidential election and US Senate races.
Local unemployment usually plays a pivotal role in determining who wins votes in a presidential election, according to a study of economic impacts on races from 1969 to 2018 published in August on which Warshaw also was a coauthor. The new study suggests that COVID-19 deaths may play an equally important role.
"The president himself declared he was a 'wartime president' at the start of the pandemic, and we are seeing death tolls above the Vietnam War and Korean War, ones we have only seen in World War II," Warshaw told BuzzFeed News. "Voters are seeing things that way too."

While the president has repeatedly declared that the nation is "rounding the corner" and "learning to live with" the virus, nearly a quarter-million Americans have died in the coronavirus pandemic. As deaths and cases continue to rise, Trump has made the false claim that the numbers are wrong — driven by increases in testing and corrupt hospitals. Medical groups have roundly dismissed his allegations as false. Democratic presidential candidate Joe Biden has declared that Trump was waving the "white flag of defeat" to the virus.
COVID-19 death rates for every state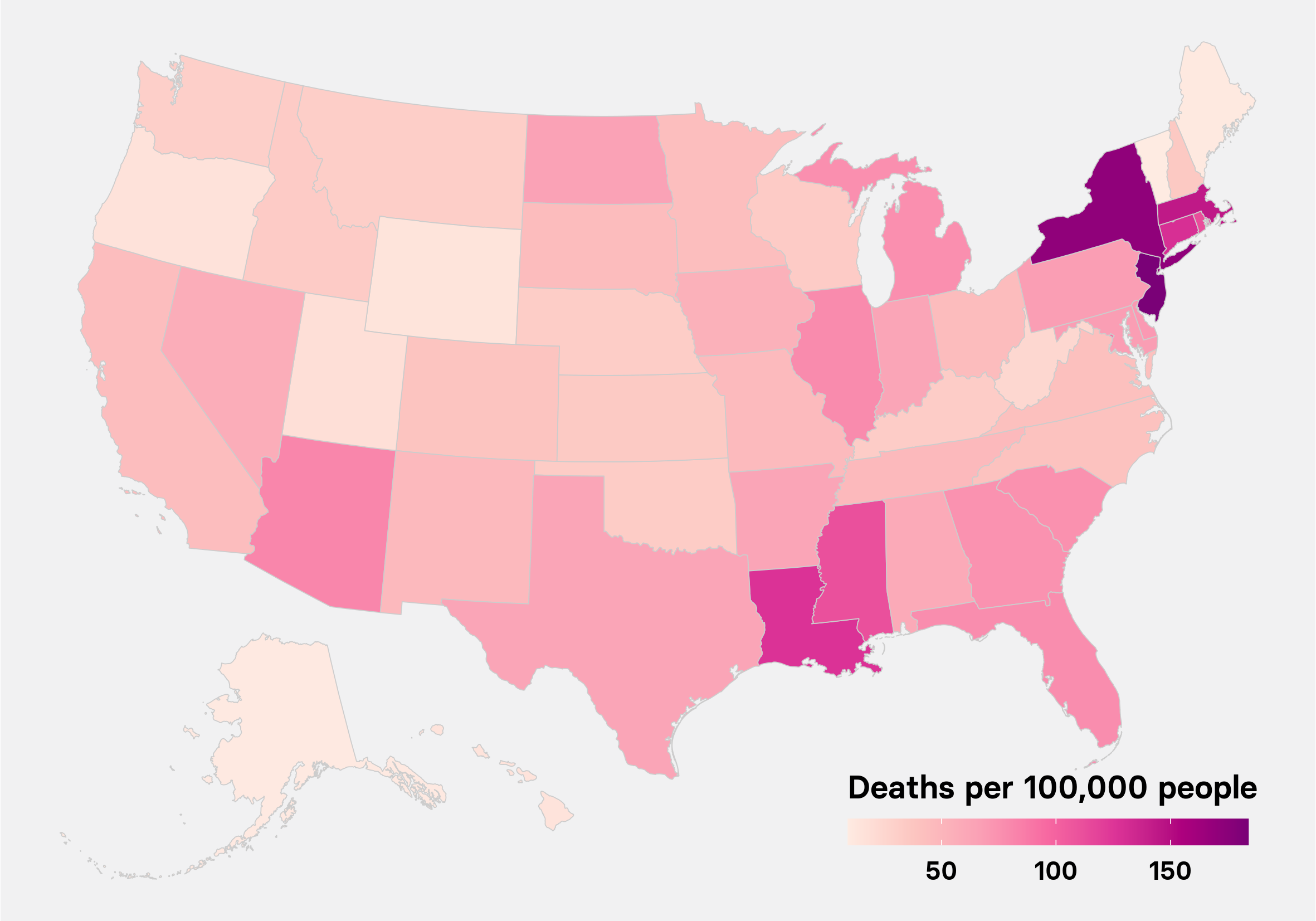 The new study relied on survey responses from more than 300,000 people nationwide taken from 2019 to 2020 by the DemocracyFund + UCLA Nationscape Survey, as well as fatality data collected by the New York Times, and American Community Survey county population data.

To estimate how COVID-19 deaths have impacted changing support for Trump and Republicans, the researchers analyzed changes in polls as mortality numbers grew while controlling for other effects, such as unemployment and protests. They first estimated statewide relationships by looking at changes in polls conducted between June 1 and July 2 of this year. They next drilled down to the county level in a week-by-week analysis.
Cornell University public opinion expert Douglas Kriner, who was not part of the study, told BuzzFeed News that the approach was methodologically sound and mirrored past studies on wartime casualty effects on voters.
"The effect sizes aren't massive — but given the razor-thin margins in contemporary American electoral politics, even small effects could be pivotal," said Kriner. "Moreover, given how polarized the electorate is, small effect sizes aren't surprising."
The effect of COVID-19 deaths seemed to sway Republican and independent voters more, according to the study authors, perhaps because Democratic voters had already made up their mind on Trump and the Republican Party.
"These findings are not at all surprising, but they do reflect a potentially important shift," Shannon Monnat, a sociologist at Syracuse University who documented a move toward Trump in the 2016 election in counties most affected by drug overdose deaths, told BuzzFeed News. "As we have started to see outbreaks in many parts of rural America, people are finally coming to see that rural areas are not immune, and they have even less capacity to cope with it."
COVID-19 is now disproportionately hitting rural areas that Trump and Republicans rely on for support. The worst virus outbreaks have shifted from cities to rural counties in the current surge of cases, overwhelming small hospitals, according to a New York Times report last week. And new weekly coronavirus deaths are now higher in counties that voted for Trump in 2016, compared to ones that went for Hillary Clinton, according to an Economic Innovation Group report released Thursday.
From a political science standpoint, Warshaw said, the Trump administration seems to have bet too many political chips on the economy, rather than on trying to limit the casualties of a deadly virus.
"The administration miscalculated that it would be possible to get the economy moving again without controlling the pandemic," he said. "It seems pretty clear now that the best way to jump-start the economy would have been an early mask mandate, widespread testing, and other aggressive COVID mitigation measures in the spring."
Trump and the Republican Senate probably should have passed more aggressive economic stimulus funding to support American families and businesses during an unprecedented economic downturn, Warshaw added.
He acknowledged that the election is still a week away and will ultimately be decided by the voters. But if Trump loses a close race, it's possible that people will argue for a long time whether the pandemic was the deciding factor. In that case, Warshaw noted, Biden was leading Trump in nationwide polls at the start of the year, even before the pandemic started.
"That has stayed true for the whole race," he said.
Peter Aldhous contributed reporting for this story.