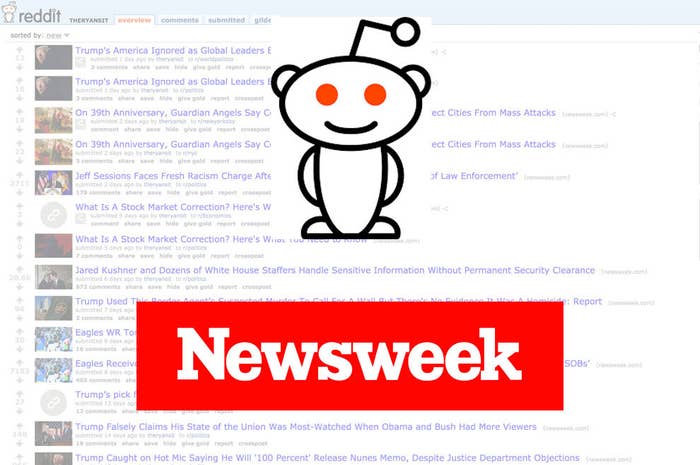 Links from Newsweek have been banned from one of the biggest traffic-driving sections of Reddit due to concerns about paid spamming, BuzzFeed News has learned.
Earlier this month, moderators of /r/news decided to classify all submitted links to Newsweek.com as spam due to what a source says was a coordinated effort to promote content from that site. The /r/news subreddit has more than 15.5 million subscribers and is the 15th-largest community on Reddit.
The source, a longtime Redditor with knowledge of /r/news moderation practices, said moderators concluded that links were being submitted at high volume by influential Reddit accounts in order to drive traffic to Newsweek.com.
"In the case of Newsweek, it appears that they recruited high-volume/high-karma posters to post their articles," said the source. (Reddit users earn "karma" points by participating on the site.)
The source said publishers and other entities sometimes pay influential Reddit users to submit their links with the goal of generating traffic. The source asked not to be identified in order to maintain their status within the Reddit community.
In a statement to BuzzFeed News, Newsweek Media Group said it's aware Newsweek links have in some cases been classified as spam on Reddit, but said it does "not engage in any form of paid promotion on this platform."
"We are aware of some instances of Reddit users submitting links without engagement or comment causing them to qualify as spam. We are in active discussions to address this so that we can ensure all of our writers are aware of the latest guidelines when posting content," the statement said.
Even with the /r/news ban, BuzzFeed News has identified several Reddit accounts that continue to submit Newsweek links to subreddits such as /r/politics at high volume. These accounts appear to exist only to share Newsweek content. The owners of these accounts did not respond to private messages sent via Reddit.
The partial Reddit ban for Newsweek comes as the company is already under scrutiny for its audience development practices. BuzzFeed News recently reported that several of its International Business Times editions were buying traffic and engaging in ad fraud. The company admitted to buying traffic but denied it engages in ad fraud. (The report did not accuse Newsweek.com of buying traffic or engaging in ad fraud.)
In the wake of that report, NMG's chairman, finance director, and top advertising sales executive resigned, and NBC News reported that the company "lost hundreds of thousands of dollars in ad commitments." An ad platform issued a press release to publicly call out NMG. "You lied, you cheated, and you destroyed the trust that your organization held in all of our eyes," said the release from Brandzooka. In a statement issued after this story was published, NMG said, "We do not have any direct commercial relationship with Brandzooka nor have we heard of this brand."
NMG also fired top editors and reporters at Newsweek after the site reported on a recent raid of the NMG offices by the Manhattan District Attorney's office, which took place as part of an ongoing investigation.
Growth in Reddit traffic to Newsweek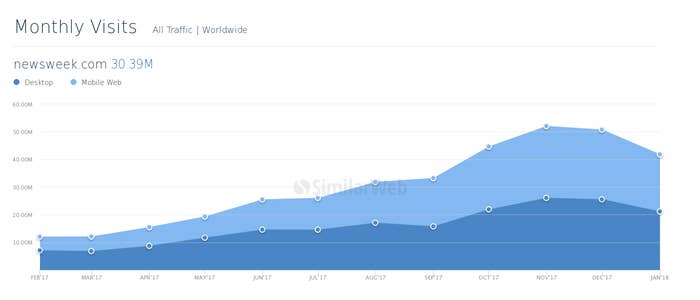 A previous statement from NMG to BuzzFeed News emphasized that Newsweek "is now reaching its highest-ever global audience and it is now also our highest revenue-generating site."
Data from web analytics service SimilarWeb confirms that Newsweek's audience has increased at an impressive rate since May of last year — and part of that growth has come thanks to a significant increase in referral traffic from Reddit.
Up until March of last year Reddit was the second-biggest source of social referral traffic to Newsweek, accounting for roughly the same percentage of traffic as Twitter. Facebook was its biggest social referral source, which is common for digital publishers.
But beginning in April, the percentage of Reddit referral traffic to Newsweek began to climb. By June, Reddit had become the site's biggest social referral source, accounting for more than half of its social referral traffic, according to SimilarWeb. (Search traffic from Google remained the site's biggest overall source of traffic throughout this period.)
Between October and January — Newsweek's biggest recent traffic months — Reddit was responsible for more than 60% of Newsweek's social referral traffic. This means that in the span of just a few months the percentage of social referral traffic going to Newsweek from Reddit doubled.
Newsweek.com Social Referral Traffic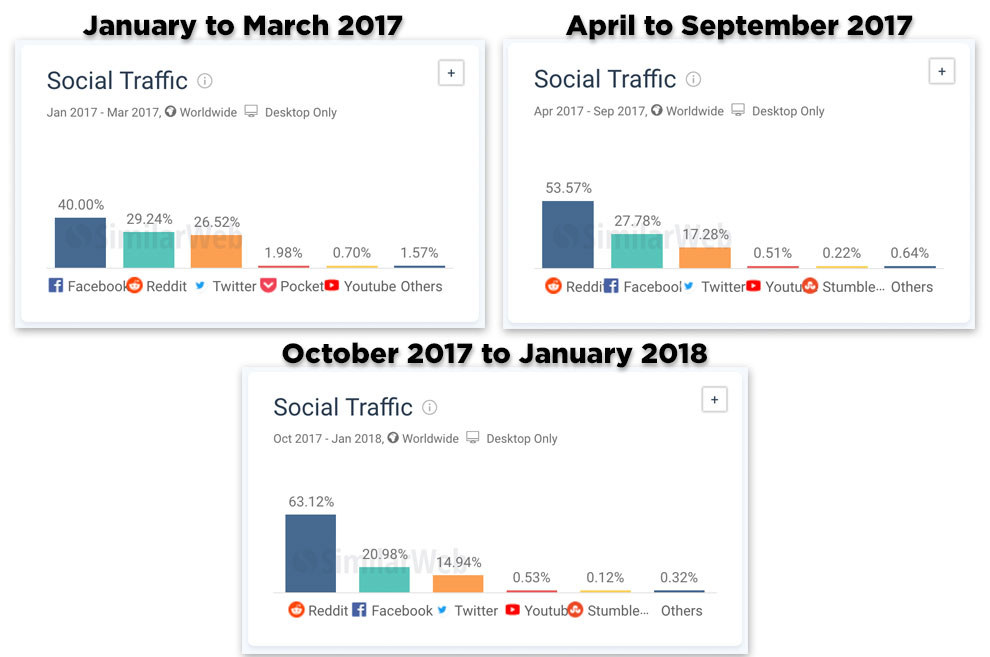 As that increase was happening, moderators at /r/news began to notice "patterns and behaviors" that led them to conclude Newsweek links were being spammed, according to the source who spoke to BuzzFeed News. As a result, earlier this month /r/news moderators decided to mark all submitted links from Newsweek as spam. This means Newsweek links are not eligible for voting or comments, and users do not see them.
But while /r/news has shut the door on Newsweek, its content continues to be submitted to other subreddits at high frequency from accounts that appear to specialize in promoting the publication.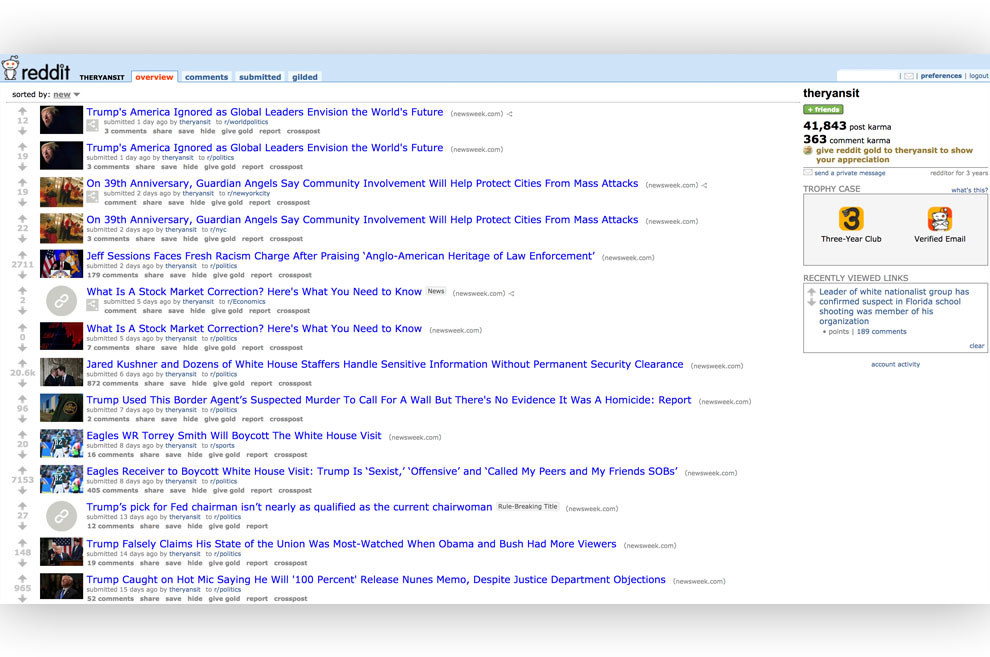 BuzzFeed News identified three accounts — marstonstudio, theryansit, nstone28 — that over the past two months together submitted more than 160 links to Newsweek content. They did not submit links for any other websites. After this article was initially published, BuzzFeed News was directed to a Twitter account also called theryansit that belongs to a Newsweek reporter, Ryan Sit. When contacted for comment, he said the Reddit account is his and that he uses it to share his stories.
"I post my articles on Reddit and rarely comment on their threads to let the conversations evolve organically," he wrote in a response posted to Twitter. He said Reddit suspended his account for three days last week.
"Point taken, I'll probably engage more going forward," he said.
A third account, boopbot3000, submitted more than 60 Newsweek links over the past three months, and only once shared a link to another source. Other than Ryan Sit, the owners of the other accounts did not respond to questions from BuzzFeed News sent via Reddit.
"The users you pointed out all match the pattern of spamming, and they're very obvious," said the source after being sent links to these and other profiles that repeatedly shared Newsweek content.
CORRECTION
Ryan Sit was first contacted after this story was published. The original version incorrectly included him in a list of Reddit account owners who received questions from BuzzFeed News prior to publication.