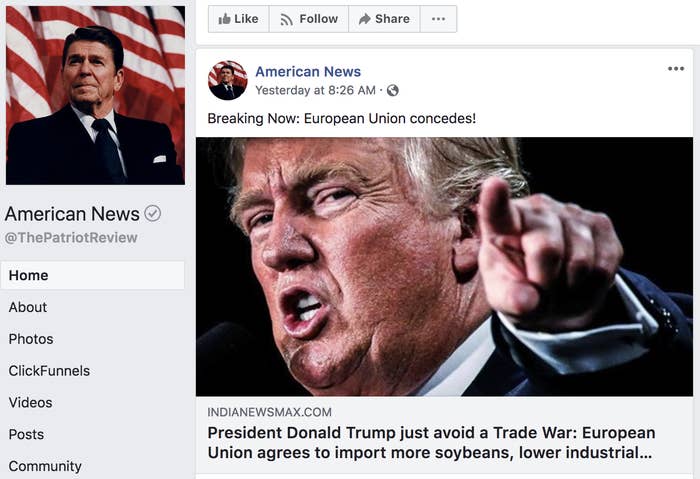 American News is a hyperpartisan conservative Facebook page with nearly 5.5 million fans that, at its peak in 2016, generated hundreds of thousands of shares, comments, and reactions for its posts, and drove impressive ad revenue to its website, AmericanNews.com.

But now, two years later, the page's reach and value have declined so much that its American owners resorted to renting it out to an Indian publisher for $5,000 a month so he could share links to websites he runs about American politics.
"They are renting out their page for content marketing," said Sanal, the Indian man who is paying for access to the page. "I thought we would just try for a couple of months and see how it works." He agreed to speak to BuzzFeed News on the condition that his full name was not published.
Sanal and at least one partner run websites about American politics with names such as IndiaNewsMax.com, IndiaRisingNews.com, and SampsonHart.com. His arrangement with the owners of American News violates Facebook's recently updated sponsored content policy, which prohibits page owners from receiving payment to share content unless they helped create the content. In general, Facebook also prohibits page owners from accepting anything of value to drive traffic to a website.
Sanal said he's earned a small profit each month since beginning the arrangement with American News, but it's not enough for him to continue.

"It will end this month and I don't think it is economically viable [to continue]," he said, explaining that the page isn't sending enough traffic to his websites.
Tyler Shapiro and John Crane, the owners of the American News page, did not respond to emailed requests for comment.
The decline of American News from one of the best-performing hyperpartisan conservative pages on Facebook to a page-for-rent that can't even earn sufficient revenue for an overseas publisher highlights how much the once-booming hyperpartisan news business has struggled since the 2016 election.
The driving reason for the decline is Facebook's ongoing algorithm tweaks that reduce the reach of pages spreading clickbait and misleading or false content, or that direct users to websites littered with low-quality ads. (American News at times was guilty of all of these offenses.)
Along with American News, other once-prominent and profitable pages have also had to shift their strategy. Rare, a conservative site and associated page launched by Cox Media, announced in March that it was shuttering. Its owners blamed Facebook's algorithm changes. Rare has since been reborn as a site publishing uplifting viral content. The Mr. Conservative page, with 2.1 million fans, now exclusively posts similar uplifting viral content, as does WD Americans Online, a page with 4.2 million fans.
But American News was bigger and more successful than any of these pages, based on Facebook engagement data. A BuzzFeed News analysis published last year looked at the Facebook engagement for 452 right- and left-leaning pages between Jan. 1, 2015, and March 31, 2017. It found that American News had 5 of the 10 top-performing link posts during that period, more than any other page, including juggernauts such as Fox News and Occupy Democrats. The site's biggest link share on Facebook during that period was a story that generated over 960,000 engagements, about Kanye West threatening to leave the country.
Shapiro and Crane, the owners of the site and page, also attracted negative attention for false and misleading content. In 2016 they were called out for publishing a false article claiming that Denzel Washington had endorsed Trump. That article was promoted by Facebook's Trending box, which has since been discontinued.
The site generated viral hits with false stories that claimed Miley Cyrus and Rosie O'Donnell were moving away from the US "for good" after Trump's victory. It also published a false report that Nicole Kidman had been "blackballed" in Hollywood after calling on Americans to come together and support Trump after he won the election. As for that massive Kanye story? It relied on a quote attributed to the rapper that was provided by an anonymous source to HollywoodLife.com. It's unclear if Kanye actually said those words.
BuzzFeed News also revealed in early 2017 that Shapiro and Crane were running conservative and liberal websites and Facebook pages to capitalize on both sides of the increasingly partisan political divide. Along with American News, they published the right-leaning site Conservative101.com, and liberal sites DemocraticReview.com and LiberalSociety.com. Only Conservative101.com continues to publish.
The low point for American News on Facebook appears to have come between February and April of this year, when the page generated almost no engagement. Around that same time, AmericanNews.com moved away from politics and into posting uplifting viral content. Today the site is completely offline.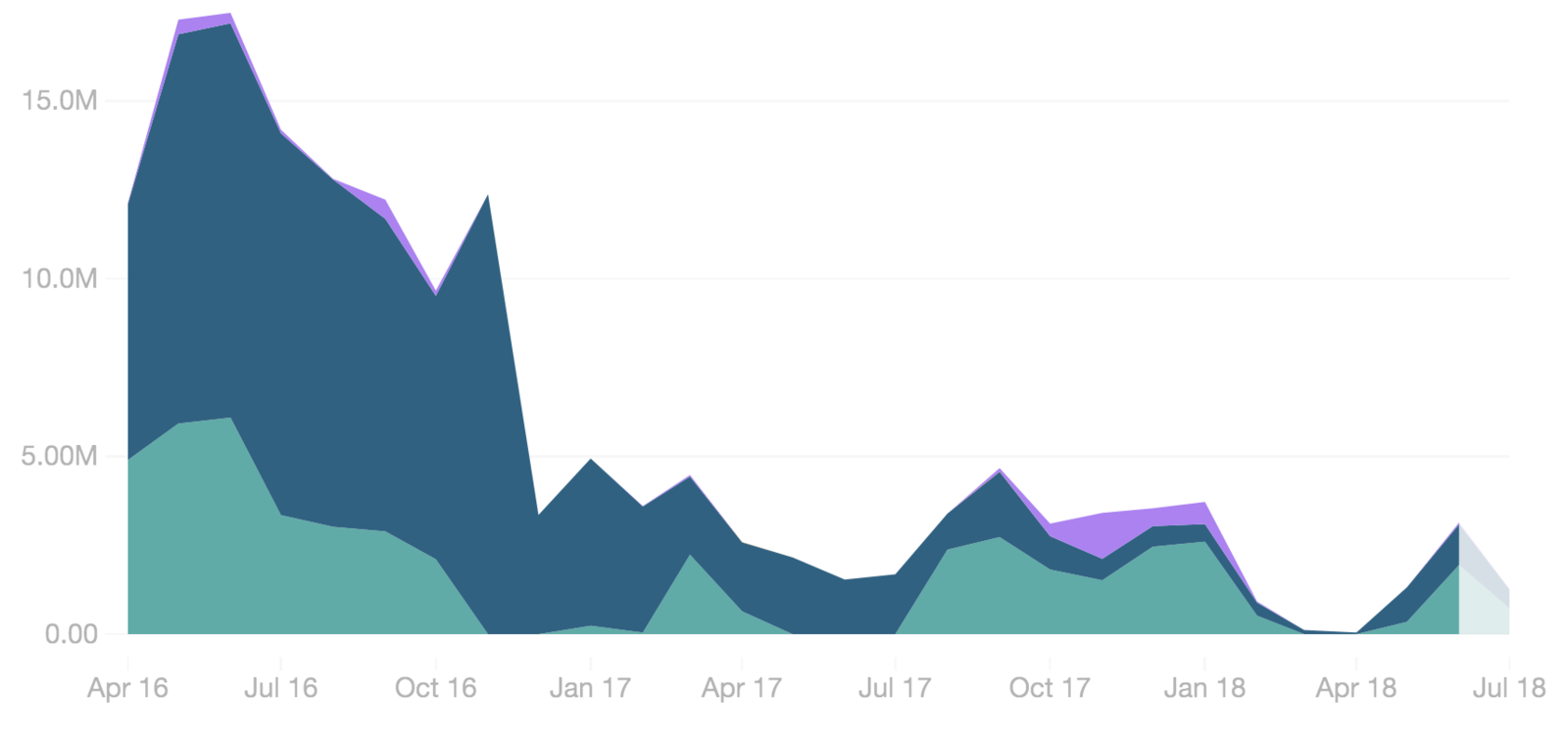 And now the flagship political page is without a client.
Sanal, the Indian man who paid for access to American News, said he followed up with his American partners after his first conversation with BuzzFeed News. He said he let them know he wanted to be removed as a manager of the page and end the relationship.
"I don't want to associate with any controversy," he said.
Sanal said he'll stop publishing articles about American politics, as it only makes sense if he has access to a big Facebook page with an audience that wants it. Fortunately, he has other niches to focus on.
"I have a small [Facebook] page for dogs," he said. "So after politics … those kind of stories are performing well on Facebook."