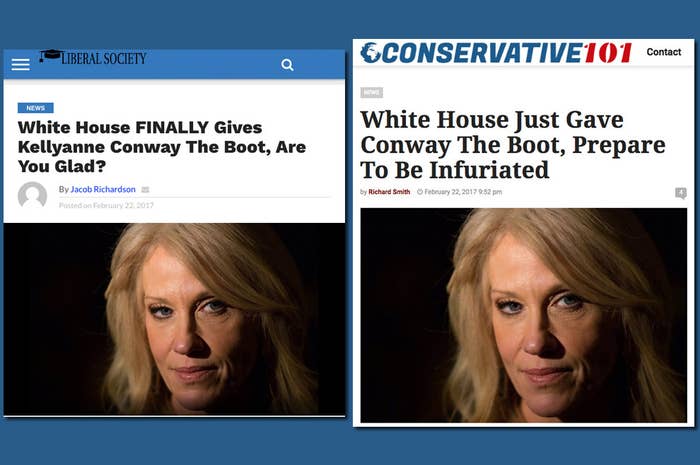 The websites Liberal Society and Conservative 101 appear to be total opposites. The former publishes headlines such as "WOW, Sanders Just Brutally EVISCERATED Trump On Live TV. Trump Is Fuming." Its conservative counterpart has stories like "Nancy Pelosi Just Had Mental Breakdown On Stage And Made Craziest Statement Of Her Career."
So it was a surprise last Wednesday when they published stories that were almost exactly the same, save for a few notable word changes.
After CNN reported White House counselor Kellyanne Conway was "sidelined from television appearances," both sites whipped up a post — and outrage — for their respective audiences. The resulting stories read like bizarro-world versions of each other — two articles with nearly identical words and tweets optimized for opposing filter bubbles. The similarity of the articles also provided a key clue BuzzFeed News followed to reveal a more striking truth: These for-the-cause sites that appeal to hardcore partisans are in fact owned by the same Florida company.
Liberal Society and Conservative 101 are among the growing number of so-called hyperpartisan websites and associated Facebook pages that have sprung up in recent years, and that attracted significant traffic during the US election. A previous BuzzFeed News analysis of content published by conservative and liberal hyperpartisan sites found they reap massive engagement on Facebook with aggressively partisan stories and memes that frequently demonize the other side's point of view, often at the expense of facts.
Jonathan Albright, a professor at Elon University, published a detailed analysis of the hyperpartisan and fake news ecosystem. Given the money at stake, he told BuzzFeed News he's not surprised some of the same people operate both liberal and conservative sites as a way to "run up their metrics or advertising revenue."
"One of the problems that is a little overlooked is that it's not one side versus the other — there are people joining in that are really playing certain types of political [views] against each other," Albright said.
And all it takes to turn a liberal partisan story into a conservative one is to literally change a few words.
Liberal Society's story about Conway's alleged TV ban ran with the headline, "White House FINALLY Gives Kellyanne Conway The Boot, Are You Glad?" Things were more grim over at Conservative 101: "White House Just Gave Conway The Boot, Prepare To Be Infuriated."
Both stories talked of her being given "the boot," and both underplayed the fact that her absence from TV was temporary, given she was due to be on Fox News that very night.
The stories unfolded in tandem from there.
"Kellyanne Conway has been a terrible communications director for Donald Trump," were the first words of the story for liberals.
"Kellyanne Conway has been the go-to communications director for Donald Trump," said the one for conservatives.
They embedded the same tweets from Conway and MSNBC host Mika Brzezinski. They used the same quotes from the CNN story. They chose almost the exact same wording to talk about Conway being "banned" from major TV networks. But, critically, the conservative version inserted a reference to the "mainstream liberal media":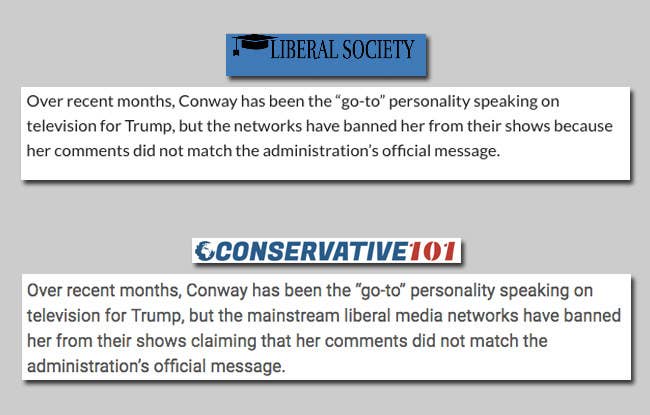 "Are you glad to see Conway gone?" asked Liberal Society at the end of its post.
"Will you miss seeing Conway on TV?" asked Conservative 101.
The stories read like they were stamped out of the same content machine because they were. Using domain registration records and Google Analytics and AdSense IDs, BuzzFeed News determined that both sites are owned by American News LLC of Miami.
That company also operates another liberal site, Democratic Review, as well as American News, a conservative site that drew attention after the election when it posted a false article claiming that Denzel Washington endorsed Trump. It also operates GodToday.com, a site that publishes religious clickbait.
Liberal Society, Democratic Review, and God Today all have the same Google Analytics ID in their source code, which means they are connected. Domain registration records show that American News LLC is the owner of God Today. (The other two sites have private ownership records.)

Conservative 101 and American News have the same Google AdSense ID and domain records show that the latter is also registered to American News LLC. Corporate records list John Crane and Tyler Shapiro as officers of the company, and Crane is listed in domain ownership records. They did not respond to three emails and a phone message from BuzzFeed News.
Domain records suggest they began as conservative news publishers. John Crane acquired the AmericanNews.com domain in 2014 and added Conservative101.com in May of 2016. The company moved into liberal partisan news with the registration of DemocraticReview.com in June of last year and LiberalSociety.com a month later. (Their religious clickbait site, GodToday.com, was registered in February of last year.)
They also appear to run several large Facebook pages that play a major role in helping their partisan content generate social engagement and traffic. Content from American News is pushed out via a page with more than 5 million fans, while Liberal Society's stories are promoted on a page with over 2 million fans.
Given the anti-Trump aspect of the Conway story, it's not surprising that the liberal version performed better on Facebook than the conservative one. Liberal Society's story generated over 40,000 shares, reactions, and comments, while the Conservative 101 version earned less than 4,000.
That's not the norm for these sites. An analysis of their top-performing content on Facebook using data from BuzzSumo found that American News is by far the most successful of the sites. It also appears to push the envelope more than the others when it comes to misleading and false headlines. Since the election, it has generated huge engagement for stories that falsely claimed Miley Cyrus and Rosie O'Donnell were moving away from the US "for good" due to Trump's victory. It also scored a hit with a false report that Nicole Kidman was "blackballed" in Hollywood for saying the country should come together to support Trump now that he's the president. Those three stories alone generated more than 2.5 million Facebook engagements.
In contrast, Liberal Society's biggest hit since the election is headlined "Obama Addresses Republicans: 'I Didn't Create Trump, Your Bigotry Toward Me Did' – But He Has A Plan." It generated just over 360,000 Facebook engagements. Even though the headline presents it as a direct quote, Obama did not say those exact words. It appears the headline was largely copied from a March 2016 article on liberal site Occupy Democrats, which reported accurately on comments Obama made at the time. (It also did not use quotation marks in its original headline.)
Grant Stern is a progressive who writes a column for Occupy Democrats and is the executive director of Photography Is Not A Crime. BuzzFeed News sent him American News LLC's liberal and conservative sites and asked him to comment on the fact that they're run by the same company.
"Those websites are marketing websites," he said after looking at the content, "and the product they're pitching is outrage."
It's unclear if the people running American News LLC use the same writers for their conservative and liberal websites, or if they have separate teams. What is clear is at least one of their sites is using fake author photos. The author page for God Today lists two writers, Henry Freeman and John Sullivan. The photos for these writers are taken from stock video footage. Sullivan appears in a Shutterstock video entitled "Mature man playing golf on golf course." Freeman's photo is taken from footage entitled, "Young man writing in notebook in city park." (After this article was published, God Today removed the photos and bios for Sullivan and Freeman from the authors page.)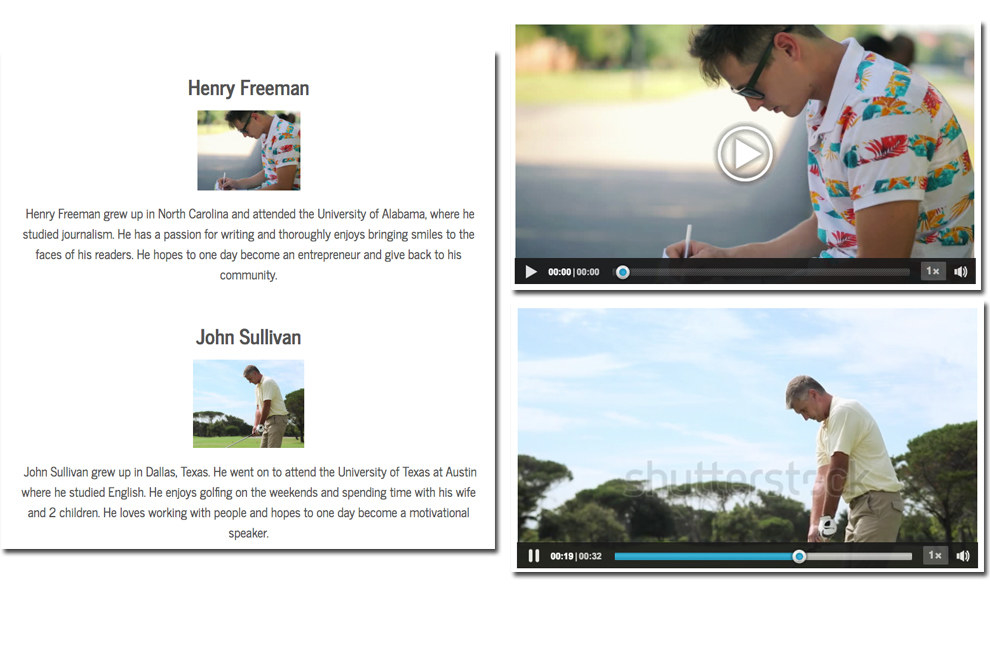 Liberal Society is the only partisan site owned by the group that lists its writers. It does not have photos but the bios for Travis Davidson and Jacob Richardson are written in an identical style to the ones on God Today. Here's Henry Freeman's from God Today:
Henry Freeman grew up in North Carolina and attended the University of Alabama, where he studied journalism. He has a passion for writing and thoroughly enjoys bringing smiles to the faces of his readers. He hopes to one day become an entrepreneur and give back to his community.
This is Jacob Richardson's on Liberal Society:
Jacob Richardson was raised in New York City. He attended UC Berkeley where he studied Political Science and Journalism. He now lives in California and says he will live there for the rest of his life. He has a passion for staying current with global news, including politics, business, and sports. He plans on getting married in the near future and starting a family.
Now that it has at least two liberal sites and two conservative ones, American News LLC appears to be setting its sights on expanding its presence in the religious clickbait space. On Feb. 17 John Crane registered two new domains: DevoutAmerica.com and EthicalAmerican.com. Neither are active as of now.

Outside Your Bubble is a BuzzFeed News effort to bring you a diversity of thought and opinion from around the internet. If you don't see your viewpoint represented, contact the curator at bubble@buzzfeed.com. Click here for more on Outside Your Bubble.