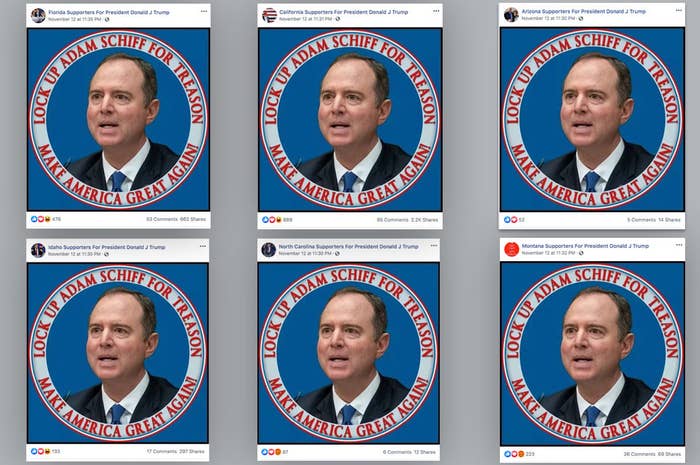 As public impeachment hearings kicked off in Washington last week, a meme featuring Rep. Adam Schiff spread across Facebook.
Within minutes of one another, at least 23 pages with state-themed names such as Ohio Supporters for President Donald J Trump and Iowa Supporters for President Donald J Trump shared an image of Schiff with the words "Lock Up Adam Schiff for Treason" and "Make American Great Again" encircling his head. This was one of two anonymously run pro-Trump networks of pages identified by a researcher and BuzzFeed News that share memes and stories, some of which are false or misleading, in a coordinated fashion. When contacted for comment, Facebook told BuzzFeed News the two networks do not violate its policy against coordinated inauthentic behavior.
While it's unclear exactly who's behind the network that spread the Schiff meme, the pages heavily promote posts from the campaign page of Robert Hyde, a landscaping business owner seeking the GOP nomination for a congressional seat in Connecticut. On the Connecticut Supporters for President Donald J Trump page, Hyde is seen posing with Trump in its profile and background photos.
When asked about his relationship to the network of pages, Hyde was evasive. "I like positivity and like to follow all Trump media," he said in an initial email to BuzzFeed News. In a follow-up message, he said he does not run the pages.
The pages and their murky connections to a political candidate highlight the challenges in determining who is behind coordinated activity on Facebook, whose interest page networks may serve, and what does and doesn't rise to the platform's standard of "coordinated inauthentic behavior." The enforcement of that policy is a major focus going into next year's US election, as Facebook works to prevent the rampant manipulation and inauthentic behavior that marred the 2016 campaign on the world's largest social network.
The company's head of security policy, Nathaniel Gleicher, told BuzzFeed News it will tread lightly in cases where "activity that may appear 'coordinated and inauthentic' … [but] could in fact be run by real people who are passionate about a particular issue."
Facebook's decisions about what it considers to be partisans promoting their views and what is a violation of its policies promises to be a source of controversy and partisan wrangling over the next twelve months.
"That's why we want to ensure we avoid enforcing against innocent actors and prioritize helping people distinguish between inauthentic behavior and authentic speech," Gleicher said in a statement.
Along with increasing the number of takedowns for coordinated inauthentic behavior, Facebook has put a priority on new transparency tools that enable users to identify the countries where page managers are based, learn when a page was created, and see if it has changed its name over time. It also recently announced a new policy that requires a page that is "misleading people about its purpose" to go through the company's business verification process and disclose if a specific organization is running it.
"Earlier this month we rolled out a new Page transparency policy to help people understand who is behind Pages they are interacting with on Facebook. We know that some networks of surreptitiously coordinated Pages can mislead users and appear organic," Gleicher said.
That feature would in theory address the issue highlighted by a recent Popular Information report about a "clandestine network of 14 large Facebook pages that purport to be independent but exclusively promote content from [conservative publisher] The Daily Wire in a coordinated fashion."
Facebook did not take action against the pages and instead said it would require those pages to go through the business verification process. It's now three weeks since Popular Information's story was published and two weeks since the new policy was publicly announced, and the pages still do not disclose their relationship with Daily Wire or its parent company.
A Facebook spokesperson said it's difficult to estimate how long it takes for pages to go through the business verification process. They said some existing cases could be resolved within a week or more.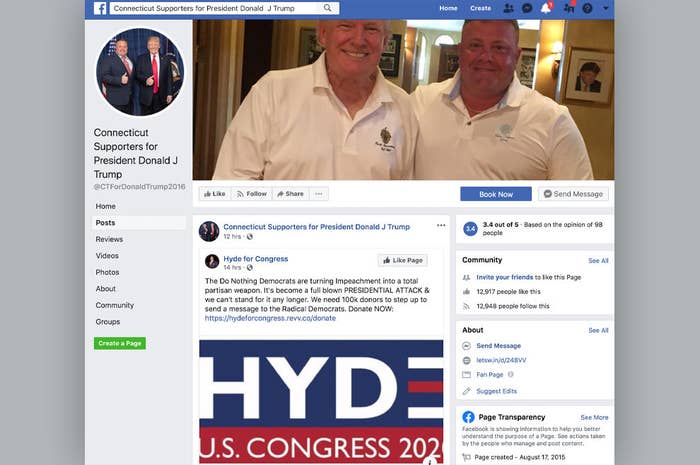 Trevor Davis, a research professor at George Washington University who helped identify the networks of unofficial state-based Trump fan pages, said transparency measures are not enough when it comes to this kind of political activity.
"This is not just a matter of simple transparency, where one person or one candidate may or may not be operating a number of pages. It is clear that resources are being applied to create the appearance of a large public movement," he said. "This isn't people organizing with their neighbors."
Davis said Facebook's transparency measures fail because average users are unlikely to click on a link to view the page disclosure information. "They neither have the time nor the inclination to investigate such things," he said.
Davis and BuzzFeed News identified a second, separate network of pages that also present themselves as state-based Trump fan pages. The pages, which have names such as New York for Donald Trump 2020, Texas for Donald Trump 2020, and Florida for Donald Trump 2020, promote content from America's Voice, an upstart conservative video operation based in Colorado. This network consists of at least 15 pages with more than 800,000 total likes, far more than the other network.
America's Voice did not reply to multiple emailed requests for comment, and its social media manager, Tim Selaty Sr., did not reply to a Facebook message. Selaty also runs Citizens for Trump, a for-profit group whose content was previously heavily promoted by the network pro-Trump state pages. Citizens for Trump attracted criticism in 2017 for a lack of disclosure about how money it raised in Trump's name was being spent.
Facebook said it is investigating both networks of state-themed pages after being contacted by BuzzFeed News with examples of both coordinated activity and misleading or false information. For example, the about section of at least seven of the state pages promoting America's Voice content misled users by pointing them to URLs such as coloradofordonaldtrump.com that are unregistered and do not currently exist. This is an apparent tactic to give users the false impression that the page is connected to a local website or group.
A Facebook spokesperson said it is in the process of communicating with the pages' managers about the need to go through the verification process. The company's policy on inauthentic behavior forbids efforts to "conceal a Page's purpose by misleading users about the ownership or control of that Page."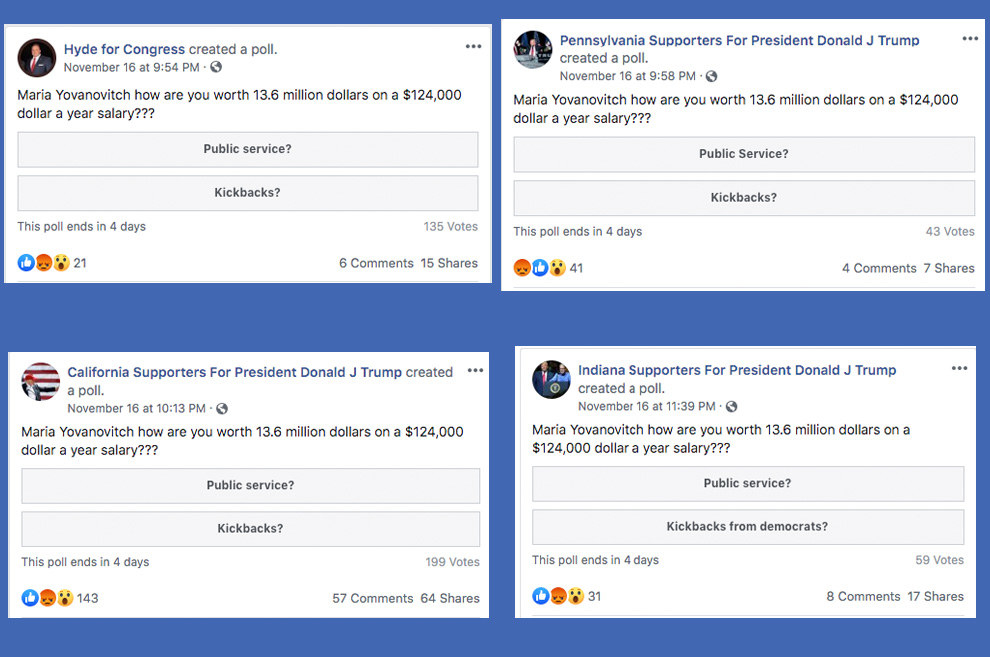 One of the pages in the network that heavily promotes the candidacy of Robert Hyde links to a Trump campaign donations page. Some of the pages have also shared false content. Last December, several pages in the network were called out by FactCheck.org for coordinated sharing of a meme with a false quote attributed to actor Kurt Russell.
This week, Hyde's official candidate page and several of the pro-Trump state pages posted a poll with the baseless claim that former ambassador Marie Yovanovitch has a net worth of close to $14 million. Claims about her personal wealth are unfounded and based on unverified speculation, according to Snopes.
On his own campaign page, Hyde also shared the name and photo of a man some claim is the Ukraine whistleblower, in violation of Facebook's policy against posting the alleged whistleblower's identity. (The post was taken down after BuzzFeed News informed Facebook about the violation.)
Along with having his campaign content reshared across a network of state-themed Trump pages, Hyde has posted a barrage of photos of himself with the president. He also shared photos of himself and recently convicted former Trump adviser Roger Stone, but deleted them after being asked about his relationship with Trump and Stone.
"No relationship," Hyde said. "I just work hard and position myself in the right spot at the right time."