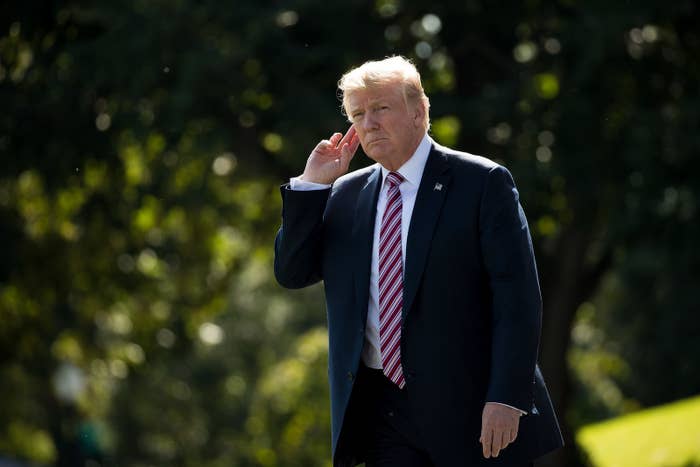 A group that describes itself as a "grassroots movement" to support Donald Trump is raising money in Trump's name — and spending it to boost Republican candidates the president has not endorsed.
The group, Citizens for Trump, is raising that money through a group called Patriotic Strategies, which is organized as a limited liability company. In one race, Citizens for Trump even supported the opponent of the Trump-backed candidate, endorsing Roy Moore in last week's Alabama Senate primary.
Citizens for Trump also lists a staffer who also works for a Republican congressman, though that congressman's campaign now says the staffer no longer works for the outside group.
Neither Citizens for Trump nor Patriotic Strategies, the Texas-based company that claims to accept donations for "Citizens for Trump America First Movement" on the group's behalf, is registered with the Federal Election Commission. There have been no public filings on how much has been collected or how it has been spent — a lack of disclosure that one campaign finance attorney called "shady" and that even one ally concedes is improper.
In a telephone interview with BuzzFeed News, Citizens for Trump executive director Tim Selaty Sr. described a volunteer effort that he sees as too small and too loosely organized to be considered a super PAC or a nonprofit advocacy group. But it's a small operation with big goals: In addition to Alabama, Citizens for Trump wants to assert its influence in upcoming Ohio and Florida races.
A donate button was only added recently to the Citizens for Trump website to help offset out-of-pocket expenses, Selaty said. The button links to a PayPal page for Patriotic Strategies, which, according to business filings in Texas, incorporated as an LLC last March, listing Earl and James Lee Brown as officers. Selaty said he would be surprised if the group has raised more than "a couple thousand" dollars.
"We're a volunteer organization who came together to help get Donald Trump elected," Selaty said. "We didn't get any PAC money."
Asked if the organization was making a profit, Selaty replied: "No, actually, we're probably losing money."
Citizens for Trump is particularly focused on Ohio, where it has endorsed Trump-inspired Rep. Jim Renacci for governor and recently launched a website bashing one of Renacci's Republican rivals.
The outside group shared a staffer with the congressman: Vanessa Treft, a field director for Renacci who also is listed as the Ohio and Michigan director for Citizens for Trump. Citizens for Trump's website lists 19 volunteer team members, including Selaty and Treft.
Selaty acknowledged collaboration with Renacci's campaign in several areas. "We discuss certain things on occasion," he said. "Not through Jim, but through other surrogates," including Treft.
Selaty said Treft "hasn't lost her title" with the group, but she is "pretty much full time with Renacci now."
In an email, Renacci campaign spokesman James Slepian wrote that Treft works full-time for the campaign, "but is no longer a paid employee" of Citizens for Trump.
Slepian also said campaign advisers are not aware of the group's fundraising operations or structure, and that there had been no "legally impermissible communications" between the campaign and the group.
"To the extent that anything of monetary value is provided by Citizens for Trump to Renacci for Ohio, it would be subject to the same legal contribution and reporting requirements that govern any other donor," Slepian added.
Republicans who favor other candidates in Ohio are complaining that the group is not playing fair. And a campaign finance expert says the Citizens for Trump arrangement raises legal questions, in part because it has not registered as a political action committee, and because outside spending groups are not supposed to use a candidate's name — in this case, Trump's.
"Unfortunately a group of shady operators saw the president's candidacy to profit from his name, likeness, and catchphrase," Paul Jossey, a Republican campaign finance lawyer who has written about deceptive super PACs, told BuzzFeed News after reviewing the organization's material. "Most Americans, even most lawyers, are not sophisticated enough to recognize 'Citizens for Trump' is wholly unrelated to the president's reelection campaign unless they read the fine print."
Citizens for Trump formed during the 2016 presidential election to back Trump's White House bid. The group was among those that sued the city of Cleveland over its security plan for last year's Republican National Convention and eventually won more accommodating protest space. Longtime Trump political adviser Roger Stone and far-right provocateurs such as Milo Yiannopoulos and InfoWars' Alex Jones were among those featured at the group's convention-week rally.
Stone told BuzzFeed News that he has never been paid by Citizens for Trump but has appeared at other events for the group, including a recent speech in Georgia.
"I never knew how they were constituted," Stone said. "They're very much a shoestring operation. … Most of these people, it's their first political outing."
But, Stone acknowledged, "They do endorse candidates, therefore they do need to constitute themselves as a 527 or a c4" — two types of nonprofit political advocacy groups.
The group's big move so far in Ohio is a website — dishonestjonny.com — that attacks Secretary of State Jon Husted, one of Renacci's Republican opponents.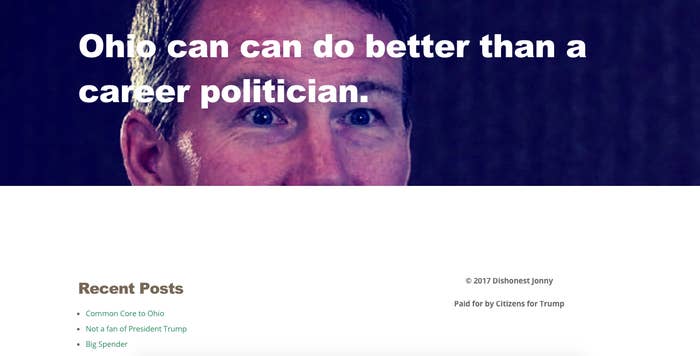 But information about that website's origin began to disappear once BuzzFeed News began asking questions. The site, for example, no longer includes its original "Paid for by Citizens for Trump" disclaimer at the bottom of its pages.
According to online records BuzzFeed News reviewed during the week of Sept. 24, James Brown of Patriotic Strategies registered the dishonestjonny.com domain on Sept. 5.
Efforts to reach Brown or Patriotic Strategies were unsuccessful.
A Patriotic Strategies page on Facebook links to Citizens for Trump content and describes the company as "a 'start to finish' conservative based political solution provider company that provides insightful and intelligent action plans that follow strategic ideas aimed at solving problematic challenges." The page also links to an undeveloped website that records show was registered by Selaty.
But the phone number listed with the registration for dishonestjonny.com — the site registered by Brown of Patriotic Strategies — is the same number Selaty used when applying for a rally permit in Cleveland last year and when calling and texting with BuzzFeed News last week. The address listed for Brown on Patriotic Strategies' incorporation papers in Texas also matches the address on Selaty's 2016 permit application. (Selaty did not respond to a follow-up text or email requesting to be put in touch with Brown.)
By Friday, the dishonestjonny.com domain's registration information had been made private in the Internet Corporation for Assigned Names and Numbers (ICANN) database and at GoDaddy.com.

Meanwhile, records show the Renacci campaign registered a similar domain — dishonestjon.com — on Sept. 5, the same day Patriotic Strategies registered its anti-Husted site. The Renacci site has not yet been developed.
Selaty said Citizens for Trump would like to back an entire slate of pro-Trump Republicans in next year's Ohio primary, where open races for all statewide offices are on the ballot. He acknowledged that the group sometimes could be at odds with Trump, as it was in Alabama.
"There's a division in that base," Selaty said. "We're not mindless sheep."