President Trump on Thursday praised a Republican lawmaker who physically attacked a reporter at a campaign event last year and ultimately pleaded guilty to misdemeanor assault.
Trump was speaking at a rally for Republican candidates in Missoula, Montana, on Thursday when he brought up Rep. Greg Gianforte, who won his seat in a hotly contested race in 2017. A day before the special election, Gianforte attacked Guardian reporter Ben Jacobs, knocking him to the ground and breaking his glasses. Other reporters at the scene said and an audio recording revealed that Jacobs had been trying to ask a question about health care when Gianforte attacked him without other provocation and began yelling at him.
Gianforte pleaded guilty to a misdemeanor count of assault, and a judge sentenced him to six months in jail, deferred. He was also fined $385.
"Greg is smart. And by the way, never wrestle him. Never. Any guy that can do a bodyslam, he's my kind," Trump trailed off as he mimicked throwing a person to the ground. "He's my guy."
The president added that he had initially been concerned when he heard about the incident; he'd endorsed Gianforte early on in the campaign and said he feared his chosen candidate would lose.
"Oh, this is terrible, he's going to lose the election," Trump said he recalled thinking at the time. "Then I said, wait a minute. I know Montana pretty well. I think it might help him — and it did."
Gianforte won with 50.2% of the vote, and it's unclear what effect the assault had on his results. Many voters had already cast their ballots ahead of Election Day under the state's early voting policies, though some analysts pointed out Gianforte won a more narrow victory than other Republicans have earned.
From Trump, he received only admiration.
"He's a great guy, a tough cookie," Trump said.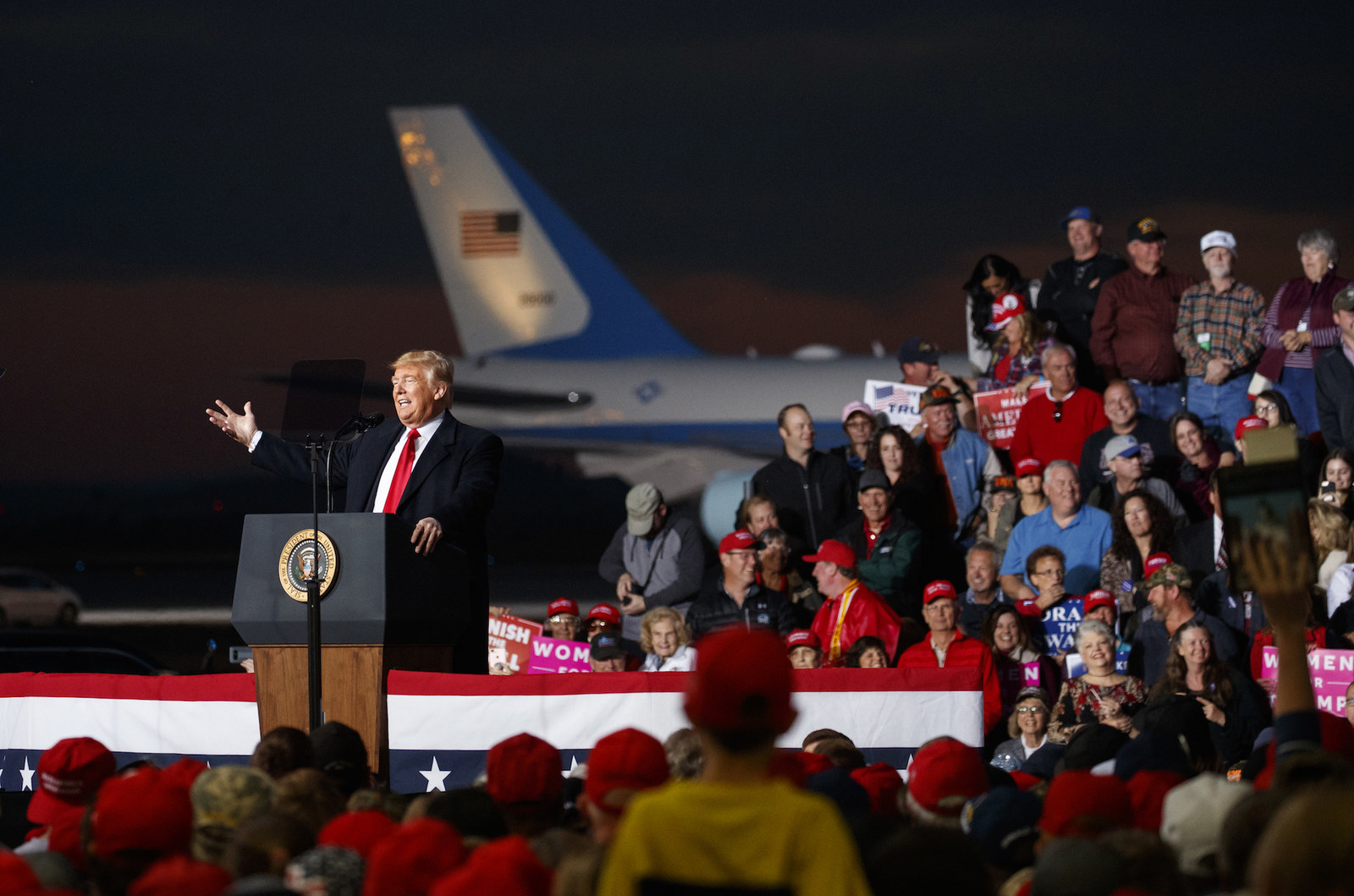 Throughout the rally, Trump disparaged the "fake news" that was on hand to report his remarks. He accused reporters of favoring Democrats and urged the crowd to boo. At one point, people chanted, "CNN sucks."
Trump's typical aggression toward reporters comes when his support of a free press is under particular scrutiny. It remains to be seen how Trump will respond to the likely death of journalist Jamal Khashoggi, who wrote critically of the Saudi Arabian regime and disappeared at the Saudi Arabian Consulate in Turkey.
Khashoggi's apparent death was referenced by Guardian US editor John Mulholland in a statement Thursday night, condemning the president's statements and calling for an apology.
"The President of the United States tonight applauded the assault on a American journalist who works for the Guardian," he said. "To celebrate an attack on a journalist who was simply doing his job is an attack on the First Amendment by someone who has taken an oath to defend it. In the aftermath of the murder of Jamal Khashoggi, it runs the risk of inviting other assaults on journalists both here and across the world where they often face far greater threats."
On Friday, a reporter asked Trump if he'd regretted praising Gianforte's assault in light of Khashoggi's likely death.
"Not at all," Trump said. "That was a different league and different world."
The president added that he thinks Gianforte is a great guy.
"Greg's a tremendous person, and he's a tough cookie," Trump said. "And I'll stay with that."