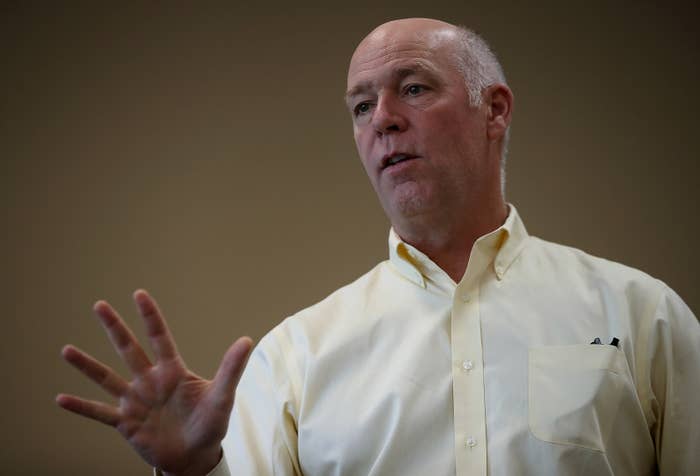 The Montana special election took a strange turn Wednesday night when the Republican candidate was accused of assaulting a reporter before his final campaign event.
The candidate, Greg Gianforte, was charged with misdemeanor assault.
The alleged incident took place at a campaign meet-and-greet in Bozeman after Ben Jacobs, a reporter for The Guardian, entered a room where Gianforte was preparing for a television interview. Jacobs later tweeted that Gianforte "body slammed" him, breaking his glasses.
BuzzFeed News reporters were at the event in Montana, and one was close to the scene but unable to see all of it. But a Fox News reporter who was present during the incident later confirmed Jacobs' account.
"Gianforte grabbed Jacobs by the neck with both hands and slammed him into the ground behind him," reporter Alicia Acuna wrote in a post on Fox News' website. She and two Fox News field producers then "watched in disbelief," she said, "as Gianforte then began punching the man, as he moved on top the reporter and began yelling something to the effect of 'I'm sick and tired of this!'"
The Guardian also posted audio of the exchange between Gianforte and Jacobs.
In the recording, Jacobs can be heard asking the candidate for his opinion on the Republican health care bill. Gianforte shoos him off, replying, "we'll talk to you about that later," and directing the reporter to speak to campaign spokesperson Shane Scanlon.

After Jacobs presses Gianforte to answer, a scuffle and a loud crash can be heard, followed by someone yelling, "I'm sick and tired of you guys! The last time you guys did the same thing! Get the hell out of here! The last guy did the same thing. Are you with The Guardian?"
"Yes, and you just broke my glasses," Jacobs says.
"The last guy did the same damn thing," Gianforte says.
"You just body-slammed me and broke my glasses," Jacobs says.
"Get the hell out of here," the man says. Someone else adds, "You need to leave."
Here's what BuzzFeed News saw and heard on the scene.
Immediately following the incident, aides appeared to escort Jacobs out of the room, and then entered a private room with the candidate. Police arrived shortly after, and Jacobs was taken from the venue in an ambulance to be treated for his injuries.

"I'm going to get my elbow checked out," Jacobs told MSNBC in one of several phone interview he conducted after the incident. "I landed on my elbow, and it's less than comfortable. I'm making sure that it's okay because I'm one-handed typing right now."
Gianforte left the venue shortly after the incident, without making any remarks.
In a statement, campaign spokesman Shane Scanlon blamed "aggressive behavior from a liberal journalist":
Tonight, as Greg was giving a separate interview in a private office, The Guardian's Ben Jacobs entered the office without permission, aggressively shoved a recorder in Greg's face, and began asking badgering questions.

Jacobs was asked to leave. After asking Jacobs to lower the recorder, Jacobs declined. Greg then attempted to grab the phone that was pushed in his face. Jacobs grabbed Greg's wrist, and spun away from Greg, pushing them both to the ground.

It's unfortunate that this aggressive behavior from a liberal journalist created this scene at our campaign volunteer BBQ.
The campaign's statement was strikingly at odds with the account given by reporters who witnessed the incident, including the Fox News crew.
"To be clear, at no point did any of us who witnessed this assault see Jacobs show any form of physical aggression toward Gianforte," Acuna with Fox News wrote.
In a statement following the incident, the Gallatin County Sheriff's Department said it was "investigating allegations of an assault involving Greg Gianforte."
By Wednesday night, several hours after the sheriff appeared in a press conference to urge the media to stop calling his office, the sheriff's department announced it had charged Gianforte with misdemeanor assault.
If convicted, Gianforte faces a maximum of six months in prison and a $500 fine. He is scheduled to appear in court sometime before June 7.
"Following multiple interviews and an investigation by the Gallatin County Sheriff's Office it was determined there was probable cause to issue a citation to Greg Gianforte for misdemeanor assault," the sheriff's department said in a statement. "The nature of the injuries did not meet the statutory elements of felony assault."
The sheriff, Brian Gootkin, also addressed reports that he had donated to Gianforte's campaign.
"I did contribute $250.00 on March 23, 2017," Gootkin said. "This contribution has nothing to do with our investigation which is now complete."

By Wednesday night, three Montana newspapers had rescinded their endorsements of Gianforte.
In an editorial posted online late Wednesday, the Missoulian announced that it was rescinding its support for the Republican candidate, and urged voters not to cast their ballots for Gianforte on Thursday.
"Three weeks ago, the Missoulian endorsed Gianforte because we took him at his word that he would set aside his personal beliefs, listen to Montanans and be their voice in the House," the paper wrote. "Gianforte violated that pledge when he attacked a reporter for doing his job Wednesday night."
The Billings Gazette quickly followed suit, rescinding its editorial endorsement of Gianforte in a strongly worded editorial.
"While we clearly made a poor choice in our original endorsement, an even bigger mistake would have been to stand by it, or say nothing even though this editorial appears on Election Day and may open us to criticism of trying to unduly influence the outcome," the paper wrote.
The Independent Record, in Helena, also rescinded its endorsement. All three papers are owned by Lee Enterprises, a media chain based in Iowa.
Gianforte's opponent, Democrat Rob Quist, appeared taken aback when reporters asked him about the incident Wednesday evening.
"I hadn't heard that," Quist told reporters, in a video posted by the Washington Post's David Wiegel. "So for me, I guess, that's really not for me to uh, to talk about. I think that's more a matter for law enforcement, I guess you'd say."
Asked how the alleged incident might affect Thursday's election, Quist replied, "I guess, again, that's not for me to judge."Outside Your Bubble is a BuzzFeed News effort to bring you a diversity of thought and opinion from around the internet. If you don't see your viewpoint represented, contact the curator at bubble@buzzfeed.com. Click here for more on Outside Your Bubble