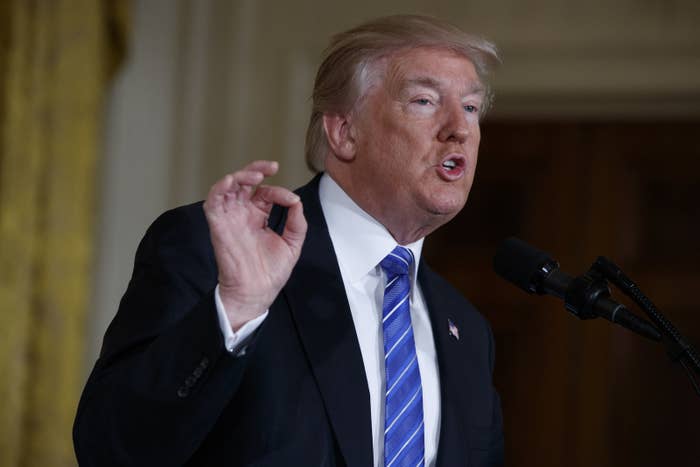 President Trump acknowledged Friday for the first time since taking office that Russia interfered in the 2016 presidential election, lashing out at how then-President Obama handled the meddling.
For months, Trump has described the US intelligence community's consensus that Russia tried to influence the outcome of the election as "phony," a "total hoax," and a "Democrat excuse."
Then on Friday, the Washington Post published a story (parts of which were previously reported by BuzzFeed News) on how the Obama administration debated responding to the meddling, which President Vladimir Putin was personally involved in.
Hours later, Trump's take on Russian meddling suddenly changed.

"Just out: The Obama Administration knew far in advance of November 8th about election meddling by Russia. Did nothing about it. WHY?" the president tweeted Friday night.
He followed it up again on Saturday with more tweets.
In criticizing Obama, Trump seemed to take as fact that Russia had meddled in the election. Just this week, White House staff could not say whether the president agreed with intelligence officials that Russia had interfered in the election.
"I have not sat down and talked to him about that specific thing," press secretary Sean Spicer said on Tuesday when asked by a reporter. "Obviously we've been dealing with a lot of other issues today."
Trump expanded on his criticism of Obama in an interview with Fox & Friends, scheduled to air Sunday. In that interview, he again said that Obama "should have done something about it" — suggesting that Russia did something in the first place.
"Well I just heard today for the first time that Obama knew about Russia a long time before the election, and he did nothing about it," according to an excerpt of the interview. "But nobody wants to talk about that. The CIA gave him information on Russia a long time before they even -- before the election. And I hardly see it. It's an amazing thing. To me -- in other words, the question is, if he had the information, why didn't he do something about it? He should have done something about it. But you don't read that. It's quite sad."
For months, Trump has called Russian meddling fake news. Only before his inauguration did Trump concede that Russia had hacked the emails of top Democrats — and even then, he didn't go as far as to say it was part of an attempt to influence the election.
"As far as hacking, I think it was Russia," he said at a Jan. 11 press conference in New York. "But I think we also get hacked by other countries and other people."
By Friday, Spicer said that the president stood by his earlier comment that Russia "probably" hacked the DNC.
"He's concerned about any country or any actor that wants to interfere in elections. I confirm that he stands by that," Spicer said.