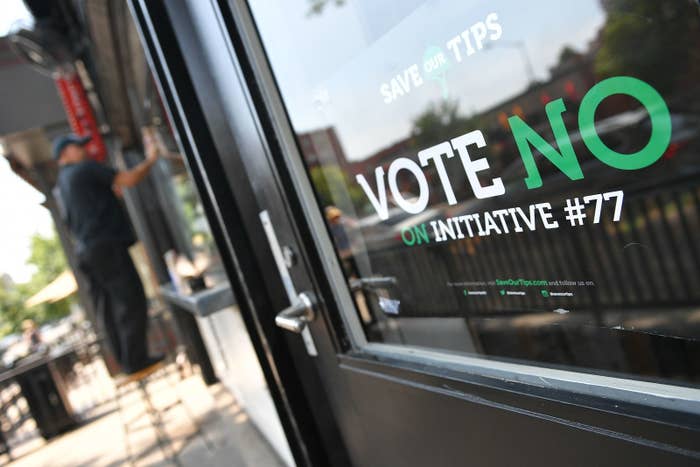 A group formed to defend the practice of paying servers and bartenders through tips is denying charges that it is a restaurant industry front group.
But a leader of Restaurant Workers of America acknowledged that his group is primarily financed by individual restaurant owners, with some workers also chipping in, and it has taken modest sums from the Washington, DC, restaurant lobby. And he said he has occasionally received strategic advice from an executive with the legendary Washington public relations firm Berman and Company, which has long directed campaigns on behalf of the restaurant, tobacco, and other big industries and against consumer and labor groups.
BuzzFeed News profiled RWA earlier this month as a group of servers and bartenders who oppose an increase to the tipped minimum wage, who said they're fine relying on tips. BuzzFeed News did not note (as we should have) that the group receives funding from restaurant owners, or report its interaction with a member of the PR firm, whose founder, Rick Berman, was profiled by 60 Minutes in 2007 as "Dr. Evil."
After a Columbia Journalism Review article described the group as "Astroturf," or not an authentic grassroots organization, its vice president and most visible spokesperson, Joshua Chaisson, confirmed that he has communicated with the head of Berman and Company's labor practice, Michael Saltsman, who has long been a top strategist for restaurant industry campaigns against the minimum wage.
"Mike's certainly been generous with his time," Chaisson said. "We don't agree on everything — he opposes a $15 minimum wage, I don't — but he's the best strategist out there on these labor issues and I'd be foolish not to talk with him."
Chaisson said he'd been discussing the tip issue with Saltsman since last year, and said he didn't recall who sent the first email.
When BuzzFeed News called Berman and Company and asked for Restaurant Workers of America, a receptionist said that Saltsman would return the call. He did not, and he did not respond to follow-up calls or emails.
Close links between the industry and a group that presents itself as speaking for workers is a familiar theme in American regulatory battles, one perfected by Berman through groups like the Employment Policies Institute (which is funded by employers) and the Center for Consumer Freedom, which is funded by companies that oppose regulation.

Chaisson defended his group's industry support and said that it's simply a matter of mutual interest — not Astroturf. He said he is a Democrat and he believes the tip credit issue is nonpartisan.
The battle over who really speaks for workers is a long-running one, which spans many industries.
His members, he said, are truly grassroots. They're full-time servers. He and other board members spoke to BuzzFeed News between their shifts. And he said no one receives a salary beyond a $40 daily travel stipend, though the group, registered through the tax code section 501(c)4 often used by political organizations that want to avoid disclosing their finances, isn't required to reveal funding and spending details.
"It suggests no grassroots server movement is legitimate if it's in any way touched by restaurant money," Chaisson said of the CJR story. "How else do they expect us to have any kind of impact?" he asked.
Chaisson also said RWA hasn't received any direct support from big corporate restaurants or from the National Restaurant Association, the main industry lobby.
"To the extent that a few of our members are restaurants, it tends to be local restaurant owners who we know and who believe in our mission," he said.
The battle over who really speaks for workers is a long-running one, which spans many industries. Chaisson's involvement goes back to Maine, where he works at two Portland restaurants.
Chaisson, server Carrie Smith, and Buck's Naked BBQ owner Wendyll Caisse joined the fight over the tip credit in 2016, when Restaurant Workers of Maine — alongside the Maine Restaurant Association, an industry lobbying group — persuaded the state legislature to reinstate a subminimum wage for tipped workers. Restaurant Workers of Maine is a Facebook group created by a server and a restaurant owner. Chaisson is also one of its administrators.
Chaisson said he met servers on the same side of the issue in Seattle and Minneapolis on Facebook in 2017, and they launched Restaurant Workers of America together that December.
The opponent they share with their employers is Restaurant Opportunities Centers United, a group with close ties to labor unions and funded by liberal foundations, whose national organization and reach dwarf the nascent RWA.

Saru Jayaraman, ROC's president, told BuzzFeed News last month she considered RWA's origins in Restaurant Workers of Maine show it to be an extension of the powerful restaurant lobby.
"The restaurant association spent a lot of money creating Restaurant Workers of Maine, which then grew into Restaurant Workers of America," Jayaraman said. "Restaurant Workers of Maine was led by restaurant owners, who again spread this fear and misinformation that tips would somehow be affected by employers paying a full minimum wage, which all the data shows is not true. It's ridiculous."
Local reporting in Maine from 2016 depicts Restaurant Workers of Maine as being supported, but not created, by industry.
And a restaurant owner and member of the Restaurant Association of Metropolitan Washington, Khalid Pitts, said his group's financial support for RWA was minimal, and limited to paying for campaign buttons.
"It's truly a bunch of servers and bartenders just trying to organize themselves," Pitts said.
BuzzFeed editor-in-chief Ben Smith contributed reporting.