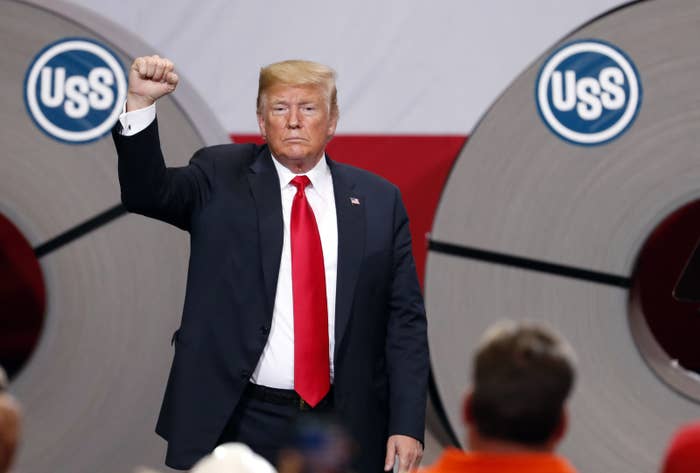 Hundreds of Americans have lost their jobs because of the Trump administration's tariffs, and analysts fear that number will keep rising.
On Tuesday, the administration announced it would hit an additional $16 billion in Chinese imports with a 25% tariff later this month. That follows July's decision to place tariffs on $32 billion in Chinese imports, as well as tariffs on steel and aluminum from the European Union, Canada, and Mexico that took effect in June. Tariffs on foreign-manufactured solar panels also went into effect earlier this year.
In response, countries targeted by Trump's trade policies have retaliated with their own tariffs against a range of US goods.
The escalating trade wars come amid a period of dramatic growth in the United States economy. Last month, the Commerce Department reported that US gross domestic product grew 4.1% in the second quarter of 2018, putting the economy on pace for its biggest year of growth in a decade. Job growth is increasing at a record pace.
But estimates from the Tax Foundation predicted last month that tariffs will take a toll on those numbers, with existing tariffs resulting in 48,585 lost US jobs. And if the administration pursues additional tariffs against China and foreign automakers, job losses could spike to 277,825.
Meanwhile, consumers are seeing higher prices on a variety of everyday products, and a range of US businesses — from cranberry farmers to yacht sellers — say they're hurting as a result of Trump's trade policies.
On the flip side, the tariffs have led US steel and aluminum companies to pick up their hiring. But those new jobs aren't enough to offset the losses, according to a report by Trade Partnership Worldwide, a trade consulting firm.
The company estimated that tariffs would result in a net 400,000 lost US jobs — which means that for every steel or aluminum job gained, 16 jobs in other industries would be lost.
And the job losses have already begun, with several US businesses announcing they are laying off workers as a result of the Trump administration's tariffs.
Here are some of the companies that have announced layoffs.
Element TV Company, South Carolina
The TV manufacturer, based in rural Fairfield County, will shut down its operations on Oct. 5, laying off 126 people by the end of 2018.
In a letter to South Carolina's Department of Employment and Workforce, Element's vice president of human resources, Carl Kennedy, said the company would retain eight employees and hoped to reopen within three to six months. But, he added, "we cannot predict this with any certainty at this time." Kennedy's position was included on the list of employees who would be laid off.
"The layoff and closure is a result of the new tariffs that were recently and unexpectedly imposed on many goods imported from China, including the key television components used in our assembly operations in Winnsboro," he wrote.
The company was applauded by local leaders, including then-governor Nikki Haley, when it opened in 2013 with the promise of bringing 500 jobs to the region. The state approved a $1.3 million economic development grant for the company and heralded its opening as a sign that manufacturing was coming back to South Carolina.
Mid-Continent Nail, Missouri
The nail manufacturer laid off 60 people in June, CNN reported, after it was hit with a 25% tariff on the steel it imported from Mexico.
The layoffs were a direct result of the tariffs, company spokesperson James Glassman said, describing it as a "misguided policy."
Mid-Continental is one of the largest employers in the town of Poplar Bluff, Missouri, and the tariffs could put the entire company out of business or force it to move to Mexico, Glassman added. A decision on the fate of the company's remaining 350-odd workers is expected to be reached by Labor Day.
Workers "are scared," Glassman told CNN. "They are worried about their families. It's not like there are tons of other manufacturing jobs."
The company "currently employs fewer than 350 employees, down from approx. 500 when the just before the tariffs went into effect," spokesperson Elizabeth Heaton told BuzzFeed News.
REC Silicon, Washington
The silicon materials manufacturer, which supplies products to the solar industry, announced in July it cut 85 jobs at its facility in Moses Lake, Washington, about 30% of its local workforce.
The Norwegian-owned company said the layoffs were a direct result of China's retaliatory tariffs against the US, which cut off the firm's access to the Chinese polysilicon market.
The company's president and CEO Tore Torvund said he regretted having to let go of 85 highly skilled workers.
"We need the United States and Chinese governments to cooperate in ending the solar trade dispute between the two countries to prevent additional job losses and to enhance the value of the solar industry in the United States and China," he said in a statement.
Brinly-Hardy, Indiana
The lawn-care equipment company has laid off 75 employees this summer, CEO Jane Hardy told the Washington Post, citing higher prices of both foreign and US steel in the wake of Trump's tariffs.
The company had to lay off workers to remain competitive, Hardy told the Post. "We are collateral damage in this effort."
American Keg Company, Pennsylvania
American Keg Company — the only company that manufactures beer kegs entirely from US steel — said it has also been hurt by rising prices.
The company laid off 10 of its 30 employees after the steel and aluminum tariffs were announced earlier this year, CEO Paul Czachor told NPR, explaining that the price difference between his kegs and those of foreign competitors increased as domestic steel prices jumped.
"There's only so much that a customer is willing to pay to buy an American-made keg. So we have a lot of patriotic customers, but as that price difference continues to increase, we lose sales," Czachor said. "And as a result of losing sales, we had to reduce some of our workforce."
Black Cat Wear Parts, Iowa
The company has laid off 10 of its 17 production employees from its factory in Dewitt, Iowa, plant manager Josh Daniel told the Quad-City Times, after coming under pressure from Trump's new steel tariffs, as well as retaliatory tariffs imposed by Canada.
Since the company is based in Canada, Daniels said, it was more cost effective to move work out of Iowa to avoid paying the new tariff. He added that he hoped the layoffs would be temporary.
Laclede Chain Manufacturing, Missouri
The manufacturer, based in Fenton, Missouri, has laid off 25 people as well as scaling back its plans for an expansion as a result of rising steel prices.
The company's CEO submitted testimony to Congress in May, saying it had seen the cost of domestic steel jump 25% in five months. Laclede was among several Missouri businesses affected by the administration's trade policies recently highlighted by the state's Democratic US senator, Claire McCaskill.
"It's time to end this trade war and provide necessary relief for the thousands of Missouri jobs that are at risk," she said.
Tampa Bay Times, Florida
The Pulitzer Prize-winning newspaper laid off about 50 employees this year, citing a new tariff on newsprint, the Tampa Bay Business Journal reported.
The US tariff — imposed on groundwood paper imported from Canada —increased the paper's newsprint costs by 30%, or about $3 million a year. Newsprint is the organization's largest expense after payroll, chairman and CEO Paul Tash wrote in a statement.
"Prices will go up," Tash said. "Jobs will be lost. Important stories will go uncovered."
Moonlight Meadery, New Hampshire
An independent brewery in Londonderry, New Hampshire, Moonlight Meadery had big plans to export 100,000 bottles of its mead and cider to China. But that deal that fell through after US and Chinese tariffs went into effect, WMUR reported.
Owner Michael Fairbrother told the station he has since laid off five employees, including his wife. The couple also sold their house in response to their losses, which he estimated amounted to $750,000 in annual sales.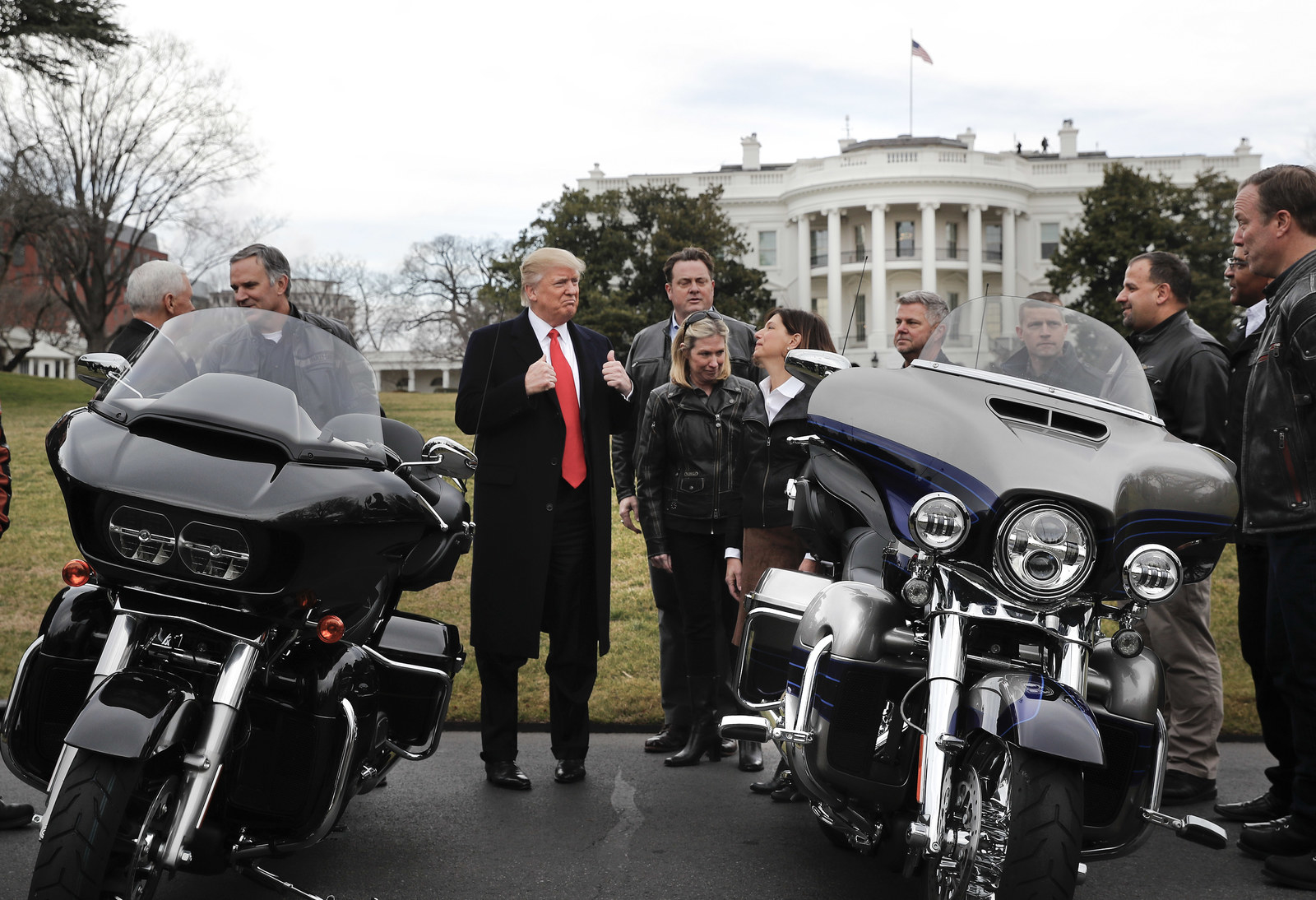 Harley-Davidson
The Wisconsin-based motorcycle company said it would be forced to gradually move production of thousands of its bikes to Europe over the next 9–12 months.
In an SEC filing, Harley-Davidson said it expected the tariffs to cost the company between $30 million and $45 million in 2018 alone. The tariffs would raise the price of each of its US-produced motorcycles sold in Europe by about $2,200 — a cost the company said it planned to absorb rather than pass on to its approximately 40,000 annual European customers.
To adapt to the tariffs, motorcycles sold in Europe could no longer be produced in the US in the long term, the filing said. The company did not immediately provide details on how many US jobs would be affected.
This is a developing story. Check back soon for updates and follow @BuzzFeedNews on Twitter.