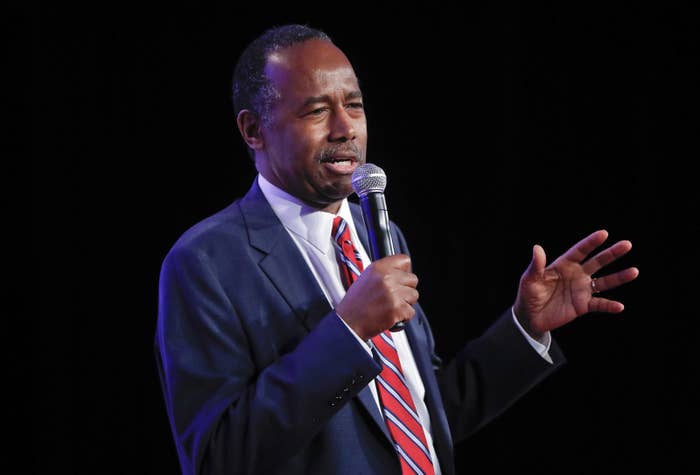 Ben Carson, the secretary of Housing and Urban Development, on Friday described sexual assault allegations against Supreme Court nominee and Judge Brett Kavanaugh as part of a long-running plot to overturn American democracy.

Carson was speaking at the Values Voter Summit in Washington, DC, an annual event hosted by the socially conservative Family Research Council's lobbying arm. Carson spoke at the event in his personal capacity, in spite of his cabinet position, event organizers said.
Carson started on the subject of Kavanaugh, who has been accused by Christine Blasey Ford of attempting to rape her when they were teenagers, by saying he believed a person is innocent until proven guilty. Carson then continued down a more conspiratorial path.
"If you really understand the big picture of what's going on, then what's going on with Judge Kavanaugh will make perfectly good sense to you," he said. "There have been people in this country for a very long time, going all the way back to the Fabians, who have wanted to fundamentally change this country."
The Fabian Society was founded in 1884 by socialists in the UK, where it continues to influence the Labour Party. There was at least one attempt to start an American chapter, and some people in US politics have ascribed to Fabian ideas over the years. But there is no formal Fabian Society in the US, and no evidence that any homegrown group is clandestinely trying to undermine American democracy in favor of another form of government.
But Carson continued:
"They don't like what America is and what it represents, and they want to change us to another system," he said. "And in order to do that, there are three things that they must control: the educational system, the media, and the courts. OK? The first two they have. The courts they thought they had, and it was snatched out from under their noses in November 2016."
The crowd applauded at the reference to President Trump's electoral win. Carson's comments, the first of their kind by a member of the administration, come hours after Trump attacked Ford's credibility on Twitter and has said that Kavanaugh is under attack from the "radical left."
Carson added that these alleged anti-American conspirators, who apparently control US media and schools, became angry after the election.
"They're like wet hornets, just completely lost control at that point and have gone off the deep end," he said. "The further they get away from being able to control the courts, the more desperate they become. Now they don't see themselves as being able to control the courts for another generation. So what is left? Chaos and destruction. And it really kind of puts this all into context."
A HUD spokesperson did not immediately respond to questions from BuzzFeed News.

Ford initially told her story confidentially in a letter to her member of Congress, then came forward after the letter was publicized. Ford has asked for the FBI to investigate the truth of her claims, and her lawyers have said she'll testify publicly under certain conditions.
At the Values Voter event, Carson went on to speak about a woman he said falsely accused him of sexual conduct. A woman in Florida claimed he was the father of her child and filed a paternity suit to seek child support, Carson said.
The woman had basic information about Carson's past and a photo of him — flimsy evidence in his view, he said. He refused to provide a blood sample for DNA testing, saying he believed it could be misused.
"It'll be at a murder scene and I'll be in jail for the rest of my life," Carson said. "No way am I doing that. And it escalated a little more, and then it just fizzled out and died."
Carson said he'd been able to stand up to the accusation because the truth was on his side. He encouraged the audience, when looking at the Kavanaugh accusation, to consider both sides of the story.
"Sexual predators, people who prey upon people who are weaker than them or in a lower position, is abominable. And there's just no room for it, as far as I'm concerned," he said. "Having said that, we must also recognize that there are two sides to every story."