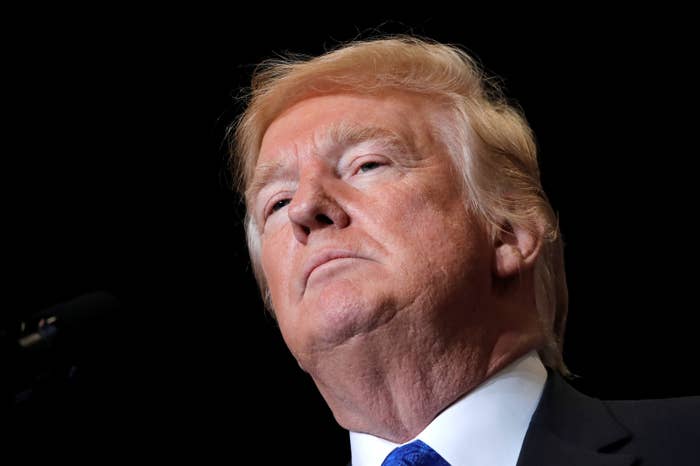 When President Donald Trump was asked about the allegations against his Supreme Court nominee earlier this week for the second day in a row, he mostly stuck to his talking points: Brett Kavanaugh is an "outstanding person," the woman accusing him of sexual assault needs to be heard, and Democrats should have raised those confidential allegations sooner.
But asked Tuesday if he viewed the turn of events as "just politics," Trump responded with a more self-aware comment that foreshadowed he might be veering off those more cautious remarks soon.
"I don't want to say that," Trump told reporters from the Oval Office.
"Maybe I'll say that in a couple of days, but not now."
On Friday morning, Trump decided it was time to explicitly say that.
The president named Kavanaugh's accuser, Christine Blasey Ford, who has said that Kavanaugh sexually assaulted her when they were both in high school, in a tweet repeatedly questioning why the professor did not go to law enforcement authorities 36 years ago and blaming the "radical left" for wanting to "destroy and delay" Kavanaugh's confirmation.
Although Trump earned praise from members of his own party and his aides for staying relatively restrained on the allegations for much of this week, Trump had begun straying from his talking points by as early as Tuesday afternoon. His frustration has slowly been seeping into his public comments as the week has dragged on with no clear resolution.

Hours after Trump first avoided making the issue political in the Oval Office on Tuesday, Trump began more clearly siding with Kavanaugh, bringing up the judge's wife and daughters when asked again about the allegations in a press conference — a move that was more in line with how he's previously handled allegations against women who have come forward against him and those close to him.
"I just think he is at a level that we rarely see not only in government, anywhere in life," Trump said. "And honestly, I feel terribly for him, for his wife, who is an incredible, lovely woman, and for his beautiful young daughters. I feel terribly for them."
"I feel so badly for him that he's going through this, to be honest with you. I feel so badly for him. This is not a man that deserves this."
That night Trump went on to imply in a somewhat vague tweet that the confirmation process had become political, and that the allegations were part of Democrats' "playbook."
And in an interview with the Hill.tv, he more aggressively targeted Democrats when asked about the allegations against Kavanaugh, coming close to suggesting this time that the allegations were made up.

"The Democrats have had this letter for three months. They could have brought it up at the hearing during, you know, in course during the hearing," he said. "Dianne Feinstein knew all about it and if she knew about it that meant [Sen. Chuck] Schumer knew about it. And every Democrat knew about it.
"This is no different than the Russian witch hunt, what they've done is they make up a lot of stuff and try and obstruct and resist."
In the same interview, Trump also gave himself credit for pleasing "people" with his handling of the allegations.
"I have said right from the start — and people have been very happy with what I've said — that we have to let both sides speak, we have to take a look at his absolutely incredible record, a record like almost none other that I've seen."
But on Thursday night, in front of a crowd of his supporters and with one of his staunchest allies, Fox News' Sean Hannity, it was harder for Trump to hold back, despite the praise he had been getting for his efforts to stay measured.
"Why didn't somebody call the FBI 36 years ago? I mean, you could also say, when did this all happen, what is going on?"
Trump also started to say that the allegations were an attempt to "besmirch" Kavanaugh, but he caught himself. "Now with that being said, let her have her say and let's see how it all works out," he said.
The president agreed with Hannity that he had been "accommodating," but he could only go so far in postponing the confirmation process.
"They've delayed it a week, and they have to get on with it," he said.