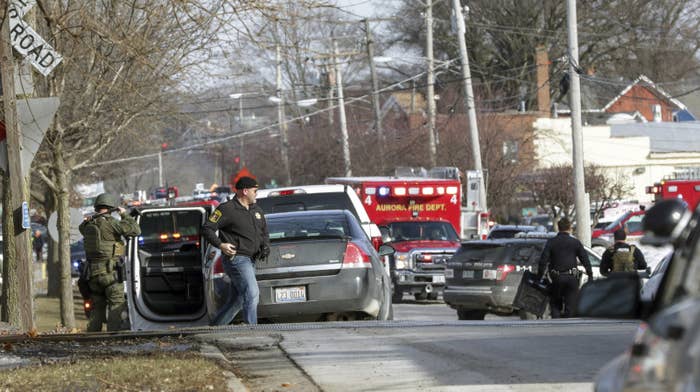 Five people were killed and seven others injured when a gunman who was being terminated from his job at a manufacturing warehouse in Aurora, Illinois, opened fire on employees, police said.
The gunman, identified as 45-year-old Gary Martin, was killed in a shootout with officers, Aurora Police Chief Kristen Ziman said. He had worked at the company for 15 years and was fired on Friday, she added.
Police, firefighters, and ambulances responded in force Friday afternoon to the Henry Pratt Company warehouse, a 29,000-square-foot building in an industrial park. Multiple 911 calls reported the shooting at 1:24 p.m. local time, and officers arrived in four minutes. Around 2:30 p.m., SWAT officers were seen entering the building. By 3 p.m., the city of Aurora said the gunman had been neutralized.
Five employees of the company were found dead inside the building, Chief Ziman said.
"It cannot be overstated that those people did not deserve this," she said. "Their families have our support."
Five of the officers who responded were also wounded by gunfire within the first five minutes of the incident, Ziman said. They were expected to survive their injuries. Another officer injured his knee in the response, and one employee was also being treated for a non life-threatening gunshot wound.
The Illinois Fraternal Order of Police praised the Aurora Police Department officers who were part of the initial response to the shooting.
"These four heroes willingly ran into harm's way to protect their fellow citizens and very nearly paid the ultimate price," a statement from the police union said.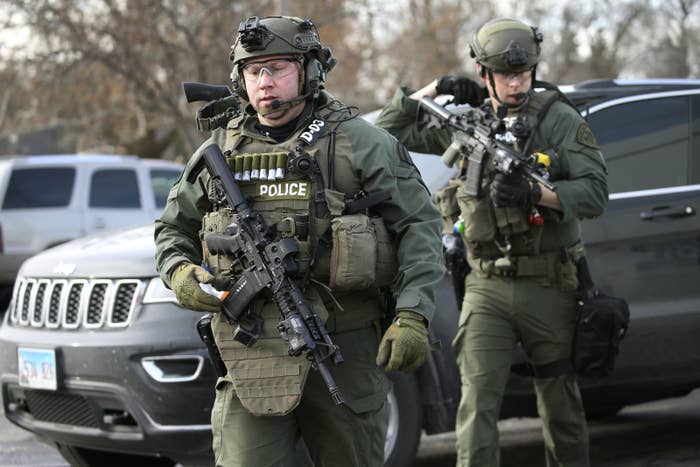 John Probst, an employee at the plant, told the ABC Chicago affiliate he was inside the building when shooting erupted and that he recognized the gunman as a coworker. Martin came into work at 7 a.m. Friday as usual, he added. Probst fled and was not injured, but he said he saw one person bleeding.
The gunman was carrying a handgun with a laser sight, Probst said.

"He was shooting everybody," he said.

It wasn't immediately clear how long Martin had been planning the shooting, or at what point he brought a gun into the building, Ziman said.
Martin's mother told the Chicago Sun-Times that he had been upset about losing his job for two weeks
"He was way too stressed out," she told the Sun-Times outside the Aurora Police Department, where she and other relatives were meeting with investigators.

In a statement, Mueller Water Products, the parent company of Henry Pratt Co., said it was shocked and saddened by the shooting.
"Our hearts are with the victims and their loved ones, the first responders, the Aurora community and the entire Mueller family during this extremely difficult time. Our entire focus is on the health and wellbeing of our colleagues, and we are committed to providing any and all support to them and their families," the statement said. "We continue to work closely with law enforcement, with whom we share our deepest gratitude for their support."
Local schools went into lockdown for several hours as a precaution, and the Chicago division of the Bureau of Alcohol, Tobacco, Firearms and Explosives also responded along with the FBI.
The White House said President Trump "has been briefed and is monitoring the ongoing situation in Aurora." Trump later tweeted his appreciation of local law enforcement.
Pratt manufactures valves for water systems and is located about 40 miles west of Chicago.