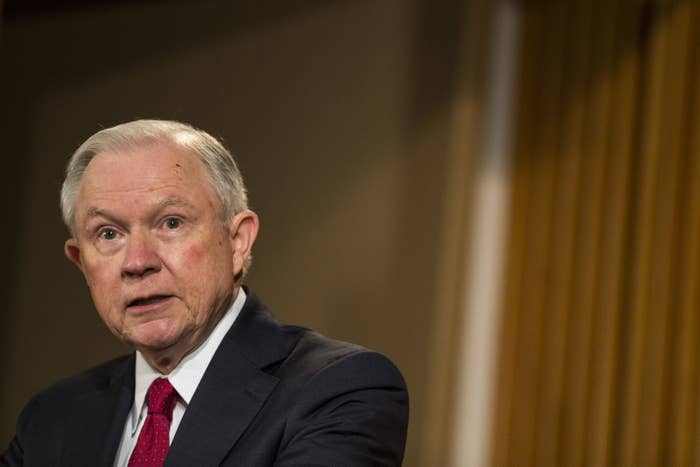 Democrats on Wednesday called for Attorney General Jeff Sessions to remove himself from an investigation into Russian interference with the 2016 election following a report that he personally communicated with a Russian official during the campaign.
"He's got to step aside on anything to do with this. It's an inherent conflict now," Rep. Eric Swalwell, a Democrat from California who has been pushing for an independent commission to investigate foreign interference in the 2016 election, told BuzzFeed News. "He should welcome the opportunity to recuse himself."

The Washington Post first reported that Sessions, then a senator and Trump surrogate, spoke twice with Russian Ambassador Sergey Kislyak in 2016. One was an office visit on Sept. 8 and another was a discussion involving several people at a Heritage Foundation event in July.
Those contacts seemed to contradict what Sessions told members of Congress during a confirmation hearing to become attorney general. On Jan. 10, Sen. Al Franken asked Sessions if he was aware of anyone affiliated with the Trump campaign having contact with Russian officials during the campaign.
"I'm not aware of any of those activities," Sessions said. "I have been called a surrogate at a time or two in that campaign and I did not have communications with the Russians."

A spokeswoman for Sessions told BuzzFeed News that he met with the Russian ambassador in his capacity as a member of the Senate Armed Services Committee — not as a representative of the Trump campaign. Sessions did not mislead members of Congress, she said.

"There was absolutely nothing misleading about his answer," spokeswoman Sarah Isgur Flores said. "Last year, the Senator had over 25 conversations with foreign ambassadors as a senior member of the Armed Services Committee, including the British, Korean, Japanese, Polish, Indian, Chinese, Canadian, Australian, German and Russian ambassadors. He was asked during the hearing about communications between Russia and the Trump campaign--not about meetings he took as a senator and a member of the Armed Services Committee."
Sessions also personally responded in a statement.
"I never met with any Russian officials to discuss issues of the campaign," Sessions said late Wednesday. "I have no idea what this allegation is about. It is false."
In his meetings, Sessions discussed relationships between the US and the ambassadors' countries as well as issues they were facing.
"During 2016, ambassadors would often make superficial comments about election-related news, but it was not the substance of their discussion," a Justice Department official said.

Speaking to MSNBC early on Thursday morning, Sessions reiterated: "I have not met with any Russians at any time to discuss any political campaign, and those remarks are unbelievable to me and false."

He also added that he would recuse himself from the Russia investigation, if it came to that.

The contact prompted renewed calls for Sessions to recuse himself from the investigation into Russian interference with the presidential election.
"He had two opportunities under oath to tell the truth about his prior Russia contacts," Swalwell said to BuzzFeed News. "He lied both times. Now, confronted with the truth, he's trying to be cute with words. Not to mention, why was he meeting with Russia's ambassador literally while Russia was attacking us?"

Sen. Al Franken, the Democrat who originally asked Sessions about his contact with Russian officials, said he was "very troubled" by Wednesday's news, given that Sessions had, at best, misled members of Congress.
"The American people deserve to know the truth about what happened between Russia and the Trump team, and I believe we need thorough and impartial investigations to get to the bottom of it," Franken said in a statement. "It's clearer than ever now that the attorney general cannot, in good faith, oversee an investigation at the Department of Justice and the FBI of the Trump-Russia connection, and he must recuse himself immediately."
Sen. Kamala Harris, a California Democrat, tweeted that Sessions' contact with the ambassador was a "clear sign" he should step back from the investigation.
Rep. Elijah Cummings, a Democrat and ranking member of the House Oversight Committee, called for Sessions to resign.
"His statement was demonstrably false, yet he let it stand for weeks — and he continued to let it stand even as he watched the President tell the entire nation he didn't know anything about anyone advising his campaign talking to the Russians," Cummings said in a statement.
"Attorney General Sessions should resign immediately, and there is no longer any question that we need a truly independent commission to investigate this issue."
And on Thursday morning, the chairman of the House Oversight Committee, Republican Congressman Jason Chaffetz, tweeted that Sessions should "clarify his testimony and recuse himself."
During a live town hall Wednesday night on CNN, South Carolina Sen. Lindsey Graham, a Republican, said a special prosecutor may be needed to look into the Trump campaign's Russian ties.
"There may be nothing there, but if there's something there, that the FBI believes is criminal in nature, then, for sure, you need a special prosecutor," Graham said. "If that day ever comes, I'll be the first one to say it needs to be somebody other than Jeff [Sessions]."
Graham also said at the town hall that President Trump "has a blind spot" when it comes to Russia, which is "not our friend."
House Minority Leader Nancy Pelosi said Sessions had lied under oath and should resign.
"Sessions is not fit to serve as the top law enforcement officer of our country and must resign," she said in a statement. "There must be an independent, bipartisan, outside commission to investigate the Trump political, personal and financial connections to Russia."
Democratic National Committee senior adviser Zac Petkanas said it appeared Sessions had lied while under oath.
"It appears Attorney General Sessions may have perjured himself by falsely denying under oath that he had contact with the Russian government during the campaign," he said in a statement. "As these meetings must obviously be included as part of the FBI investigation, the Attorney General must recuse himself immediately and appoint a special prosecutor as he cannot be expected to investigate himself."
Officials first said in October that the Russian government tried to interfere with the US presidential election by hacking the Democratic National Committee and Hillary Clinton's campaign chair. The US intelligence community said it was confident that the Russian government directed the hack.
Whether Trump or his campaign officials had any knowledge or coordination with the Russians has remained a topic of debate since then. An unverified dossier by a former British intelligence officer suggested that members of the Trump campaign had met with Russian officials during the campaign.
On Wednesday, the New York Times reported that international intelligence agencies confirmed that Russian officials and Trump associates met in Europe during the presidential campaign. The FBI has also investigated Trump associates' contacts with Russia, including those by Sessions, the Wall Street Journal reported on Wednesday.

As attorney general, Sessions leads the Department of Justice and oversees the federal investigation into Russian meddling into the election. On Monday, he said he would remove himself from that role if necessary.
"I would recuse myself on anything that I should recuse myself on," Sessions told reporters. "That's all I can tell you."
Contact with the same Russian ambassador already cost one member of Trump's administration his position. National Security Adviser Michael Flynn resigned in February after misleading Vice President Mike Pence about conversations between Flynn and Kislyak.
The White House did not immediately respond to a BuzzFeed News request for comment.
In a statement to CNN, a White House official said Sessions did not lie or mislead members of Congress.
"This is the latest attack against the Trump administration by partisan Democrats," the statement said. "General Sessions met with the ambassador in official capacity as member of the Senate Armed Services Committee which is entirely consistent with his testimony. It's no surprise Sen. Al Franken is pushing this story immediately following President Trump's successful address to the nation."