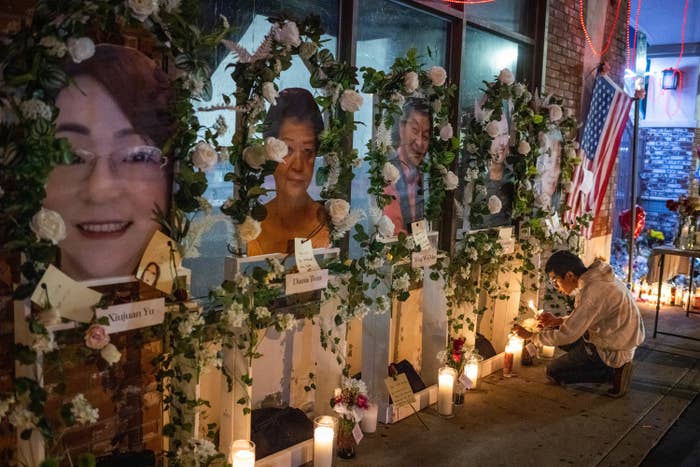 For decades, Star Ballroom Dance Studio was a place of fun and community for older Asian Americans in Monterey Park, California, where they learned to dance, spent time together, and celebrated parts of their cultures.
That sense of safety was shattered on Saturday night, the eve of Lunar New Year, when a shooter opened fire on the revelers in the studio, killing 11 people and injuring nine more. The shooter, 72-year-old Huu Can Tran, then traveled to Lai Lai, another dance studio in nearby Alhambra, but was confronted and disarmed by the owner's son.
The sudden eruption of mass violence shook the quiet city barely 8 miles east of Los Angeles, as well as its tight-knit ballroom community members who found joy and freedom in dancing.
"Ballroom dancing is an integral part of Monterey Park," Elizabeth Yang, a lawyer who takes classes at Star Ballroom, told BuzzFeed News. "It's a big part of the community."
Star Ballroom and Lai Lai share a small but dedicated community of ballroom dancers. They cater to high-level competitive ballroom dancers, as well as those who want a recreational outlet — a fun, elegant hobby that keeps them active.
"It's an older crowd and a lot of them are retired," Yang said. "They don't want to go to the gym, they're not going to be playing basketball or tennis. So ballroom dancing is the perfect sport for them to stay fit, stay healthy, get some exercise, and also meet new friends and have fun."
Maksym Kapitanchuk, an instructor at Lai Lai since 2010, said all his students have frequented both studios. Whether or not they danced professionally, they are committed to learning and perfecting the steps.
"Even those students who do it just for fun, their hobby for them is their life," he said. "Especially before COVID, they would spend hours and hours practicing at night."
For older Asian Americans in Monterey Park, these dance studios have functioned as important community spaces. Star Ballroom doesn't just offer group classes for children and adults and private dance lessons; it also hosts cultural events, dance showcases, karaoke sessions, tea dances, and holiday parties.
They were also a critical lifeline during the pandemic. Though the studios shut down for a while, they were some of the first places to reopen in the area, albeit with strict guidelines, Yang said.
"Those 11 who unfortunately have died, they were part of not just a family circle, but they're part of a social circle," Mayor Henry Lo told BuzzFeed News. "And so it has very wide-ranging impacts on the community."
A motive for the shooting is still unclear, but the shooter was familiar with the dance studios. Authorities said he used to frequent both locations, but had not been there in the last five years. His ex-wife told CNN that they met about 20 years ago at Star Ballroom and he offered to teach her. Investigators said on Wednesday that they have not been able to establish a connection between the suspect and any of the victims.
Yang started going to Star Ballroom consistently about a year ago. Every Monday after work, she leaves her office and walks across the street to the studio for dance class. Her daughter accompanies her sometimes, and despite her young age, Star Ballroom's co-owner, Maria Liang, always welcomes her.
Yang was celebrating Lunar New Year's Eve with her family on Saturday night when her phone started blowing up with messages asking if she was safe. She had been invited to the event at Star Ballroom that evening, but she decided to stay home with her family.
"If it wasn't for my family, I probably would have gone too," she said. "And if I had went, I would have brought at least my daughter, maybe even my son with me."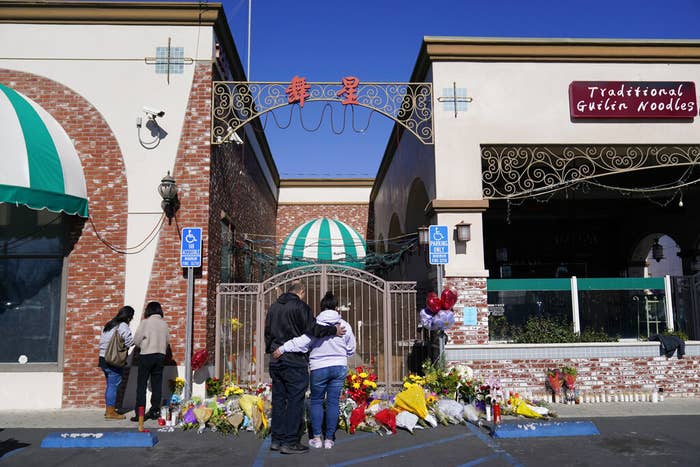 Known as America's "first Chinatown suburb," Monterey Park's population is majority Asian, and 73.5% of residents don't speak English at home, according to US Census Bureau data from 2021.
Although the makeup of students at Star Ballroom and Lai Lai reflects the city's broader population, dancers of all backgrounds came through the studios to teach.
"Star Ballroom studio was a place where world top teachers in dancing were meeting with students, with Americans, with [the] Asian community, and sharing our experience with them," said Liya Kazbekova, an instructor who has been teaching at Star Ballroom for four years. "We all were friends. It's not a big world, so we all know each other very well."
The students picked up Russian and Ukrainian words from instructors, and some in turn learned Chinese phrases from them.
A 2020 New York Times documentary short showed a taste of the passion that dancers have brought to these spaces. Filmed at Lai Lai, Walk Run Cha-Cha featured the husband-and-wife duo of Paul and Millie Cao, who were reunited in the US after fleeing Vietnam in the 1970s, and their lessons with Kapitanchuk.
"We work full time; we can't afford to retire. Our daughter has her own life right now," Paul Cao says in the film. "So we go to the club at least four nights per week, taking group lesson, private lesson, and dance on the floor three hours in the evening. Why am I spending so much time dancing? Am I crazy?"
That the shooting happened in such a close community likely means almost everyone who went to Star Ballroom or Lai Lai personally knew at least one of the victims.
Yang recognized Yu Lun Kao, known to friends as Andy, who took a bullet for his longtime dance partner Shally on Saturday night and died from his injuries.
She remembered Ming Wei Ma, the co-owner of Star Ballroom. He taught dance and singing at the studio and had been texting Yang's mother earlier in January about singing lessons for her son.
"He always said 'I love you,' always had a smile on his face, giving hugs and encouraging people to dance," Yang said.
Ma was "the heart of the dance studio," Kazbekova said. He was involved in a lot of artistic projects in the Asian community and always wanted to spread his love of dance with others.
In a 2016 interview with Pasadena Star-News, Ma said he wanted the studio to be a place for Asian people in Monterey Park to be active, to "help prolong their life and improve their health."
"Having a place where people from all over the world can come together and communicate through dance is how I can help," Ma said.
Kapitanchuk said he knew the victims who survived — and those who didn't. But he was closest with My Nhan, a 65-year-old woman who emigrated from Vietnam in the 1980s. Her family said she loved going to dance on the weekends.
Nhan was the first person who the shooter killed that night. She was shot sitting in her car outside the studio.
"She was very close and a very dear student of mine," Kapitanchuk said haltingly. "It really broke my heart."
Kapitanchuk immigrated to the US from Ukraine in 2009, and Nhan, who went by May, went to the very first group class he taught at Lai Lai. She came back every week, bringing more friends with her each time.
"My first group class, I didn't know what's gonna happen, you know — I'm Ukrainian, this is a Chinese and Vietnamese community, I don't know if it's gonna work out," he said. "But with her generosity … she built my career. She built my family. She gave me a big start in America."
Kapitanchuk said he has been struggling to comprehend how he could have lost so many people he loved, especially Nhan. It's been hard for him to accept that such violence took place in a space where his community thrived. He always felt safe at Lai Lai, where he would teach past midnight sometimes.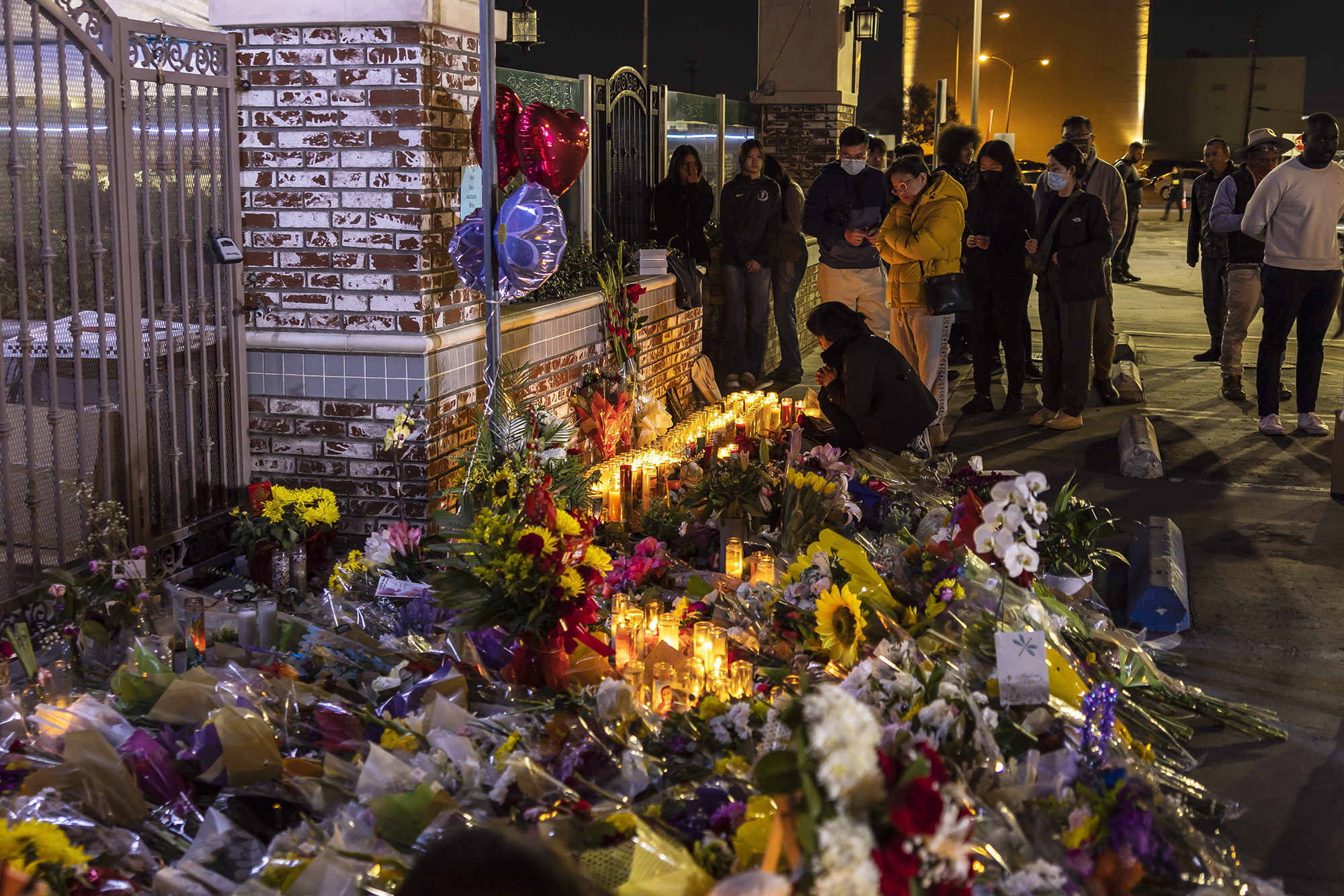 But he has been touched by the resilience of his adopted family. On Monday, some of his students told him they wanted to go back to dance class.
"Nobody wants to cancel it. Nobody wants us to stop. They said, 'We have to dance, we have to dance for May. We have to just continue and not be afraid,'" he said. "That really did move me."
Lo, Monterey Park's mayor, said the city is now focused on taking care of its residents and the studios affected.
"We want to make sure that the ballrooms that have such an important social standing in many of our communities also get the support they need, and that people still feel safe to go use them as a place to socialize," Lo said.
In the days after the shooting, Yang said she went out with her children and saw people out in the parks and eating at Chinese restaurants. In the WeChat groups she's in with other Star Ballroom dancers, they are offering Liang any help she needs to reopen the studio.
She herself has "no qualms" about bringing her daughter to Star Ballroom when its doors open again.
"I think this is going to bring the community closer," Yang said. "With every challenge, there's a blessing in disguise."