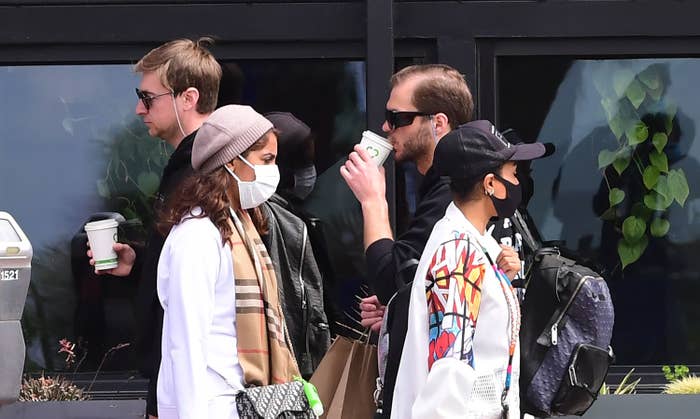 BuzzFeed News has reporters around the world bringing you trustworthy stories about the impact of the coronavirus. To help keep this news free, become a member.
As California continues to see a surge in new COVID-19 cases, more than 300 workers at Los Angeles Apparel, a garment manufacturing company producing basic cotton wear, have tested positive for the coronavirus, and four have died, public health officials said.
The Los Angeles County Department of Public Health (DPH) said Friday that the manufacturer will remain closed, after officials first ordered the company's downtown LA factory to shut down on June 27 after observing several violations of coronavirus safety measures there.
Three employees died in June after contracting the virus, and one in July. The DPH said it launched an investigation into the deaths this month.
"The death of four dedicated garment workers is heartbreaking and tragic," DPH Director Barbara Ferrer said. "Business owners and operators have a corporate, moral and social responsibility to their employees and their families to provide a safe work environment that adheres to all of the health officer directives — this responsibility is important, now more than ever, as we continue to fight this deadly virus."
The department said it was first notified of a potential outbreak at the factory on June 19, but said Los Angeles Apparel did not initially cooperate with its investigation.

A week later, officials visited the site and found "multiple violations of distancing requirements and infection control protocols," the DPH said, including using cardboard as a barrier between workers. The department then ordered the plant to close.
In early July, despite the company's attempt to prevent public health officials from entering the factory, DPH found that Los Angeles Apparel had violated the shutdown order and reopened "with apparently new employees."
Dov Charney, the founder and CEO of Los Angeles Apparel, told BuzzFeed News that public health officials gave "conflicting directives" about reopening, and denied that he had reopened the factory with new employees.
The company, he said, was "open for hiring" and engaged in it, but did not hire new workers.
"I think maybe we hired an intern or something, that's it," he said.
LA Apparel "never withheld any information" from public health officials, Charney also said, and they have had mass testing for employees, a majority of whom are Latino.
"It's morally irresponsible for the Health Department to speak on the infection rates at our factory without also addressing its connection to the issue at large: that the Latino community in Los Angeles is left vulnerable to COVID-19 in a healthcare system that provides no support with testing and no support or assistance for those that test positive," the company said in a statement to BuzzFeed News.
Charney said his employees were not concerned about coming into work amid the pandemic, and denied that 300 employees being infected by the coronavirus is a high number of cases for a factory with about 2,000 workers, citing the local infection rate as 15%.
"That's misleading, you shouldn't say that," he said, adding that he doesn't believe there would be fewer cases among his employees even if there were stricter safety measures. "It couldn't be less."

The county's testing positivity rate had dipped significantly since a high of 15% in one week in April, and is now steadily increasing again.
Los Angeles Apparel was founded by Charney in 2016, shortly before his first company, American Apparel, which he was fired from, declared bankruptcy. Charney has been accused of sexual harassment by multiple former employees, though he has denied those allegations. In 2017, he told the Guardian that "sleeping with people you work with is unavoidable."

As the pandemic grew in the US, workers at Los Angeles Apparel began manufacturing masks as part of the city's initiative for businesses to produce face coverings.