The American Apparel Saga Has Ended In Bankruptcy
The company has been bleeding cash since ousting its longtime CEO and founder last year.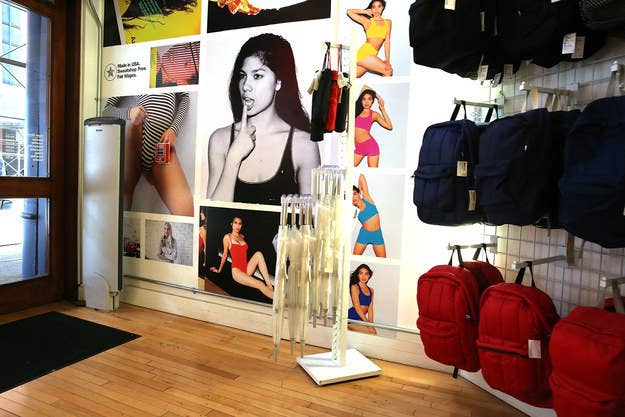 American Apparel has finally filed for bankruptcy, according to the New York Times, a little more than a year after the company ousted controversial founder Dov Charney and handed the reins to a New York hedge fund called Standard General.
The company, which has seen spiraling sales and an ever-sinking stock price since the management upheaval began, proposed a plan that would keep its 130 U.S. stores open and maintain its Los Angeles manufacturing operation, the Times reported. No layoffs were mentioned in the Chapter 11 petition, which was approved by American Apparel's board, and filed in Delaware, the newspaper said. The plan requires approval by the federal bankruptcy court, it added.
American Apparel's shares closed at 11 cents each last week.
"It is business as usual at American Apparel and we are as excited as ever to bring you great fashion basics," the retailer told customers in an email today, comparing its restructuring to "a path of people and businesses" like 50 Cent, American Airlines and Bloomingdales. "Our stores are open, e-commerce orders will continue to be fulfilled, your gift cards will still be honored, and all of our standard policies regarding returns, exchanges, etc., will remain in effect."
American Apparel's brand recognition has far exceeded its sales numbers over the past decade with its "Made in the USA" ethos, provocative advertising, and colorful, scandal-ridden founder Dov Charney.
The brand faced serious difficulties under Charney, who was its CEO until last year. When BuzzFeed News profiled him in February 2014, American Apparel's stock was trading below $1 and the company hadn't posted a profit since 2009. (Charney's response: "You really couldn't judge Steve Jobs the day he was thrown out of the office, you know?")
Beyond that, Charney's behavior made headlines, including accusations of lewd conduct from former employees and antics like calling his CFO a "loser" to the Wall Street Journal. The CFO resigned after that.
Still, his leadership went unquestioned by the company's board and investors until last year.
In June 2014, Charney was served with a surprise termination letter alleging he misused corporate assets, violated sexual harassment policies and more.
Shortly thereafter, Charney formed a risky partnership with Standard General, a hedge fund, that increased his stake in the business but ceded his ownership control to the firm. He believed the hedge fund, best known for its investment in RadioShack, would reinstall him, working as a consultant of sorts for American Apparel during a third-party investigation. Instead, he was fired entirely in December.
This year, all hell broke loose.
Charney and those loyal to him have waged an all-out battle with the company's new management and Standard General through constant lawsuits, protests outside its Los Angeles headquarters, and email campaigns. Some employees recently beat a piñata of the new CEO, Paula Schneider, as a form of political protest, posting the video on YouTube.
Instead of turning itself around, American Apparel saw new legal fees, a workforce moving towards unionization, plummeting sales, and wider losses. It announced layoffs earlier this year, as well as store closures. Questions have been swirling around the company's ability to pay a major interest payment later this month.
In August, it warned shareholders they could lose everything.
The bankruptcy, if approved, will mean just that. It will also wipe out Charney's stake in the company, according to the Times. Standard General and other creditors will gain full control of American Apparel if the plan is approved.
"Not having the nuisance lawsuits, not having this massive debt, these are all extremely important things for the company to thrive," Schneider told the Times in a Sunday interview.
She also told the newspaper her company will keep manufacturing in America.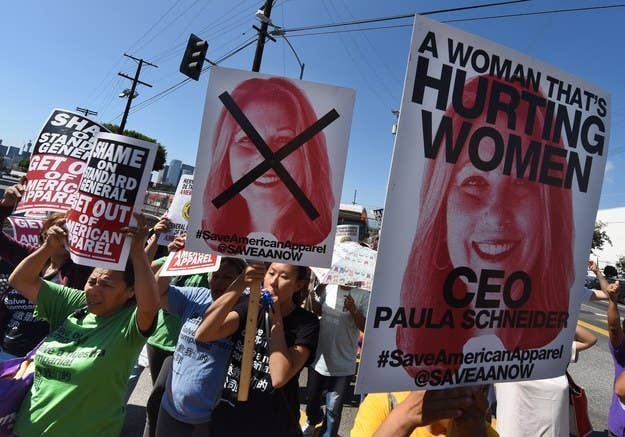 UPDATE
Updates with excerpt from email to customers in fourth paragraph.