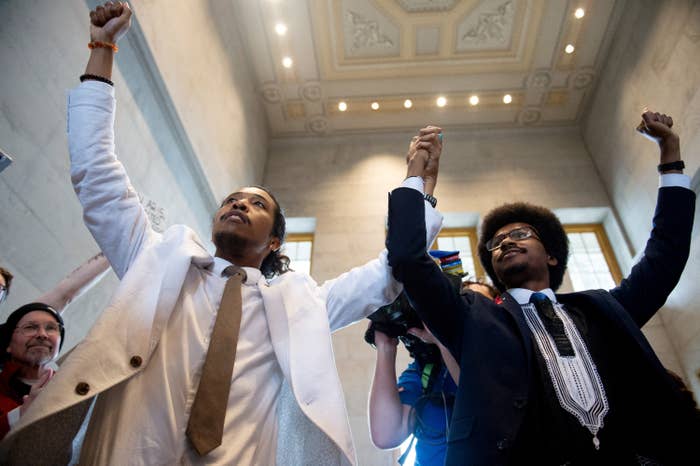 Two Democrats who were expelled by Republicans in the Tennessee House of Representatives for protesting gun violence struck a tone of defiance after their expulsion and vowed to return to keep fighting.
"We see gun violence every single day," former state representative Justin Pearson told reporters after the vote, above the din of angry chants from supporters who showed up to oppose their expulsion. "We have too many loved ones that we're putting in the ground, and these folks up here treat things like it's business as usual.
"It is not business as usual. Our lives are at stake, and we're gonna fight for our lives just like they're fighting for the NRA," he said.
Pearson of Memphis and Justin Jones of Nashville, both young Black men in their first terms, were voted out of their elected offices on Thursday for protesting gun violence in the state Capitol after a deadly mass shooting in Nashville. Democratic Rep. Gloria Johnson, who also supported the protest, survived by a single vote.
The Tennessee state House has a GOP supermajority, after Republican-favored redistricting handed Republicans an advantage in the last election.
"For so long, this body, drunk with power, has modeled for the world what we know as nothing less than authoritarianism," Jones said before the vote Thursday. "And today is the climax of that behavior: that a week after a mass shooting plagues our community, the most direct action this legislative body takes — or should I say, my colleagues on the other side of the aisle are taking — is to expel us for speaking about the issues of weapons of war on our streets.
"We called for you all to ban assault weapons, and you respond with an assault on democracy," Jones added.
The trio's protest incensed Republicans who were offended by the breaking of decorum in the House chamber. House Speaker Cameron Sexton likened their protest to the Jan. 6 riots, saying their actions were "at least equivalent, maybe worse depending on how you look at it, of doing an insurrection in the Capitol."
Sexton said they were "trying to jazz people up" and claimed without proof that several lawmakers were spat on by protesters.
Jones pointed to the House's failure to reprimand members who were found guilty or accused of criminal behavior.
"For years, one of your colleagues who was an admitted child molester sat in this chamber — no expulsion. One member sits in this chamber who was found guilty of domestic violence — no expulsion. We had a former speaker sit in this chamber who is now under federal investigation — no expulsion," he said.
Many also took note that the two Democrats expelled were Black men. Johnson, a white woman, acknowledged the racial dynamic at play. In an interview with CNN, when was asked why she wasn't expelled and her colleagues were, Johnson said, "I think it's pretty clear: I'm a 60-year-old white woman, and they are two young Black men."
Johnson also suggested that the way the two men were questioned and spoken to by their colleagues was racist.
"The way they were questioned and the way they were talked to — I was talked down to as a woman, mansplained to, but it was completely different from the questioning that they got," she said. "Just in a demeaning way and saying that, you know, 'If you're going to come into this body you have to act like this body.'"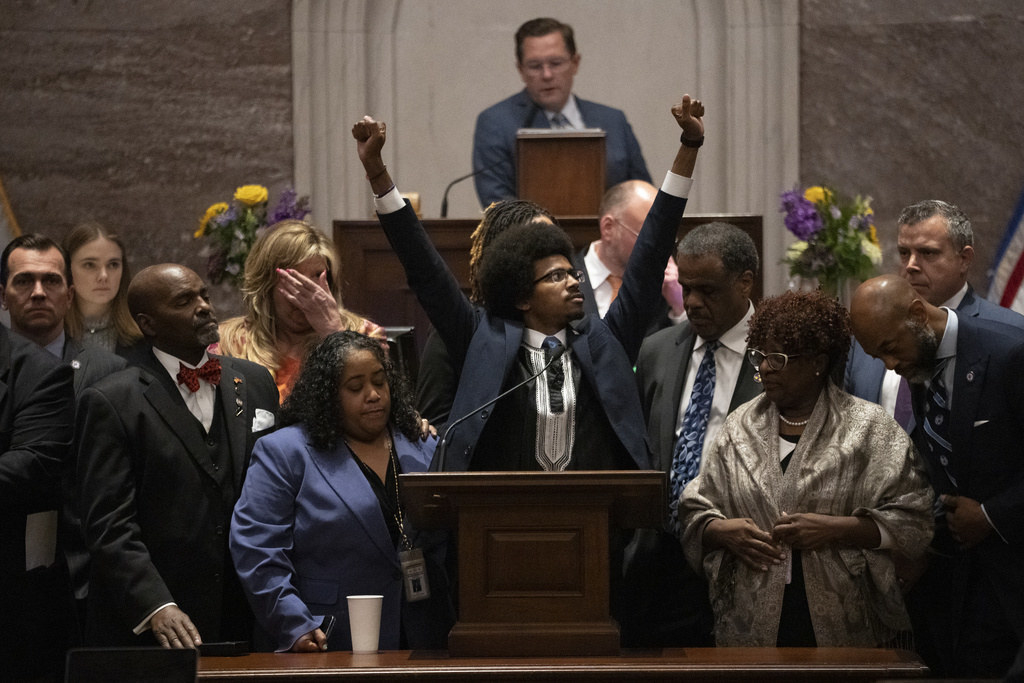 Pearson told reporters he was confident that Memphis voters will bring him back to the House, and said he wasn't done pushing for gun control.
"We're gonna keep fighting for people in Nashville, in Memphis, across the state of Tennessee, and across the United States of America who want justice. We deserve it," he said. "This is our birthright. Our inheritance is not just some pieces of paper in constitutions and rules, it is the advocacy and the ability to protest for what is right, and to create laws and to advocate for laws that make justice more possible."
At a rally on Thursday night, Jones declared their fight was not over.
"Rather than pass laws that will address red flags and banning assault weapons and universal background checks, they passed resolutions to expel their colleagues," Jones said. "And they think that the issue is over. We'll see you on Monday."