The Republican-controlled Legislature in Tennessee on Thursday took the extraordinary step of expelling two Democratic members of the Statehouse for their role in a protest for gun control in the chamber last week following the deadly Nashville school shooting.
After hours of debate, lawmakers voted 72–25 to expel Rep. Justin Jones of Nashville and 69–26 to expel Rep. Justin Pearson of Memphis after they led chants from a podium on the House floor on March 30 using a megaphone, while hundreds of children and their parents filled the spectator gallery to call for gun control.
A vote to expel a third member of the Statehouse, Rep. Gloria Johnson of Knoxville, failed by a single vote. She had argued that the resolution written by Republicans to expel her didn't accurately describe her behavior; while she stood with Pearson and Jones to support their protest, she had not vocally disrupted proceedings by yelling into the bullhorn.
A two-thirds majority vote was required to remove the lawmakers. Republicans currently control 75 of the 99 seats in the Statehouse.
Pearson and Jones are both 27-year-old Black men who are in their first term in the Statehouse, while Johnson, 60, is a white woman who is in her fourth term. "It might have to do with the color of our skin," Johnson said outside the chamber after the vote.
Invoking the Jan. 6 assault on the US Capitol, House Speaker Cameron Sexton, a Republican who leads the GOP's supermajority in the chamber, said the trio's actions were "at least equivalent, maybe worse depending on how you look at it, of doing an insurrection in the Capitol."
Although the demonstration did cause the speaker to temporarily freeze work in the Statehouse, no protesters broke into the building, damaged any property, or were arrested. Unlike the 2021 insurrection in DC, they were allowed in after going through security screening, the Tennessean newspaper reported.
Republicans argued the trio had breached the chamber's rules of procedure by approaching the podium to speak without being called upon.
The expelled lawmakers could run again for their seats and, if reelected, they could not be expelled for the same offense.
As the lawmakers voted on the expulsion Thursday, protesters gathered once more inside and outside of the Capitol in support of the so-called Tennessee Three. Chants could be heard outside the chamber for hours as lawmakers met, but Democrats had asked supporters in the public gallery to remain quiet so they could witness the events. However, once the final vote on Pearson occurred, people in the gallery erupted into chants of "Shame on you!"
Prior to the vote, each of the targeted Democrats was given the opportunity to address the chamber. In his speech, Jones told his colleagues he had taken extraordinary action to break decorum in order to stand up for his constituents. He decried the vote against him as a "lynch mob assembled to not lynch me but our democratic process."
"The world is watching Tennessee because what is happening here today is a farce of democracy," Jones said.
"The movement for justice can never die," Pearson said in his speech, "because the heart for justice can never be killed because it lives and it beats in everyone one of us."
Thursday's expulsions attracted significant national attention, including from President Joe Biden. "The expulsion of lawmakers who engaged in peaceful protest is shocking, undemocratic, and unprecedented," he said on Twitter.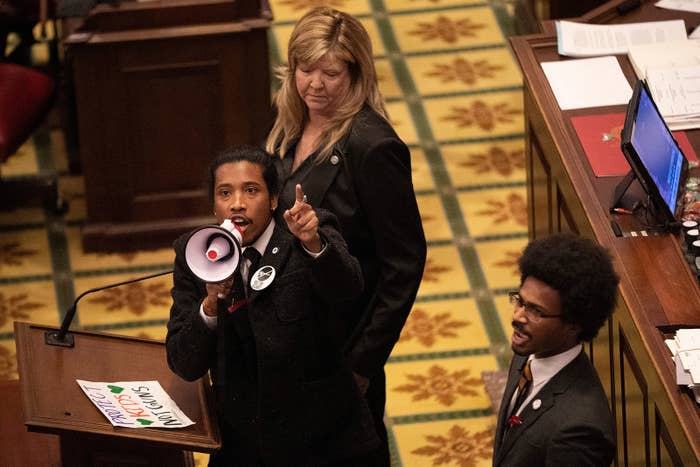 Republicans introduced the resolutions on Monday, a week after the shooting at the Covenant School, to expel the three Democrats, accusing them of "disorderly behavior" and of "knowingly and intentionally [bringing] disorder and dishonor to the House of Representatives."
"A week after six people were slaughtered in a Tennessee school shooting, House Republicans are taking action. Not to stop gun violence. But to silence voices who are calling for reform," Johnson wrote on Twitter after the resolution against her was filed. "We will not be silent."
Noting that Tennessee lawmakers did not expel a Republican who was accused in 2018 of sexually assaulting teenage girls, Johnson also accused her colleagues of hypocrisy.

Only two Tennessee House members have been expelled from the chamber since the Civil War. One was in 2016 for alleged sexual misconduct, the other was in 1980 for soliciting a bribe.
Jones said that the expulsion of him and his colleague would also silence the thousands of constituents they represent. "It's very concerning and it represents a clear and present danger to democracy all across this nation that should trouble us all," Jones told CNN on Wednesday, accusing Republicans of acting like authoritarians.
Republicans backing the expulsion on Thursday argued the trio's actions had robbed all Tennesseans of legislative process by leading to the session being temporarily suspended.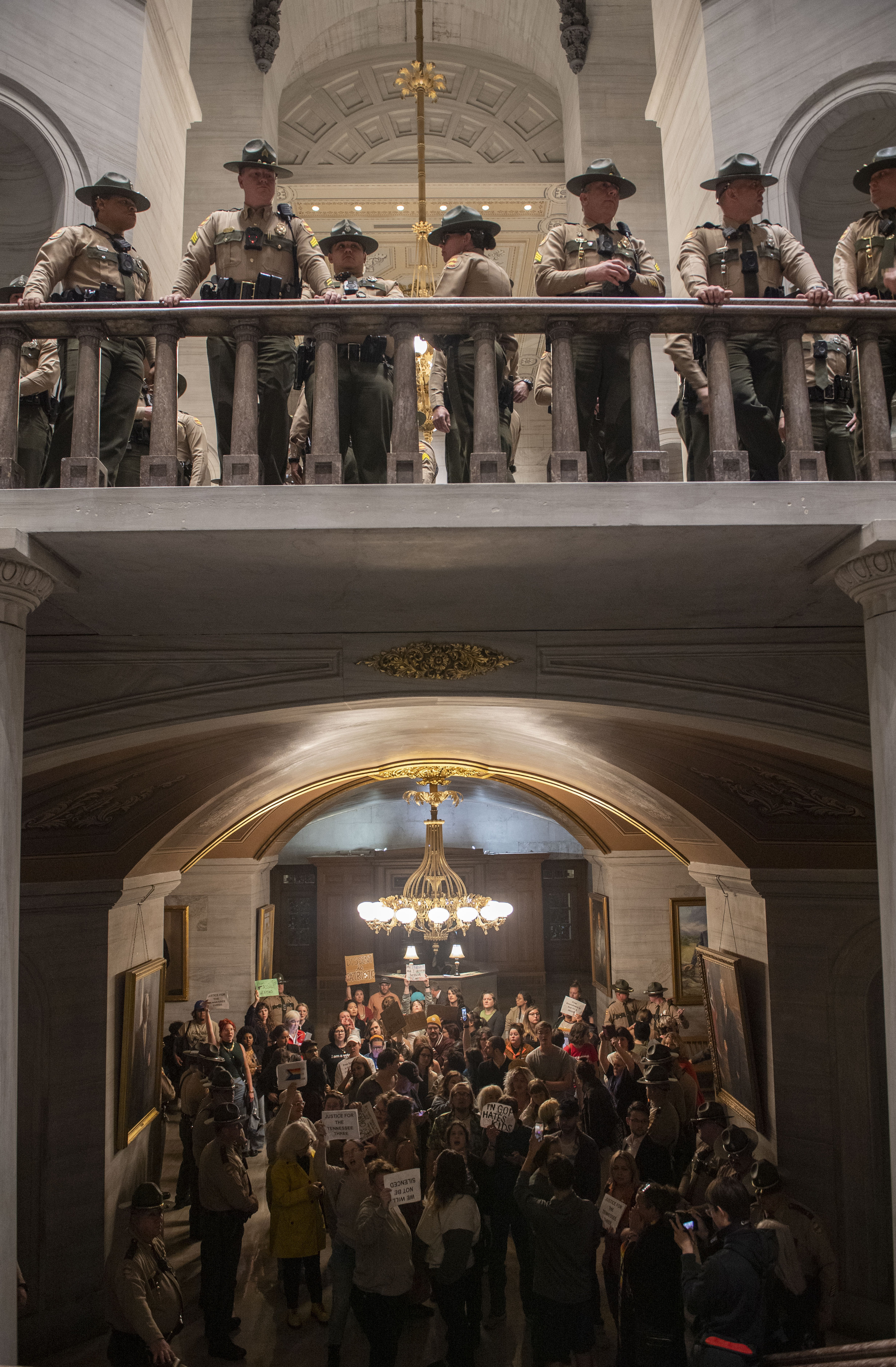 The brewing controversy had attracted significant attention among news outlets and Democrats nationally. Sen. Elizabeth Warren of Massachusetts called it "infuriating and anti-democratic," while Rep. Katie Porter of California said it was "a dangerous affront to democracy and cannot be ignored."
Following the expulsion, former president Barack Obama also weighed in. "This nation was built on peaceful protest. No elected official should lose their job simply for raising their voice – especially when they're doing it on behalf of our children," he tweeted. "What happened in Tennessee is the latest example of a broader erosion of civility and democratic norms. Silencing those who disagree with us is a sign of weakness, not strength, and it won't lead to progress."
On Tuesday, White House press secretary Karine Jean-Pierre also condemned the expected expulsion of the lawmakers by Republicans. "By doing what they're doing with these three Democratic legislators, they're shrugging in the face of yet another tragic school shooting while our kids continue to pay the price," she said.
Anti–gun violence groups also condemned the move. "This is NOT democracy," Everytown for Gun Safety tweeted Tuesday.
Prior to the expulsion vote, lawmakers had voted on a bill aimed at school safety, but the three targeted Democrats argued it did not go far enough and voted against it.

Calling for stronger legislation that actively targeted guns, Jones told his colleagues, "This bill seems to be a bandaid, it seems to be a white flag of surrender, when what we need is a deep surgery."