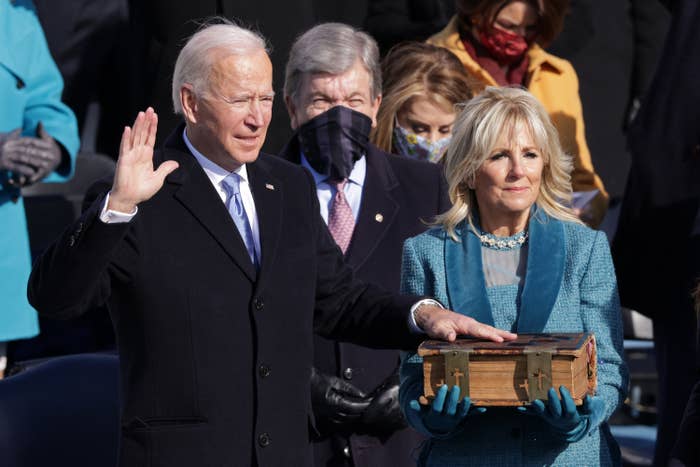 Decked in a face mask with his hand placed on a 127-year-old family Bible that has followed his career, Joe Biden was officially sworn as the 46th president of the United States on Wednesday.

"This is democracy's day, a day of history and hope, of renewal and resolve," he said in his first speech as president. "Through a crucible for the ages, America has been tested anew, and America has risen to the challenge. Today we celebrate the triumph — not of a candidate, but of a cause, the cause of democracy."
Biden acknowledged the challenges that lie ahead and talked about a central promise of his presidential campaign: to unite the country.
"I know speaking of unity can sound to some like a foolish fantasy these days. I know the forces that divide us are deep and they are real. But I also know they are not new. Our history has been a constant struggle between the American ideal that we are all created equal, and the harsh ugly reality that racism, nativism, fear, demonization have long torn us apart," he said.
"My fellow Americans, in the work ahead of us, we're going to need each other. We need all our strength to persevere through this dark winter," he said. "We're entering what may be the toughest and deadliest period of the virus. We must set aside politics and finally face this pandemic as one nation. One nation."

Biden was sworn in by Chief Justice John Roberts with first lady Jill Biden by his side. He has used the same Bible in every swearing-in he's had since being elected senator in 1972. His late son, Beau Biden, was also sworn in on the family Bible as Delaware attorney general in 2007.
Former presidents Bill Clinton, George W. Bush, and Barack Obama, as well as their spouses and families, were present.

His predecessor Donald Trump announced that he would not attend the inauguration after months of unsuccessful legal attempts to challenge Biden's win, then inciting a violent insurrection at the Capitol on Jan. 6.
Biden's unusual inauguration — with no large crowds, no parade, and 25,000 National Guard troops securing Washington, DC — underscores the unprecedented situation in a country that he has promised to unite.
But the riots at the Capitol just two weeks ago, showcasing the anger and separation from reality among many Trump supporters, as well as the worsening COVID-19 pandemic, showed how difficult a road Biden had ahead of him. At the nation's capital, law enforcement agencies beefed up security for the inauguration, further altering the mood of a normally jubilant event.
The night before the inauguration, Biden and Vice President Kamala Harris led a national mourning of the more than 400,000 COVID-19 victims in a ceremony at the Lincoln Memorial.
He also held a moment of silence for those lost to COVID-19 during his inaugural address, and in closing out his speech, reiterated his call for unity.
"America, I gave my best to you," he said. "Let us add our own work and prayers to the unfolding story of our great nation. If we do this, then when our days are through, our children and our children's children will say of us: 'They gave their best. They did their duty. They healed a broken land.'"
Correction: There were 25,000 National Guard troops deployed to secure Washington, DC, for the inauguration. A previous version of this post misstated the number.