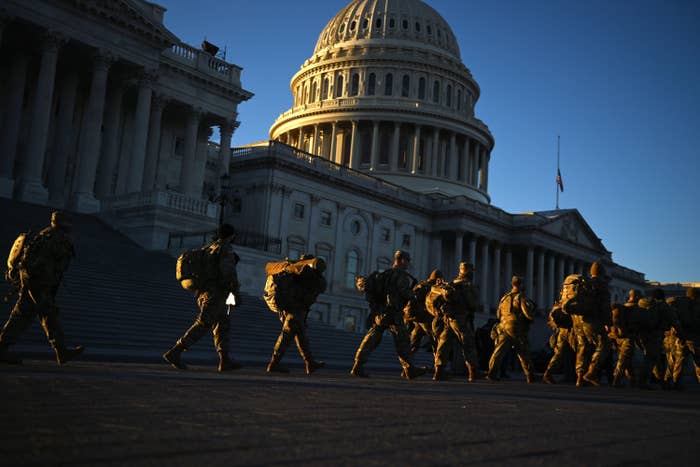 WASHINGTON — Welcome to Fortress Washington.
Ahead of Wednesday's presidential inauguration, Washington is a maze of Tetris-like concrete barriers, razor wire–topped metal fences, and heavily guarded security checkpoints. Phalanxes of police officers and National Guard members, clad in balaclavas and camouflage and carrying assault rifles, roam the streets. The city is divided into a "green zone" — where entry is restricted to local residents or business employees — and a "red zone," for authorized vehicles and personnel only. With bridges surrounding it closed, DC is essentially an island.
It is a city braced for a war against domestic combatants who, so far, have not materialized. Two weeks ago, incited by President Donald Trump, thousands of people stormed Capitol Hill and spilled blood in the halls of Congress in an effort to prevent lawmakers from certifying the election.
But Tuesday, the eve of Joe Biden's inauguration as the 46th president, many Trump supporters appeared to be steering clear of Washington amid a heightened security presence and a law enforcement dragnet in pursuit of those who participated in the mob attack on the US government.
On encrypted messenger apps, where many of Trump's most extreme supporters have migrated after being deplatformed by mainstream social media companies, apparent plans for follow-up protests, including armed rallies in Washington and at state capitols across the country, have been called off in recent days. Organizers have claimed without evidence that some were actually "false flag" operations organized by law enforcement or "traps" laid to round up "patriots."

As of early Tuesday evening, DC's Metropolitan Police Department and the Secret Service reported no major incidents. Hugh Carew, a police spokesperson, told BuzzFeed News no arrests were made on Monday or Tuesday. Just three arrests for minor infractions near checkpoints were made over the weekend, Carew said.
Still, the question on everyone's mind on Tuesday was: Would the peace hold? And for how long?
"There's a lot of trepidation," said Nicole Christensen, standing in a Starbucks at the bottom of her office building on Tuesday morning. The law firm assistant told BuzzFeed News she was picking up coffee for herself and the few colleagues who had come into work. While waiting for her drinks, she struck up a conversation with two senior Army officers, thanking them for being here.
"Hopefully we don't need to be here too long," one of the officers responded.
Christensen, who lives outside the city in a Maryland suburb, said residents who saw how "everything went to hell" after the recent spasm of violence are desperate for some semblance of normalcy to return soon.
For days, Washington has been effectively shut down.
Hulking dump trucks and military vehicles stand in as roadblocks. Most businesses are closed and boarded up. Traffic lights and crosswalk signals change for no one. Plastic shopping bags blow like tumbleweeds through empty intersections. Church bells typically drowned out by traffic noise can be heard for blocks — when the sirens of police cars rushing to the next report of a suspicious package aren't blaring.
"It's a ghost town," Christensen said.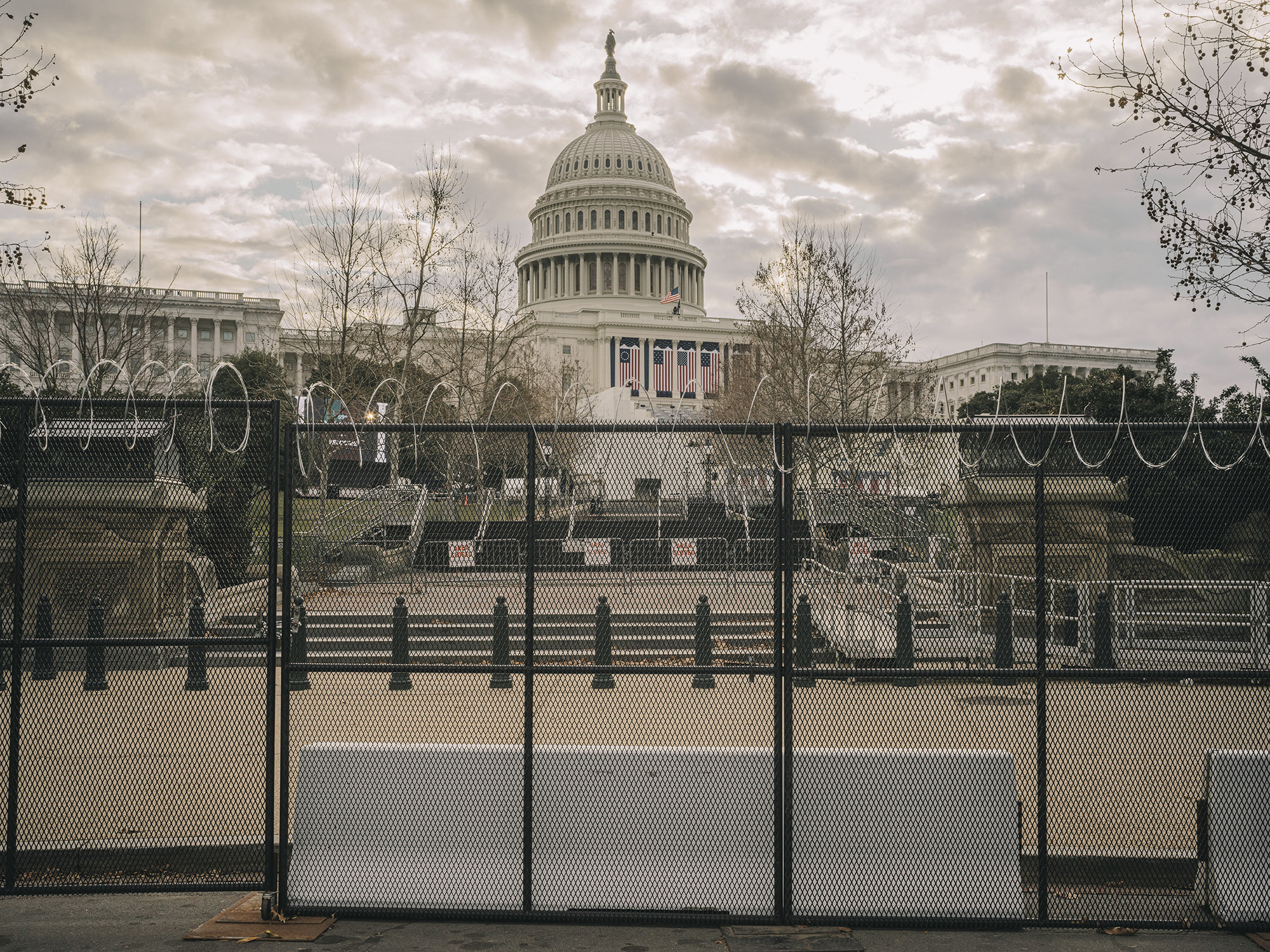 The only signs of life were reporters scurrying around, trying to find anyone who was not a reporter to interview, while photographers looked for new angles of armed guards standing behind fenced-off federal grounds. Hotel lobbies were filled not with loud groups of Trump or Biden supporters but with National Guard members who have poured in from all 50 states to secure the district. More than 25,000 National Guard members have been activated, with 15,000 on the ground, running checkpoints for the rare pedestrian or car trying to navigate the cordoned-off streets.
Trump supporters who are vocal online have found themselves in a different kind of maze of dead ends and no-go zones after social media platforms have locked down their accounts. At the same time, posts rippled across channels warning against attending inauguration-related demonstrations. As a result, armed marches in DC and at state capitols around the country by Trump supporters and far-right extremists that were originally planned for Sunday did not happen.
Elsewhere in the region, it was the same story. In Richmond, Virginia, 120 miles south of DC, an annual Second Amendment rally that attracted more than 20,000 people last year barely took over a sidewalk corner this time. The Virginia Citizens Defense League, which has put on the event since 2002, complained that it was denied permits. State officials confirmed that requests from four groups to gather were turned down due to public safety concerns.
Instead, a small smattering of heavily armed extremists representing groups including the Proud Boys, the "boogaloo boys," and the Roanoke County Militia milled around as a few trucks with "Don't Tread on Me" flags circled the otherwise empty streets near the fenced-off Virginia Capitol building. Carrying their billowing banners and flags for virtually no one, the groups looked defeated. More than a dozen of the demonstrators told BuzzFeed News that their friends and fellow members chose not to join them that day out of fear of chaos and arrest.
"After DC, everybody is like, 'Oh, it's a trap!'" lamented Bill Heal, a veteran member of the Virginia Citizens Defense League.
It was much harder, he added, to coordinate with the few who did show up, because Facebook has blocked terms like "MAGA MARCH" and prevented people in certain groups from freely posting until moderators check their messages.
But federal authorities say the threat persists and they are monitoring "chatter" among far-right extremists, a senior DC law enforcement official involved in securing the inauguration told BuzzFeed News on the condition of anonymity to speak freely.
On Tuesday, 12 National Guard members were pulled from inauguration duty after they were found to have ties to far-right militant groups or had posted extremist views online. Two of them had already been dispatched and were present near the Capitol, a National Guard official told BuzzFeed News, confirming reporting by the Associated Press. The 10 others were pulled from duty before being sent to Washington.
But Heal said authorities were worrying for nothing. Tall and grizzled, wearing overalls and a bright orange "VCDL" beanie, Heal said he didn't know anyone who thought storming the Capitol a second time would be a good idea. He suggested that people will be hard-pressed to find any Trump supporters in DC for Biden's inauguration. "The news is the only thing keeping [the riot] alive," he said.
"People have moved on," Heal added. "As of noon tomorrow, Biden will be president."