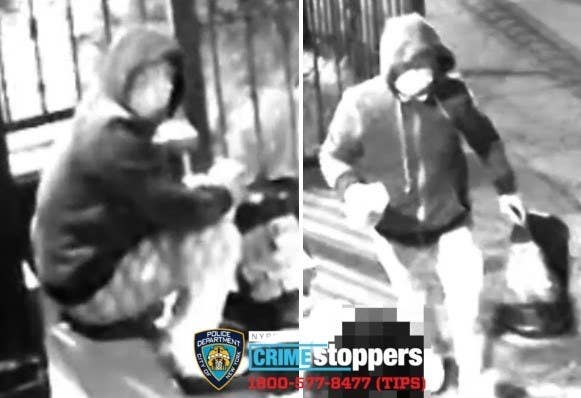 An Asian woman in Brooklyn, New York, was taking out her trash when a man outside her apartment building doused her with a substance that gave her chemical burns before running away, police said.
The attack took place on Sunday night in the Sunset Park neighborhood. In a video released by the New York Police Department, the woman appears to be taking out her trash when the man, who is sitting on the stoop, stands up as she exits the building, and approaches her from behind with a bottle in his hand.
"There was no interaction between the individual and the victim prior to the assault," the NYPD said.
The woman, who is 39 years old, was admitted to the Maimonides Medical Center with chemical burns to her face, neck, and back. Police said she was in stable condition.
The NYPD is asking for the public's help to identify the man, whose ethnicity is unknown. He was wearing a face mask, gloves, and a black hoodie.
Police confirmed to BuzzFeed News that the victim is Asian.
The motive behind the assault remains unclear. Reports of attacks against Asians in the US and Europe have skyrocketed in the past weeks as people express fears over the coronavirus through xenophobic and racist violence.
Law enforcement agencies in the US were also warned about a possible increase in hate crimes against Asian Americans over the coronavirus. "The FBI makes this assessment based on the assumption that a portion of the US public will associate COVID-19 with China and Asian American populations," the report stated.
President Donald Trump's rhetoric has further fueled concern that Asian communities could bear the brunt of violent backlash over the pandemic. Trump has been repeatedly condemned for choosing to refer to the coronavirus as the "Chinese virus," insisting the term is "not racist" because "it comes from China."
Though the new coronavirus originated in Wuhan, China, it quickly became a global pandemic, with the US now leading in the number of confirmed cases. The Trump administration has faced intense criticism for its inaction early in the virus's spread in the country, and for failing to provide adequate support to states battling the outbreak.