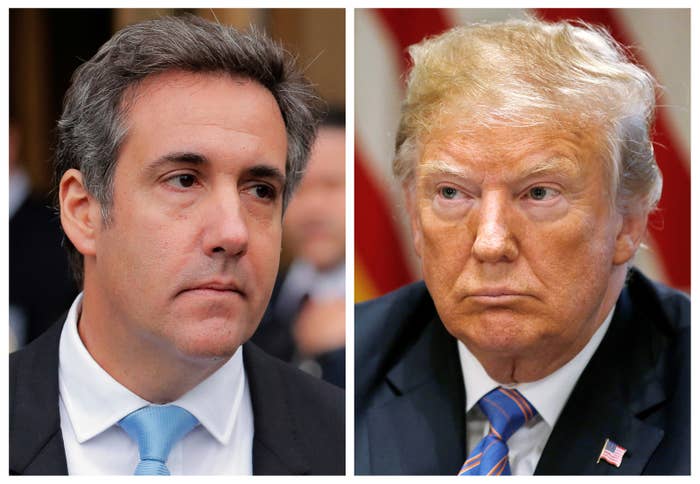 Michael Cohen claims that then-candidate Donald Trump knew about the June 2016 Trump Tower meeting that his son Donald Trump Jr. held with a Russian lawyer, both CNN and NBC reported Thursday night.
Cohen, Trump's longtime personal lawyer, claims he was "present, along with several others, when Trump was informed of the Russians' offer by Trump Jr.," CNN reported. "Trump approved going ahead with the meeting with the Russians, according to sources," the report continued.
Rudy Giuliani appeared on CNN later in the hour the reporting was discussed, disputing the claim and saying he "expected" Cohen to do "something like this."
"The man is a liar, a proven liar. There's no way you're going to bring down a president with a proven liar," he said, adding, "There is no doubt in my mind that he is just not credible."
The reporting comes as Cohen faces an ongoing federal criminal investigation and there have been bigger and bigger signs that the relationship between Trump and Cohen is moving from frayed to destroyed. Recently, Cohen hired Lanny Davis — the lawyer who most famously represented the Clintons — and has taken on a much more adversarial approach to the president.
Neither Cohen nor his lawyers responded to a request for comment on the story.
As shown in emails that Donald Trump Jr. released a year ago, Trump Jr. had received an offer in June 2016 of "official documents and information that would incriminate Hillary" Clinton. The email — from music promoter Rob Goldstone on behalf of the Agalarov family, who worked with Trump to produce the 2013 Miss Universe pageant in Moscow — claimed that the information was "part of Russia and its government's support for Mr. Trump."
That led to a meeting at Trump Tower on June 9, 2016, between Trump Jr., Paul Manafort, and Jared Kushner — representing the Trump campaign — and Natalia Veselnitskaya, a Russian lawyer linked to Russian officials; Rinat Akhmetshin, a Russian American widely reported to have ties to Russian intelligence; Goldstone; and others. The general claim from those at the meeting is that it was worthless and that nothing came of it.
Trump has maintained that he had no advance knowledge of the meeting, and the attendees have not disputed that. Goldstone, however, did email Trump's assistant the next day, asking how to deliver a painting — a birthday present for Trump from Aras Agalarov — to Trump Tower.
Giuliani's focus on Cohen's credibility was noted by CNN host Chris Cuomo, who pressed Giuliani on his client's own credibility factor. Trump regularly lies, makes false statements, or provides incomplete information on matters great and small. BuzzFeed News collected 100 such lies and misstatements from Trump's first 100 days in office.
In Giuliani's first week on the job as Trump's lawyer this May, he announced that Trump had repaid Cohen for the $130,000 paid to Stormy Daniels in 2016 in exchange for her not talking about her claims that she had a relationship with Trump a decade earlier. Following that first bombshell interview, Giuliani gave a barrage of sometimes conflicting media interviews that led to a "clarifying" statement days later. He acknowledged in an interview with BuzzFeed News the next week that he was "fudge-y" with some facts in that first week.
NBC confirmed the news that Cohen claims that Trump knew of the Trump Tower meeting in advance shortly after CNN posted its report.
In response to the stories, Donald Trump Jr.'s lawyer, Alan Futerfas, told BuzzFeed News, "Donald Trump Jr. has been professional and responsible throughout the Mueller and congressional investigations. We are very confident of the accuracy and reliability of the information that has been provided by Mr. Trump Jr. and on his behalf."
Giuliani did not respond to a request to discuss the story.