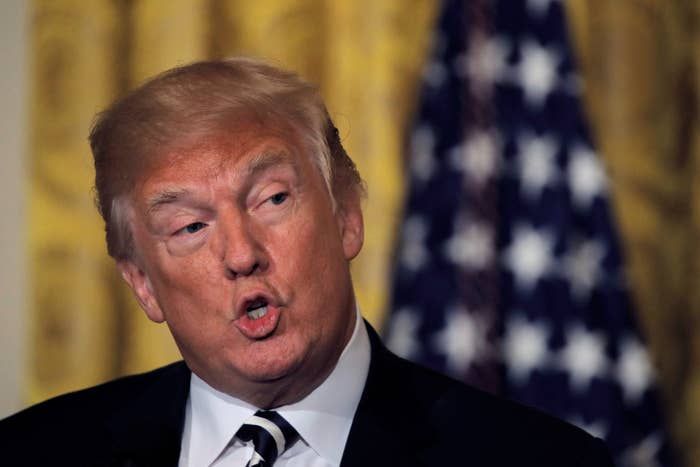 A month after President Donald Trump said he knew nothing about a $130,000 payment that Michael Cohen had facilitated to Stormy Daniels in 2016, Trump's new lawyer, Rudy Giuliani, said that Trump repaid Cohen after the election.
Giuliani talked with BuzzFeed News late Wednesday about how the repayment was made and other details of the 2016 settlement. He first made the explosive announcement in an interview with Sean Hannity on Fox News.
"It's not campaign money. No campaign finance violation," Giuliani told Hannity. "[They] funneled through a law firm, and then the president repaid it."
In a conversation with BuzzFeed News, Giuliani later said that Cohen, Trump's longtime personal lawyer, "had complained to some people" after the 2016 election that he'd not been fully paid by Trump. At some point — Giuliani said he did not know when or where specifically — Cohen met with Trump and told him of his complaint. Giuliani said that Trump told Cohen, "We'll cover your expenses," and agreed to pay him $35,000 a month "out of his personal funds" over the course of a year-long period that began in the first few months of 2017 and has since ended.
"It clearly was a payment to reimburse expenses," Giuliani said — adding the caveat, "I'm almost certain that there wasn't an itemized bill."
"This is like petty cash [to Trump]," Giuliani said. In addition to repaying the $130,000, the arrangement gave Cohen "enough left over for him to profit in [2017]." If Trump paid Cohen $35,000 a month for a year, as Giuliani said, that would be a total of $420,000.
Cohen had facilitated the $130,000 payment in connection with an October 2016 settlement agreement signed by Stormy Daniels, the adult film star whose legal name is Stephanie Clifford. Daniels alleges that she had a relationship with Trump more than a decade ago — which Trump denies and which Daniels was not to speak about under the terms of the settlement agreement. Cohen has said that he made the payment out of his own personal funds.
Trump was asked in April aboard Air Force One about whether he knew about the payment, and simply said, "No." Asked why Cohen made the payment, Trump said, "You'll have to ask Michael Cohen. Michael is my attorney. You'll have to ask Michael."
Giuliani maintained late Wednesday that Cohen "never talked about it" with Trump when he made the settlement due to the busy nature of the final weeks of the campaign.
"Michael saw an opportunity to settle it for not very much money, and he took it," Giuliani said. Calling it "a payment to remove personal embarrassment to Melania [Trump]," Giuliani said, "I don't think they thought about it as a campaign thing" — although he acknowledged that others might disagree.
Rick Hasen, an election law expert at the University of California, Irvine, noted that, despite Giuliani's claims, "Cohen would have still made an illegal loan to the campaign" if it is determined that the payment was related to the campaign. In those circumstances, Trump also could be in violation of campaign finance laws "for not reporting the expenditure (and the repayment of the loan)," Hasen said.
In his remarks to BuzzFeed News, Giuliani appeared ready to argue on that issue, noting at one point, "If the main reason was the campaign, they would have paid it out of the campaign."
On Fox News, Giuliani said that Trump "didn't know about the specifics of [the settlement], as far as I know. But he did know about the general arrangement, that Michael would take care of things like this — like I take care of things like this for my clients. I don't burden them with every single thing that comes along. These are busy people."
Michael Avenatti, Daniels' lawyer in two pending lawsuits against Trump, responded on Twitter, saying, "Mr. Trump stood on AF1 and blatantly lied. ... This should never be acceptable in our America."
The repayment comments ended up taking the wind out of the rest of the interview, which already had included Giuliani making several dramatic statements, including discussing why Trump fired former FBI director Jim Comey and arguing that he should be prosecuted. Giuliani also said that Attorney General Jeff Sessions and Deputy Attorney General Rod Rosenstein should end special counsel Robert Mueller's investigation.
The interview happened on the same day that the White House announced that the lawyer in the White House coordinating the response to Mueller's investigation, Ty Cobb, would be leaving at the end of the month. He will be replaced by Emmet Flood, a partner at Williams & Connolly, who represented Bill Clinton in his impeachment proceedings and worked in the White House Counsel's Office under George W. Bush.