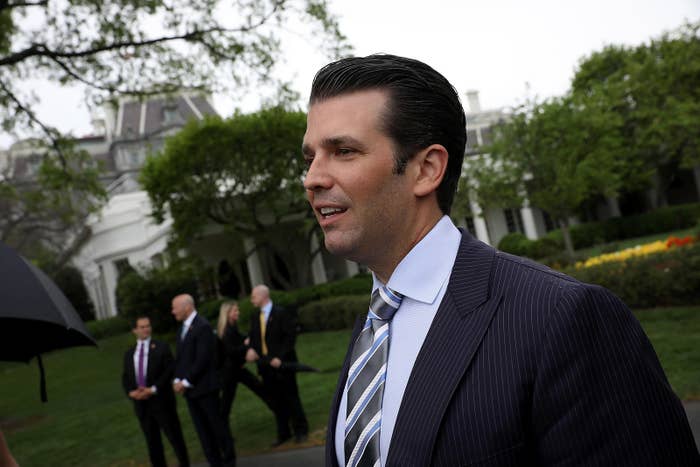 Donald Trump Jr.'s tweets Tuesday didn't answer one question about his meeting with a Russian lawyer: Were the emails the president's son released the full extent of his communication about the meeting?

On Tuesday, Trump Jr. posted to Twitter screenshots of an email thread between him and Rob Goldstone, a British music publicist who represents the musician son of a Russian billionaire. (The move was apparently an attempt to get out ahead of a coming New York Times story on the emails.) In those emails, Goldstone refers to Russian support for Donald Trump's election bid and explicitly calls the Russian woman that Trump Jr., Paul Manafort, and Jared Kushner met with "[t]he Russian government lawyer."
But while the emails have been widely and intensely examined over the last 24 hours for what they do say, two curious phrases — a reference to a future "call" and a "thanks" — also raise a question about what the emails don't reveal: Was there a telephone conversation between Trump and either Goldstone or his client between the time that two of the emails in question were sent?
Lawyers for all parties did not answer questions about whether the emails posted on Twitter Tuesday were the extent of Trump's communication with Goldstone, Emin or Aras Agalarov (the musician and his father), or their representatives during the first week of June 2016.
And as with many of the questions in this unfolding saga, the amount of unknown information is significant. The emails released by Trump Jr. also contain stilted and imprecise language at points, so it is possible this was the extent of the communication.
Manafort's lawyer, Reginald Brown of Wilmer Cutler Pickering Hale and Dorr LLP, declined to comment. Trump Jr.'s lawyer and Kushner's lawyers did not respond to requests for comment. Mark Corallo, the president's outside counsel, only stated, "I'll have to refer you to his counsel. I am not aware of any of his meetings," — referring to Trump Jr.
White House spokespeople did not respond to requests for comment.
Neither Goldstone nor a representative of the Agalarovs' development company, Crocus Group, responded to requests for comment.
In his statement accompanying the email release, Donald Trump Jr. wrote, "I first wanted to just have a phone call but when that didn't work out, they said the woman would be in New York and asked if I would meet. I decided to take the meeting."
In the emails that Trump Jr. posted, however, the discussion is of a phone call between Emin Agalarov and Trump Jr., rather than discussion of a phone call between Trump Jr. and the Russian lawyer.
The exchange began with Goldstone's June 3, 2016, email, in which he wrote Trump Jr. about "high level and sensitive information" about "Hillary [Clinton] and her dealings with Russia" that Aras Agalarov — Emin's billionaire developer father — had been told that morning existed and was available to the Trump campaign as "part of Russia and its government's support for Mr. Trump."
On Monday, June 6, 2016, following up on his previous email, Goldstone asked the younger Trump when he would be "free to talk with Emin by phone about this Hillary info."
The two exchanged a series of emails back and forth — including one in which Trump gave Goldstone his cell phone number for Emin — until, at 3:43 p.m. ET, Goldstone wrote that Emin was "on stage in Moscow but should be off within 20 Minutes so I am sure can call."
Nearly an hour later, at 4:38 p.m., Trump wrote back: "Rob thanks for the help. D"
The next day, June 7, 2016, at 4:20 p.m., Goldstone wrote to schedule a meeting for Trump Jr. and "the Russian government attorney." He added, "I believe you are aware of the meeting" and suggested a time for the meeting.
The younger Trump did not respond with questions about the lawyer or meeting — never referenced in any earlier emails in the thread made public by Trump Jr. Instead, less than an hour later, at 5:16 p.m., Trump replied that "3 at our offices" — meaning in Trump Tower — would work.