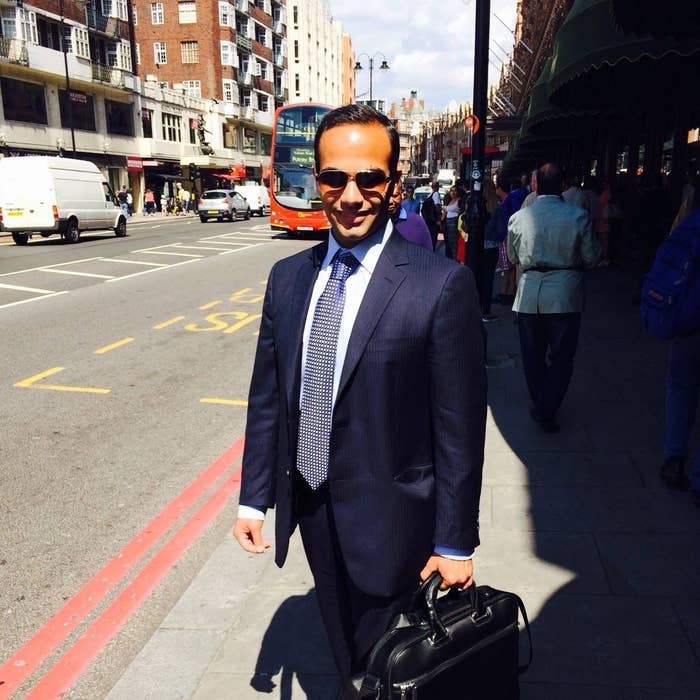 Lawyers for George Papadopoulos say their client was young and in over his head during the Trump campaign in 2016 and when he later lied to federal agents about his contact with people offering Russian connections during the campaign.
In a tantalizing aside in the late Friday night court filing, buttressing their argument that Papadopoulos was just acting to please then-candidate Donald Trump and others, the lawyers also wrote that Trump himself had "nodded with approval" at a March 2016 meeting when Papadopoulos suggested that he could help arrange a meeting between the candidate and Russian President Vladimir Putin.
In the main part of the filing, though, the lawyers argued that Papadopoulos — the former foreign policy adviser who was told by a London professor in April 2016 that Russia had "dirt" on Hillary Clinton, including "thousands" of her emails — has already paid a price and that a sentence of probation is enough.

"George Papadopoulos is now a convicted felon. When it came time to make a good decision he made a bad one," the lawyers, from the Breen & Pugh law firm in Chicago, wrote regarding his upcoming sentencing on his guilty plea to lying to federal investigations.
"He was the first domino, and many have fallen in behind. Despite the gravity of his offense, it is important to remember what Special Counsel said at George's plea of guilty: he was just a small part of a large-scale investigation."

Because he has been reporting to pretrial services since his arrest under the terms of his guilty plea, his lawyers wrote, "George has already served the equivalent of one year of probation." As such, they argue that the sentence of probation that they are seeking for him should be ended immediately upon sentencing.
Mueller's office disagreed, previously arguing that he should be jailed but for less than six months, as directed by the sentencing guidelines, to "reflect the fact that lying to federal investigators has real consequences."
The 15-page filing from Papadopoulos's lawyers is at times almost cartoonish in its description of their client, going so far as to describe him as "young George" at one point.
The filing also, however, contains some eye-catching information that they detail about Papadopoulos's time with the Trump campaign.

Of that well-known foreign policy meeting on March 31, 2016, where Papadopoulos was photographed sitting at a table with then-candidate Trump, his lawyers wrote, "Eager to show his value to the campaign, George announced at the meeting that he had connections that could facilitate a foreign policy meeting between Mr. Trump and Russian President Vladimir Putin. While some in the room rebuffed George's offer, Mr. Trump nodded with approval and deferred to Mr. [Jeff] Sessions who appeared to like the idea and stated that the campaign should look into it."
In the veer-to-cartoonish portion of the filing, the next paragraph begins: "George's giddiness over Mr. Trump's recognition was prominent during the days that followed the March 31, 2016 meeting. He had a sense of unbridled loyalty to the candidate and his campaign and set about trying to organize the meeting with President Putin."
The lawyers also wrote about another meeting that Papadopoulos apparently discussed with investigators.
"[Papadopoulos] detailed a meeting in late May 2016 where he revealed to the Greek Foreign Minister that the Russians had 'dirt' on Hillary Clinton," they wrote. "He explained that this meeting took place days before President Vladimir Putin traveled to Greece to meet with Greek officials."