With his signature on a new law cracking down on sex work, Donald Trump may have helped stoke the growth of one of the hottest new alternative social networks.
As the controversial bill, which makes tech platforms liable for online speech about sex work, became law Wednesday morning, a new Twitter alternative that sprung to life two weeks ago had grown to more than 28,000 users.
Switter is part of Mastodon, which bills itself as a decentralized social networking platform that gathers less personal information about users than mainstream networks such as Twitter and Facebook. Rather than a single corporation owning all the data its network gathers, Mastodon is made up of distributed social networks, or "instances," each with its own server.
Assembly Four, an Australian social impact startup that builds tech solutions for sex workers, created the Switter instance, where clients and providers can network publicly, chat privately, and post and respond to ads.
On Wednesday morning, President Trump signed H.R. 1865, the Allow States and Victims to Fight Online Sex Trafficking Act (FOSTA), which allows victims of sex trafficking to sue companies for allowing content that enables sex trafficking to stay online. (A previous version was called the Stop Enabling Sex Traffickers Act, and the bill is sometimes referred to as SESTA.)
The bill provides exceptions to preexisting laws that protect companies from the legal consequences of what people post on their platforms.
"This was a tough one. It shouldn't have been tough," Trump said at signing. "I guess people have reasons [to oppose the legislation], but I personally don't understand those reasons."
Even before the bill became law, companies including Craigslist, Google, and Microsoft have already begun shutting down sections of their websites or altering their terms of service in preparation for the bill's passage.
And last week, the Department of Justice seized Backpage.com in an unrelated raid; the listings on Backpage represented an important source of income for sex workers. As a result, sex workers say they're losing money and are at greater risk of being assaulted by dangerous clients because it's harder to vet them.

For the time being, sex workers can use mainstream social networks like Twitter to point potential clients to their personal websites or secure email addresses, but some say accounts that use explicit language or share nude photos have already been erased or "shadowbanned." Twitter said it does not shadowban users, but does downrank or limit the visibility of tweets from accounts that violate its terms of service.
In response, some sex workers have begun taking precautions by cleaning their Twitter accounts or making them private, and erasing their Reddit comment histories.
Ameena, a California-based sex worker who asked to be identified only by her first name, said the loss of listings websites like Backpage and concern about being censored on platforms like Twitter have made her life more difficult.
"Before the bill passed, I was using Backpage, the Erotic Review, and Erotic Monkey," she said. All three of those sites are no longer functional. "They were good platforms because I was able to screen my clients. I was able to FaceTime and Skype for verification to make sure they are who they say they are. I used my Twitter and Instagram to show I'm a real person, to make sure we weren't messing with any law enforcement or weirdos."
Now that the listing sites she relied on are out of commission, and since she is afraid to be explicit on mainstream sites like Twitter, Ameena said she has to expend more time and energy than she used to when finding and vetting clients. "I've lost a platform for clients. I have regulars, but this is a lifestyle where I depend on this income," she said. "I'm having a hard time."
When Lola Hunt, a coder who works for Assembly Four, observed these kinds of reactions to FOSTA in the US, she spotted an opportunity. "When sites started outright banning us from their platforms without warning, we saw it as a way to help the community," said Hunt, who is a sex worker herself.
By building Switter on Mastodon, Hunt and her colleagues at Assembly Four control the server where Switter hosts the data it collects; because that server is located in Australia, where sex work is legal, the risk of being sued or otherwise punished via FOSTA is presumably diminished. For now, Assembly Four self-funds Switter, though Hunt said some people have offered donations.
Switter, which also has a mobile version, looks similar to TweetDeck, with multiple columns for different feeds, including a home feed of posts from people you follow, a local feed of everyone on Switter, and notifications. Users can post short messages (or "toot"), send DMs, and as of three days ago, access a public listings page offering escort services, massage, and more, which is public and already has over 1,500 posts.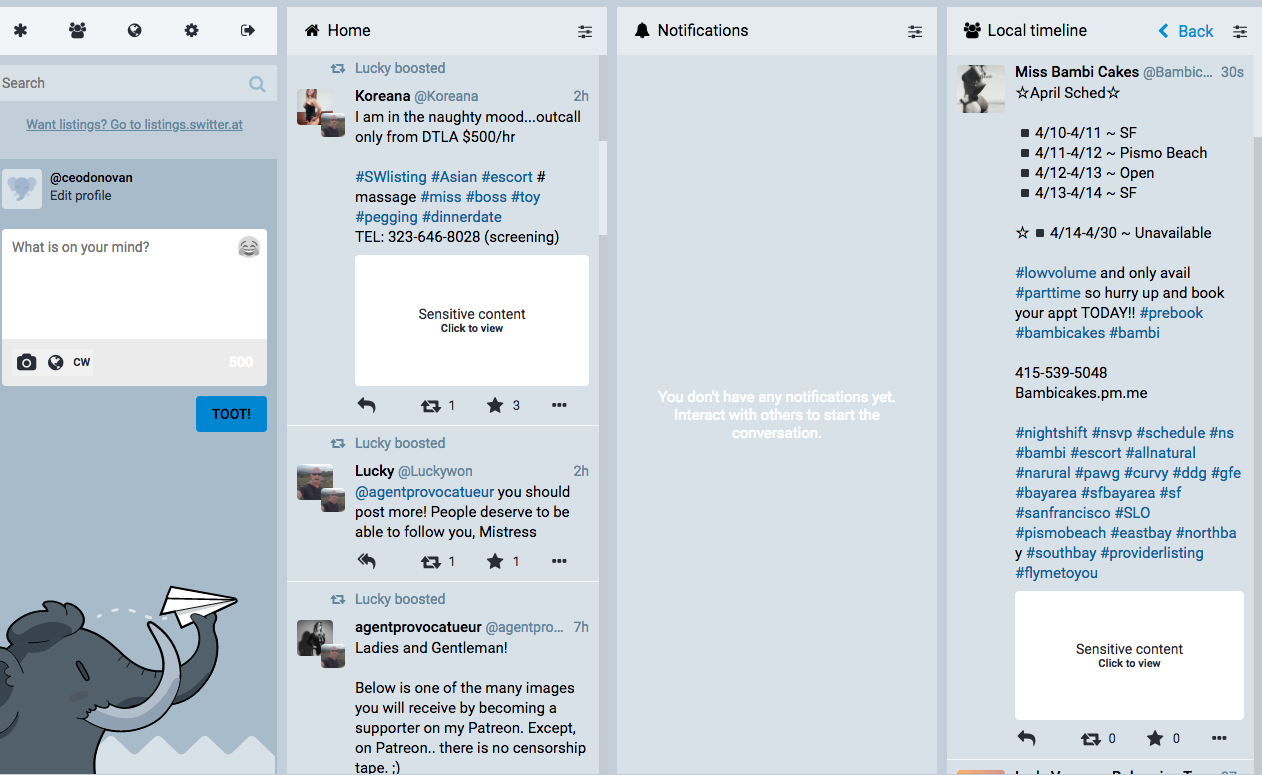 One Switter user said she'd already gotten a job through the platform.

"Switter was created over a few sleepless days," said Hunt, "and we never expected the response we got."
Not all sex workers have jumped on the Switter bandwagon, and not all of those who signed up immediately became daily active users. One woman told BuzzFeed News she joined the platform but hadn't had time to set up her feeds by following people yet; another said she signed up to reserve her username for future use, but isn't interested in participating actively on yet another social network right now.
Ameena said she's been able to set up appointments via Switter, but hasn't actually done any work yet, because the online reviews, blacklists, mutual connections, and other tools she usually uses to evaluate clients still aren't available. "It's a new platform, so everyone is kind of trying to figure out how to use [it]," she said.
Observing the rush to join a new platform, some sex workers have expressed skepticism about Switter. For example, direct messages on Mastodon are not end-to-end encrypted, which means a hack or violation of user privacy could make those messages readable to more than just the people who sent and received them.
Mastodon's founder, 24-year-old Eugen Rochko, told BuzzFeed News he wrote the software in hopes of building more ethical, less data-greedy social networks, but not as a cybersecurity solution. He advises people who meet on Switter, or any Mastodon instance, to exchange private information via encrypted apps like Signal.
"Until a month ago, nobody was really asking for end-to-end encryption on Mastodon. The DM system is good enough, and it's not like other websites don't have this problem," he said. He didn't say if Mastodon plans to add encryption, but he said, "it's not impossible and it could be done."
Rochko said Mastodon's user base first spiked when he debuted it on insider tech news site Hacker News in November 2016, and again when mainstream media first covered it in April 2017. Switter is the seventh-largest Mastodon instance; other popular ones include Mastodon.social, which has nearly 148,000 members, and a controversial Japan-based instance called Pawoo that has over 360,000 members. Pawoo is owned by Pixiv, a Japanese "online community for artists"; both Pixiv and Pawoo host underage cartoon erotica known as lolicon and other controversial art.
But what makes Switter unique, and potentially more permanent, is that it was born out of necessity, in reaction to a real threat to a mainstream platform. "A lot of instances [grew] as fast or faster than Switter does right now," said Rochko. "But Switter is the first one that went up directly in response to a particular bill."
Rochko started working on Mastodon in college because he was disappointed by Twitter's leadership and nervous over "talk about them selling out to big corporations like Disney or Peter Thiel." That was before Christopher Wylie revealed how much personal information Cambridge Analytica had received from Facebook, sparking a backlash against Facebook's privacy policies that have included a hashtag, #DeleteFacebook, high-profile defections from the platform, and a congressional hearing. (Facebook CEO Mark Zuckerberg is testifying this week before members of two US Senate committees over questions related to the Cambridge Analytica scandal and improper data collection.)
Many alternative social networks have come and gone, while Twitter and Facebook remain. There was Ello, which was supposed to be like Facebook but more beautifully designed; Peach, which was supposed to be like Twitter but friendlier; Zello, which was supposed to be like Facebook but explicitly for emergencies; and Vero, which was supposed to be like Instagram but more "realistic."
Even Gab, which is meant to be a Twitter and Facebook alternative for the alt-right, hasn't grown to the critical mass that was originally intended, though it is still very much in use. (Mastodon instances tend to be left-leaning or organized around issues like LGBT rights, said Rochko, though his motives weren't explicitly political.)
But the Switter use case highlights the benefits of a Facebook alternative like Mastodon, with its explicit goal of limiting data exposure and giving users more control. Switter may or may not become a permanent digital home base for sex workers, but for now, Mastodon made it easy for a niche group of users to defect en masse when the risks inherent to their original platforms of choice became untenable.
UPDATE
This post was updated after President Trump signed H.R. 1865 into law.
UPDATE
This post has been updated with additional information about Pawoo.net.