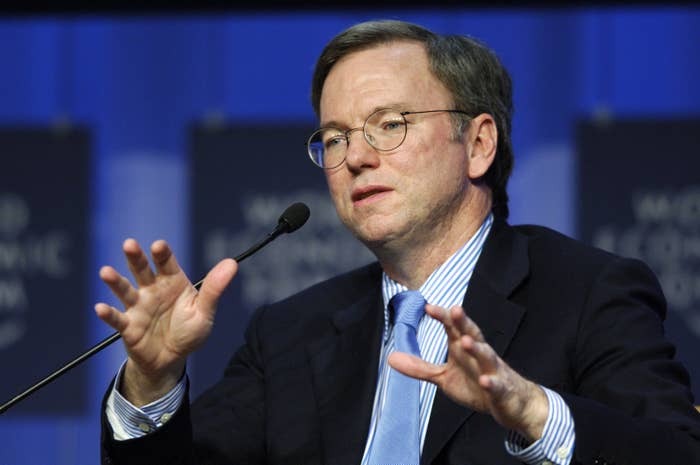 Eric Schmidt, Google technical advisor and former chairman and CEO, wants to figure out how low-income workers can make more money.
Through his "venture philanthropy" firm, Schmidt Futures, and an organization called Jobs for the Future (JFF), Schmidt wants to help 100,000 workers increase their wages by $10,000, an initiative they're calling the $1 Billion Wage Gain Challenge.
JFF's blog post about the project describes it as a "moonshot to address wage stagnation."
"Much like the concept of a $1 billion 'unicorn' startup in Silicon Valley, this is a $1 billion unicorn to grow the middle class," it says.

Schmidt tweeted about the project Monday, saying he was "delighted" to be supporting the search for a "unicorn for the middle class."
Schmidt Futures declined to comment on whether it had considered labor unions as a solution to the wage stagnation problem.
This story has been updated to include a statement from JFF, the organization leading the $1 Billion Wage Gain Challenge:
The mission of JFF is to ensure economic advancement for all. Creating opportunity for workers has been at the heart of our efforts throughout our 35-year history. We work with a wide range of partners—from government agencies to educators, training providers such as unions, as well as union and non-union employers—to advance our mission. Specifically, JFF partners with unions on various initiatives because they are strong and effective advocates for high-quality jobs, wages, benefits, and career advancement for their workers. JFF also regularly works with non-union employers and supports pathways into non-union jobs that provide similarly high-quality careers.
The goal of the $1 Billion Wage Gain Challenge is to put America's wage stagnation crisis center stage for the JFF community. We're looking for bold ideas from a diverse array of stakeholders—including unions, community organizations, researchers, entrepreneurs, policymakers, and most importantly workers themselves—to bring about significant wage increases.
In a blog published on JFF.org, we highlight that expanding worker agency, voice, and ownership can be part of a proposed solution. We are excited about the opportunity to highlight tangible, near-term solutions that can drive change at scale. We're accepting ideas until November 25 through JFF.org/wagegain and look forward to reviewing submissions soon.
-JFF
CORRECTION
Eric Schmidt is a technical adviser for Google. A previous version of this post misstated his current position with the company.