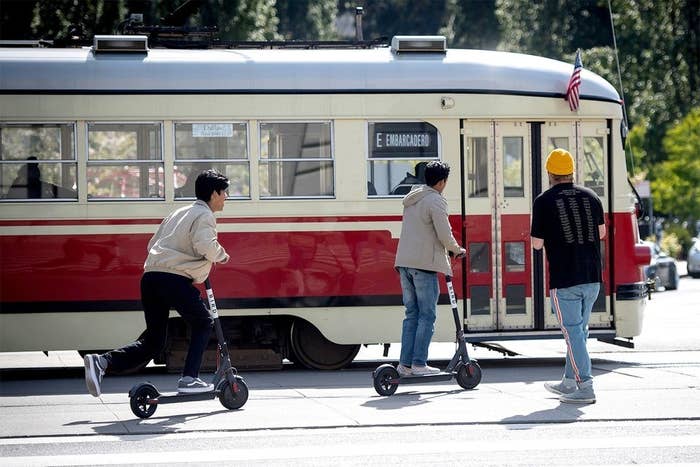 Only two of the 12 electric scooter–sharing companies that applied to operate in San Francisco will be allowed to do so. Scoot and Skip won permits from the city today, a major setback for scooter pioneers Bird and Lime, as well as the eight other candidates. The permits will be issued on Oct. 15.
"The SFMTA's decision is based on the strength of the proposals submitted by the two companies, combined with their experience of owning, operating and maintaining a shared mobility service in the public right-of-way," the agency wrote in a blog post. "The agency looked for applications that prioritized the city's concerns around safety, disabled access, equity and accountability."
Bird was the first company to bring dockless scooters to San Francisco, prompting a backlash over use of public space as well as an avalanche of funding. In just 10 months of operation, Bird raised over $400 million and was reported to have a valuation nearing $2 billion. Lime, the second scooter company to appear in San Francisco, raised $335 million from an investment roster that included Uber and Google's parent company, Alphabet.
The other scooter companies that applied for a permit and paid the $5,000 application fee were Hopr, Jump, Lyft, Ofo, Razor, Ridecell, Spin, and Unscooter.
Uber acquired Jump in April. In an email statement, Uber called the city's decision disappointing, and argued that "granting only two scooter permits unnecessarily limits mobility options in San Francisco." The company "plans to follow up with the SFMTA to share our concerns," the spokesperson said.
Trouble has also dogged the scooter startups. Cities including St. Louis, Denver, and San Francisco banned the scooters, promising to dole out permits after independently investigating the options. In Santa Monica, where Bird is headquartered, companies were dinged for putting scooters on sidewalks without speaking to the city first. (After originally being excluded from operating in Santa Monica by a preliminary panel, as of Thursday, Bird and Lime are officially allowed on the streets in Santa Monica as part of the city's Shared Mobility Pilot Program.)
Something similar appears to have happened in San Francisco, where the two permit winners are Scoot, an 8-year-old company better known for its shared fleet of red mopeds, and Skip, a relatively unknown San Francisco–based company that came onto the scene in May. According to the SFMTA, each company will be allowed to drop 625 scooters in total on San Francisco streets for the first six months of operation.
"We are building a sustainable transportation company of the future and San Francisco's permit process is evidence that cities believe in our collaborative approach," said Sanjay Dastoor, CEO and cofounder of Skip, in a press release. "We're proud to have been chosen to serve our own community."
To get the permits, companies had to meet San Francisco's criteria, which includes a rule that says at least half of its staff must be full-time employees, rather than contractors. (Scooter startups employ independent contractors as chargers, who are paid per scooter to gather up the devices, plug them in, and return them to the street.)
Of the 12 categories the city used in its evaluation, Bird was graded as fair for two (safety and disabled access) and poor for the remainder. Lime had a stronger application, according to the city, with a grade of fair in five categories, and strong in one.
Here's the rubric the city used: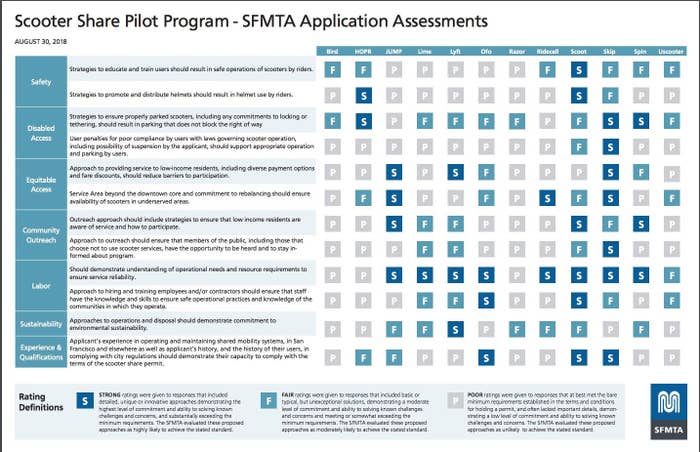 In the face of obstacles in cities including San Francisco, Bird and Lime have asked their users to advocate on their behalf, encouraging them to attend rallies in Santa Monica and to email city officials in San Francisco.
In an email statement, a Bird spokesperson said the company is "disappointed with today's decision" and plans to "continue to work with San Francisco officials, partners, community organizations, and advocates in hopes of bringing Bird back to the City by the Bay."
Lime was likewise disappointed in the decision, saying via an email statement that "the SFMTA has selected inexperienced scooter operators that plan to learn on the job, at the expense of the public good."