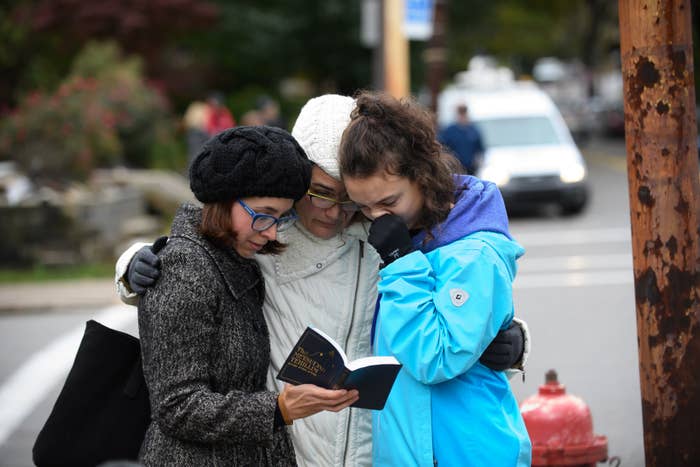 Eleven people have been killed, and four police officers wounded, after a gunman opened fire in a synagogue in Pittsburgh, Pennsylvania, on Saturday morning in an attack that officials have described as a hate crime.
A suspect, Robert Bowers of Pittsburgh, is now in custody after the shooting at the Tree of Life synagogue in the Squirrel Hill neighborhood, authorities said.
He faces 29 counts of federal charges, including 11 counts of obstruction of exercise of religious beliefs resulting in death.
"The scene is very bad inside," said Wendell Hissrich, the city's public safety director.
The first call to police came at 9:54 a.m. after families had gathered at the synagogue for a Shabbat service. The gunman was armed with an assault rifle and at least three handguns, officials said.
FBI Pittsburgh Special Agent In Charge Bob Jones said that when the gunman was exiting the building he encountered two police officers. He shot and injured them and then retreated back into the synagogue, before later injuring two other officers and getting arrested, after being injured himself with gunshot wounds.
Jones said it was the "most horrific crime scene" he had seen in his 22 years with the bureau.
"Members of the Tree of Life synagogue conducting a peaceful service in their place of worship were brutally murdered by a gunman targeting them simply because of their faith," he said.
At least two other civilians were also wounded in the incident. A spokesperson for Allegheny General Hospital told BuzzFeed News it was treating one patient. A spokesperson for the University of Pittsburgh Medical Center said the center was treating four people, three of whom were undergoing surgery.
No children are among the dead, Hissrich said.
The FBI has now taken over the investigation, as the incident has been classified as a hate crime, Hissrich said.
"It's a very horrific crime scene," he said. "It's one of the worst I've seen, and I've been on some plane crashes. It's very bad."
Attorney General Jeff Sessions said Saturday that the Department of Justice will file hate crime charges and other criminal charges against Bowers, "including charges that could lead to the death penalty."
"Hatred and violence on the basis of religion can have no place in our society," Sessions said in a statement. "These alleged crimes are reprehensible and utterly repugnant to the values of this nation."
The Anti-Defamation League, a leading Jewish group, said it believes this to be the deadliest attack on the Jewish community in US history.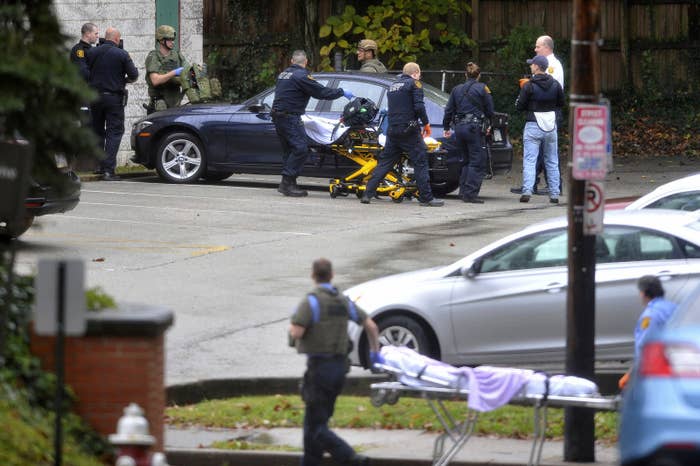 Zachary Weiss, a 26-year-old member of the congregation, told BuzzFeed News that his dad, Stephen Weiss, had been at the synagogue that morning filling in for the rabbi, who was present but not leading the service due to an illness.
"He was not even supposed to be at the synagogue today," Zachary Weiss said.
A bris, which is a baby's circumcision ceremony, was being held at the time of the shooting, Zachary Weiss said. Pennsylvania Attorney General Josh Shapiro also said the attack took place during a baby-naming ceremony, though officials later said they could not comment yet on this detail.
"He was davening," Zachary Weiss said, referring to a form of Jewish prayer, "and all of a sudden there was a loud boom."
He said his father escaped the shooting and is now at home.
"Fortunately he is home safe, and I gave him a big, big hug when he came home," Zachary Weiss said.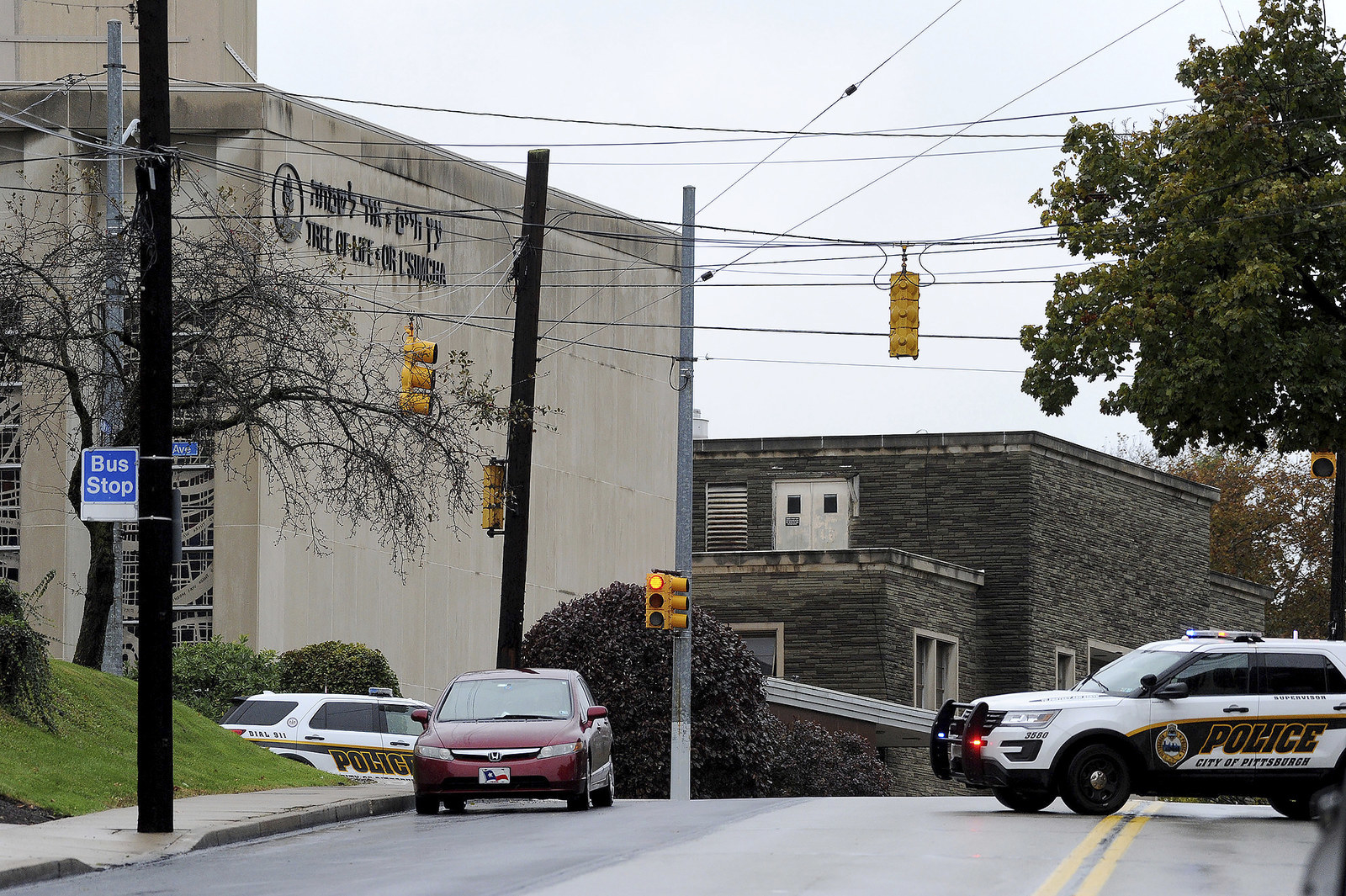 A former president of the synagogue, Michael Eisenberg, said the synagogue had worked with a securities expert about what to do in an active shooter situation.
"It was a major concern for me, for us; we were working with the Department of Homeland Security to evaluate exit routes," Eisenberg told reporters, saying they had also worked with other synagogues to prepare for active shooter situations.
Eisenberg said he had spoken to a maintenance person who'd been able to escape the shooting because the synagogue had changed its exits due to security concerns.
"Now he was able to get out. I mean, he could be alive because of this," he said.
Eisenberg said that the synagogue had not received any specific threats.
"I've always had a very watchful eye because of what's going on in the current climate, you know, you see these bombs being mailed across the country," he said, referring to the pipe bombs sent to Democratic leaders and Trump critics this week.
The Tree of Life synagogue serves as a community hub in Pittsburgh's Squirrel Hill neighborhood, which has a large Jewish population.
"Tree of Life Or L'Simcha Congregation offers members a traditional Conservative service with a modern sense of family," the synagogue's website reads, referring to the conservative denomination and not any political ideology.
Jeff Finkelstein, the CEO of the Jewish Federation of Greater Pittsburgh, explained in an interview outside the Tree of Life that several congregations share the same building.
"Tree of Life, [on] a typical Saturday morning, would have ... maybe 50, 60 people," Finkelstein said, noting that the size of the congregation would depend on whether a bar mitzvah or other special event was taking place.
"I'm just sad," he said. "This should not be happening, period. It should not be happening in a synagogue. It should not be happening in our neighborhood here in Squirrel Hill."
Chuck Diamond, a former rabbi at the synagogue, told reporters that with Saturday's shooting, his worst fears had come true.
"[It's] always in the back of my mind that something like this might happen, you know, because of the way of the world today," he said.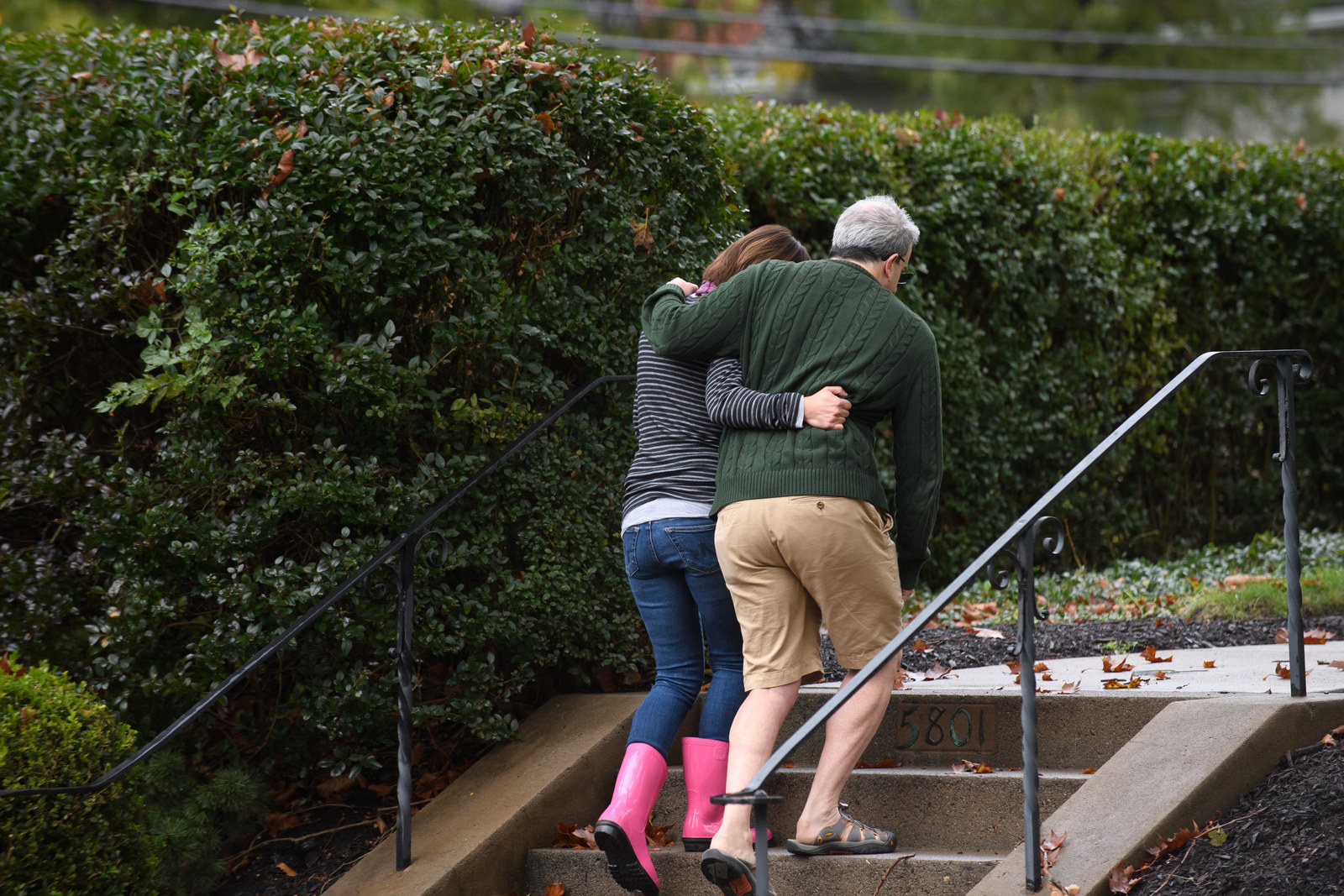 President Donald Trump appeared to place at least some blame on synagogue officials, telling reporters as he boarded Air Force One Saturday that the shooting could have been prevented by an armed security guard.
"They didn't have any protection," Trump said. "They had a maniac walk in, and they didn't have any protection, and that is just so sad to see. So sad to see. The results could have been much better."
When asked if his administration needed to reexamine gun regulations, Trump said gun regulation "has little to do with it."
The president instead brought up capital punishment, saying that those who shoot people in temples and churches should receive the death penalty.
"When people do this, they should get the death penalty and shouldn't have to wait years and years," Trump said.
"It's a terrible, terrible thing what's going on with hate in our country, frankly, and all over the world," he added. "And something has to be done."
During a rally in Murphysboro, Illinois, Saturday evening, Trump called the shooting an "anti-Semitic act at its worst" and called for "the destruction" of anti-Semitism.
"The Jews have endured terrible persecution," Trump told the crowd. "They've gone through a lot. And those seeking their destruction — we will seek their destruction."
Vice President Mike Pence also said he was "praying for the fallen, the injured, all the families impacted, and our courageous first responders." And Israeli Prime Minister Benjamin Netanyahu offered his condolences on behalf of the people of Israel, as did staff at the US Holocaust Memorial Museum.
Late Saturday, Trump ordered flags to be flown at half-staff at federal buildings in "solemn respect" for the synagogue shooting victims.
New York City police said Saturday they would deploy extra security to local synagogues and other houses of worship as a precaution.
Anti-Semitic hate crimes have risen dramatically in recent years, along with the proliferation of white supremacy groups both online and offline. Anti-Semitic incidents jumped 57% in 2017, according to the Anti-Defamation League, which tracks anti-Semitic violence in the US. It was the largest increase year over year since the beginning of data collection in 1979.
Sen. Pat Toomey, a Pennsylvania Republican, said he was heartbroken by Saturday's tragedy.
"Synagogues & places of worship are safe havens where communities come together to celebrate, pray, & reflect," Toomey tweeted. "The horrific events that transpired at Tree of Life Synagogue are heartbreaking."
Addressing crowds on Sunday at the Vatican, Pope Francis called the attack an act of "inhuman violence."
"All of us, in reality, are wounded by this inhuman act of violence," he said.
This is a developing story. Check back for updates or follow BuzzFeed News on Twitter.
Reporting by David Mack, Grace Wyler, Julia Reinstein, Amber Jamieson, Brianna Sacks, and Stephanie K. Baer.
CORRECTION
A spokesperson for Allegheny General Hospital told BuzzFeed News it was treating one patient. It is not known if that is the suspect.