Federal authorities on Tuesday arrested four members of the Rise Above Movement for their roles in the violence at the Unite the Right rally in Charlottesville, Virginia, last year, and in doing so, shed more light on a militant group that experts say is a new brand of white supremacy.
The group, known as RAM, prides itself on operating like a neo-Nazi Fight Club, training and priming its members to incite violence at rallies, while spreading extremist ideologies through social media channels and a clothing company.
"It's the cutting edge of white supremacy right now," Heidi Beirich, who helps track hate groups for the Southern Poverty Law Center, told BuzzFeed News.
Based in Southern California, RAM has been suspended on some social platforms but has been operating in the open since rebranding in 2017 as it recruits more members to focus on its mission of eradicating Jews, Muslims, and immigrants.

The men arrested on Tuesday were charged with violating the federal riots statute when they engaged in violence at the Unite the Right rally in Charlottesville, in which one counterprotester was killed. And featured extensively in the criminal complaint is information the FBI gathered on RAM from the internet, including a "publicly viewable Twitter page" and "photos of themselves posing shirtless and wearing skull half masks."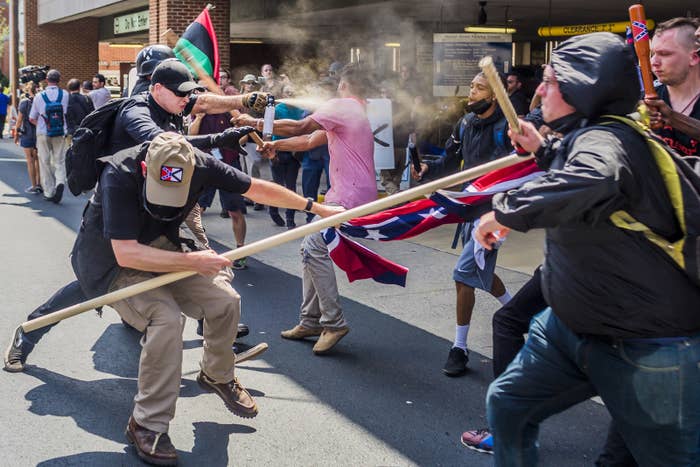 "Modern society fosters weak men, addicts, and apathy," reads a screenshot from RAM's now-defunct Twitter page. "We want to rise above all of today's destructive culture and see the rebirth of our people, strong in mental and physical capacities as our forefathers were."

Although its Instagram and Twitter accounts have been suspended, the group is still active on other channels like Vimeo and YouTube, where it has close to 2,300 subscribers, as well as Gab, a messaging platform popular in the alt-right world.

In social posts and promotional videos, the group highlights its dedication to "clean living," training hard, and preserving a pure European identity. With American flag bandannas tied around their faces, young white men are seen boxing, doing sit-ups, and promoting their "nationalist" clothing style.
For months, RAM used Instagram to promote its apparel company, Right Brand Clothing, garnering more than 2,000 followers before the platform pulled its account in August, HuffPost reported. The Right Brand website, however, is still active and is currently promoting its fall 2018 outerwear collection.
Last year, the organization boasted of having more than 50 members, according to a ProPublica report, but hate group monitors say it has attracted more followers due to its "real-world recruitment" tactics.
"They definitely have more chapters than they did a year ago," Beirich said. "Their connection to MMA fighting, aggressiveness, the clothing brand, this stuff really stands out to young men in a way that the Richard Spencers do not anymore."
Richard Spencer helped organize last year's Unite the Right rally but did not attend the anniversary event this year, where a small group of white nationalists were overrun by counterprotesters.
But experts say what is concerning about groups like RAM is how they are funneling and packaging hatred and extremist ideologies into a lifestyle and social media–promoted brand. Using things like group workouts and $50 sweatshirts, white supremacists can gather and rep themselves "out on the streets in everyday life, and that's really attractive," Beirich said.

And law enforcement is not doing anything to stop it, Michael German, a former FBI agent who went undercover to expose Nazi skinhead gangs and militia organizations, told BuzzFeed News. He is now a fellow at the Brennan Center for Justice.

"It is very troubling how blatant they are making their mission of violence and law enforcement still does not take action," German said. "Back in the '90s, we had to go undercover to get the true statements coming from their mouths about what their intentions are, but today they are public."
RAM members have also taken several trips to Europe, one as recently as September, to connect with white nationalists in countries like Ukraine and Germany and compete in fascist MMA tournaments.

"They went on an international tour even though many of them are convicted felons," German said. "It's hard for me to understand why we are not looking at them as an international terrorist organization. The fact that they are associating with nationalist groups around the world should be very troubling to counterterrorism officials, but it does not seem to be."
Months before RAM members attended the first Unite the Right rally, they incited violence at several other demonstrations in California. In March, the group first bubbled into the national consciousness at a "Make America Great Again" rally in Huntington Beach, where young men wearing skull masks beat several reporters and counterprotesters as Donald Trump supporters marched by and cheered them on.
A few weeks later, about a dozen members traveled up north to Berkeley for another far-right rally. When counterprotesters showed up, video shows how the far-right fight club homed in and attacked, punching and kicking the demonstrators as they lay wriggling on the ground.
Photos show Thomas Walter Gillen, who was arrested for his involvement in Charlottesville, with his fists taped "in the manner of boxers or MMA style fighters ... in an apparent effort to prepare to engage in physical violence," the FBI said in an affidavit.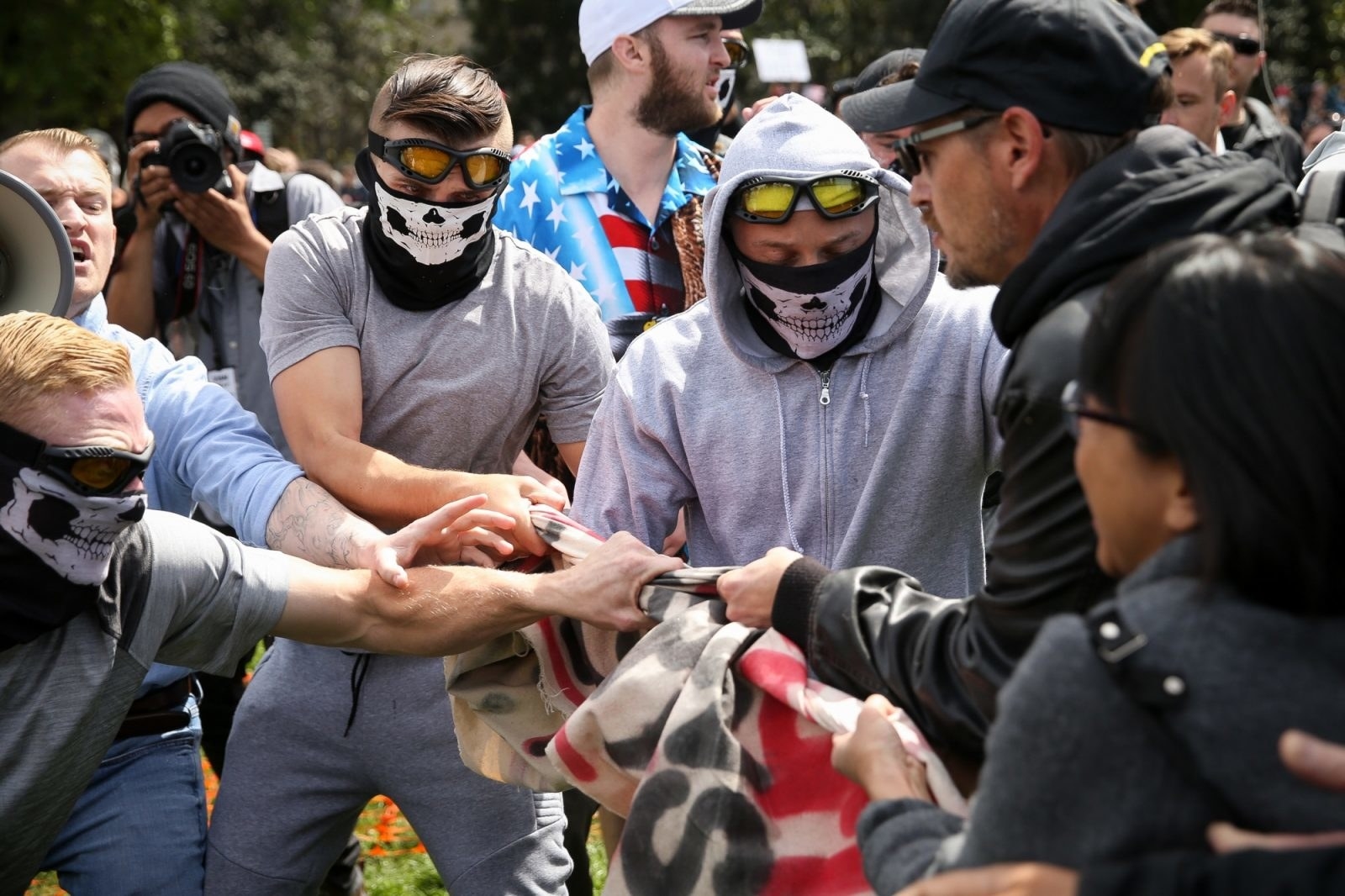 At an anti-Muslim march in San Bernardino in June, RAM members broke through police blockades, ran across the street to where counterprotesters were demonstrating, and began beating them.
One of the leaders, Benjamin Daley, who was among those arrested Tuesday, boasted about the attacks in a video.
But despite RAM's well-documented violence, critics say authorities haven't done enough to go after the white supremacist organization or its members.
"These are not people who have come out of nowhere," German said. "They usually have long criminal records and these are people police know about. How they have been able to travel freely around the country without police doing anything is shocking."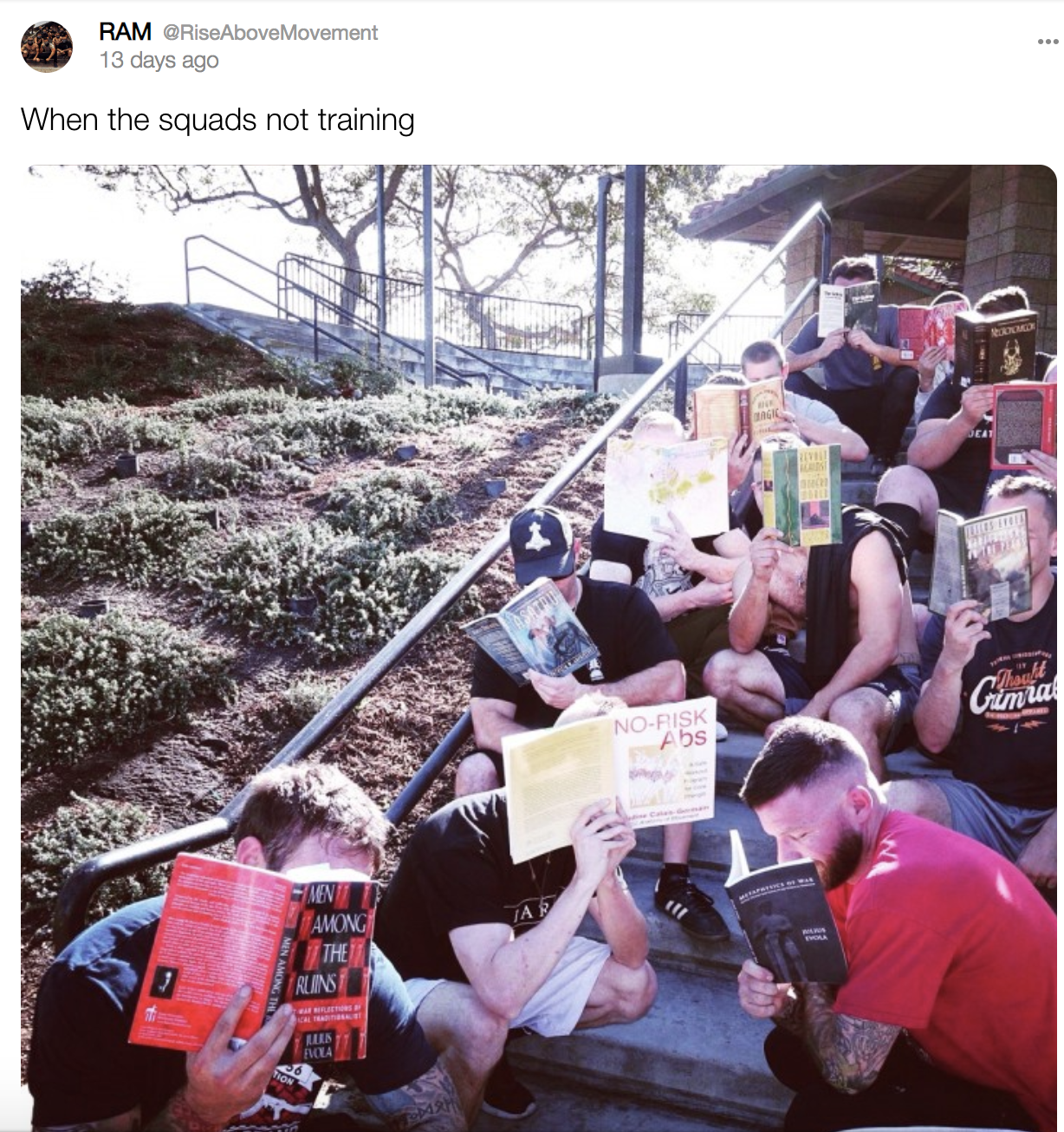 In the coastal Los Angeles suburb Redondo Beach, police say they have not had any involvement with the organization, despite Daley and Gillen having lived there.
"We have come across neo-Nazis every so often, but it's not like we have a huge problem or are getting calls about them," officer Shawn Freeman told BuzzFeed News. "We are more aware of their activities now, though, because of social media."