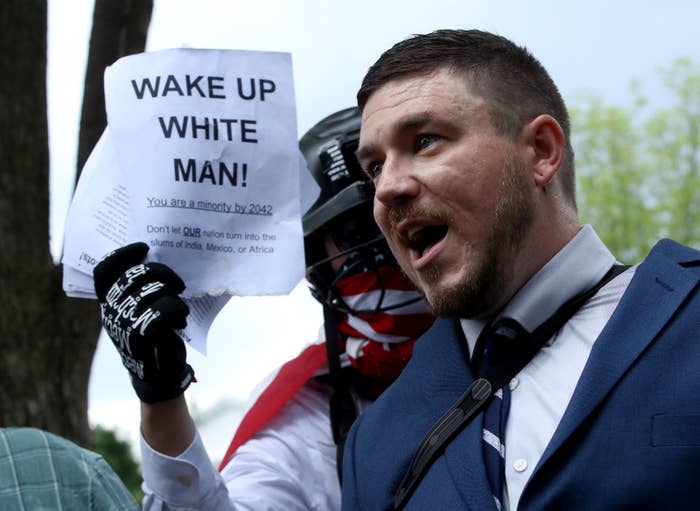 Blame the Nazis again — this time for their own failures.

Jason Kessler, the white nationalist organizer of Sunday's second "Unite the Right" rally, began the anniversary of his violent assembly in Charlottesville by admitting that "we are going to do the best we can with the admittedly imperfect setup here." Kessler was going easy on himself — the setup of his highly anticipated demonstration was anemic at best.
Many had expected the anniversary of the violence in Charlottesville to mirror the horror of the first rally, in which counterprotester Heather Heyer was killed and dozens of others injured in violent clashes between white nationalists and anti-racist demonstrators in the Virginia college town. This time around, however, there weren't even enough racists to fill a train car.
And so a year marked by embarrassment after embarrassment for white nationalists culminated in Kessler's rambling to a handful of supporters as thousands shouted him down.
One year after President Donald Trump's equivocating remarks blaming "both sides" for the violence in Charlottesville, Kessler, his crew, and the alt-right more broadly have resoundingly lost their fight for mainstream recognition, drowned out by a large and effective opposition galvanized in large part by the events of last August.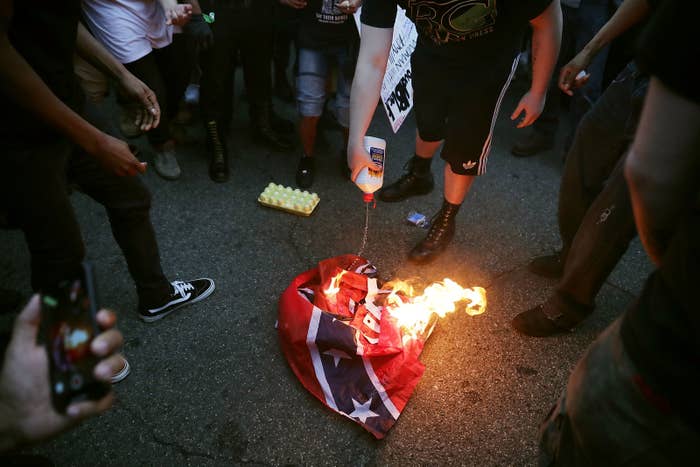 White nationalist attendance at Unite the Right dropped from roughly a thousand a year ago to less than 20 in Washington, DC, Sunday — only a handful of whom chose to show their faces. Counterprotesters, meanwhile, outnumbered Kessler's contingent 50 to one. The scene more closely resembled the white nationalist protest in Boston last August, in which counterprotesters drowned out the alt-right, than it did the chaos that took place in Charlottesville.

Speaking to the small crowd in Lafayette Square Sunday, across the street from the White House, Kessler talked about the same topics he has been harping on for a year: Charlottesville police's alleged incompetence at last year's rally, free speech, "white civil rights," and his declared nemesis "antifa." Washington police succeeded in separating Kessler and his cohort from the protesting masses, effectively heading off any potential confrontation. The rally, which was supposed to begin at 5:30 p.m., started more than an hour early and was basically over before it even began.
Of course, none of this should have come as a surprise.
The alt-right is fracturing. The very white family of mad men and internet trolls is fighting with itself. Richard Spencer, who helped organize last year's Unite the Right, did not attend the anniversary Sunday. Other featured speakers who appeared in Charlottesville — Baked Alaska, Mike Enoch, David Duke, Matthew Heimbach, and others — were similarly nowhere to be found. Kessler, after trying and failing to host two anniversary rallies, never finalized a lineup, instead choosing to submit one then fight with NPR when his interviewer quoted it.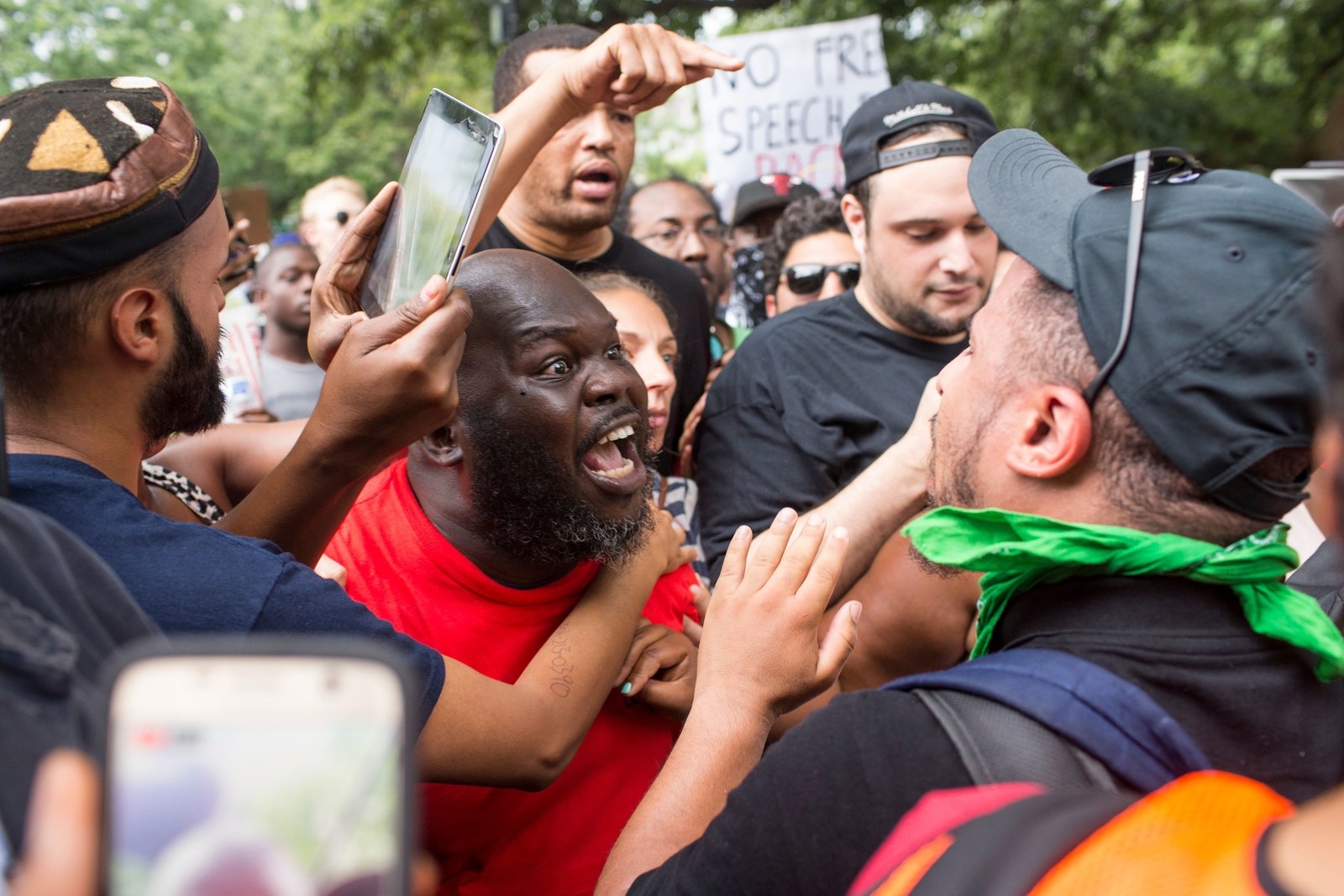 In the months leading up to the events in Charlottesville, clashes in Berkeley, Portland, and other cities made it seem like the alt-right would be able to command public space and attention for the foreseeable future. After Charlottesville, though, each time the movement's leaders have tried to move from the internet to the physical world, disaster has followed.

While it is obviously premature to declare the alt-right dead, the movement appears to be floundering like a lobster in boiling water. The consequences of the Charlottesville rally were severe: White nationalists publicly lost their jobs for participating; famous speakers now summon only crowds of protesters when they come to town. Few of the movement's members hold connections to power in the way they did not so long ago.
Christopher Cantwell, the "crying Nazi" featured in the Vice News documentary about the original Unite the Right, told Vice recently, "There's not big alt-right demonstrations at present. And that is largely due to Charlottesville." He has been in jail for much of the past year. The Traditionalist Worker Party, a KKK-affiliated organization that helped organize the rally in Charlottesville, immolated itself in March with a love triangle fit for a daytime soap.
Canceling a college tour during which his supporters had shot at protesters, Spencer — perhaps the alt-right's most famous founding father — declared 'Antifa is winning."
"It's really the end of an era, or a moment," he told Right Wing Watch's Jared Holt Sunday. "I'll be back. The alt-right will be back. We just need to be patient."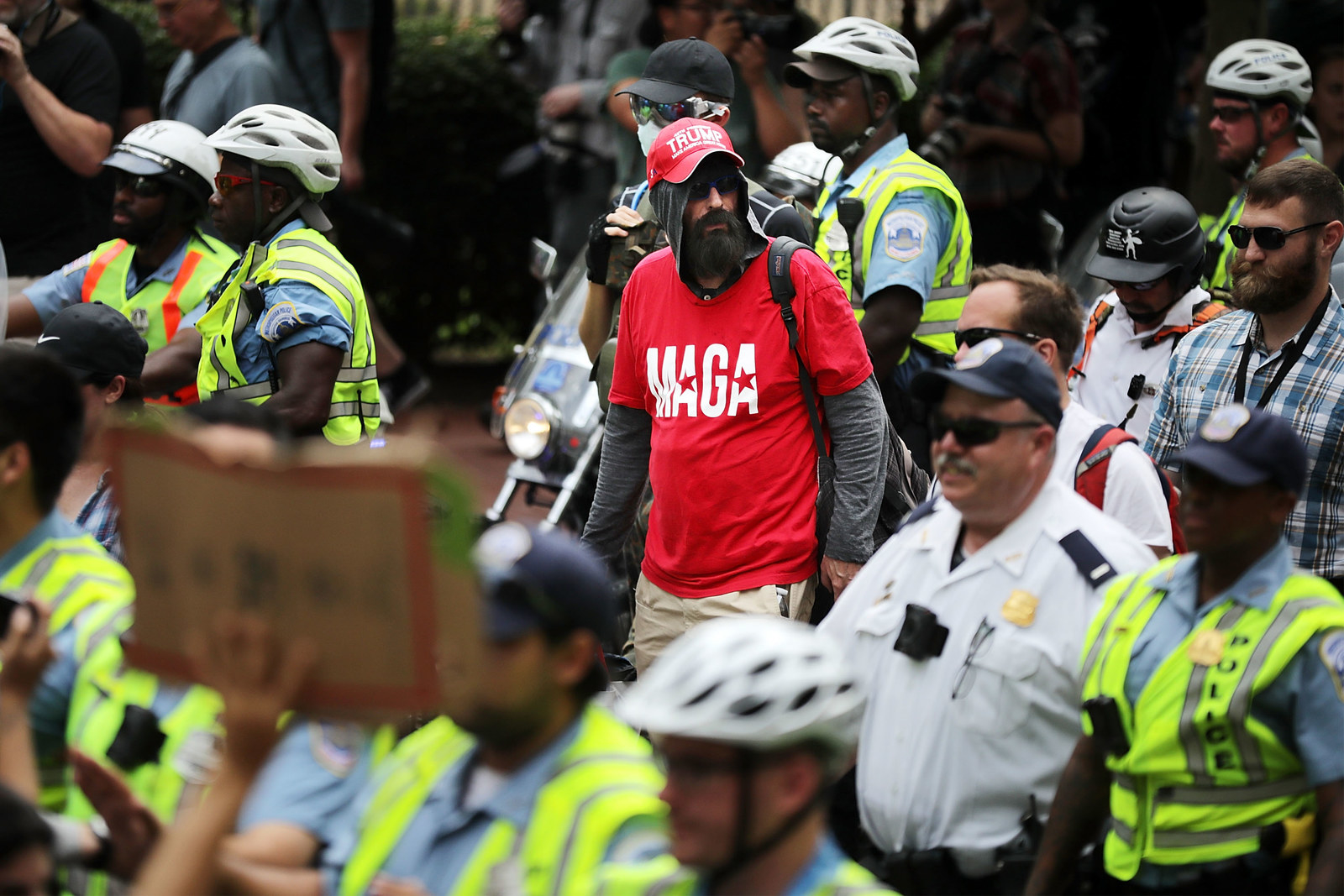 Andrew Anglin, the official blogger of the alt-right, once enthusiastically endorsed his fellow Nazis' aspirations of becoming a Brownshirt-esque force. He soured on Unite the Right 2, though, and condemned it along with any attempts to leave the internet.

Responding to widespread condemnation of the alt-right over the last year, tech companies like YouTube, PayPal, and Facebook have booted much of the movement from their digital spaces. White nationalists now find themselves unable to raise money online beyond cumbersome cryptocurrencies and have had great difficulty finding companies willing to host their websites. They now find themselves largely confined to the toxic sludge pond of Gab for much of their social media activity. While some, like Kessler, Spencer, and Duke, are still able to use Twitter, the "free speech" defense of their indefensibly racist ideas seems to be holding less and less water in the public forum.
Even President Trump appears to have altered his tune, giving a statement about Sunday's rally that failed to put any wind in white nationalists' sails. "The riots in Charlottesville a year ago resulted in senseless death and division," the president tweeted on the eve of the event. "We must come together as a nation. I condemn all types of racism and acts of violence. Peace to ALL Americans!"
Still, the white nationalist movement has not lost entirely. On Wednesday, Fox News host Laura Ingraham sparked outrage by declaring that the United States has fallen victim to "demographic changes none of us voted for," over B-roll footage of farmworkers. Ann Coulter and other Fox News guests have been saying the same for years. The uproar over newly minted New York Times columnist Sarah Jeong — a spat that not long ago would have been confined to the vitriolic corner of Twitter fond of lynching jokes — recently sparked national debate over "reverse racism." That's a win for white nationalists and alt-right fanboys hoping to convert disgruntled white people by capitalizing on their real or perceived disenfranchisement.
But while American racism may never die, as of Aug. 12, 2018, the alt-right and its goony tactics seemed to be waning like the white side of the moon.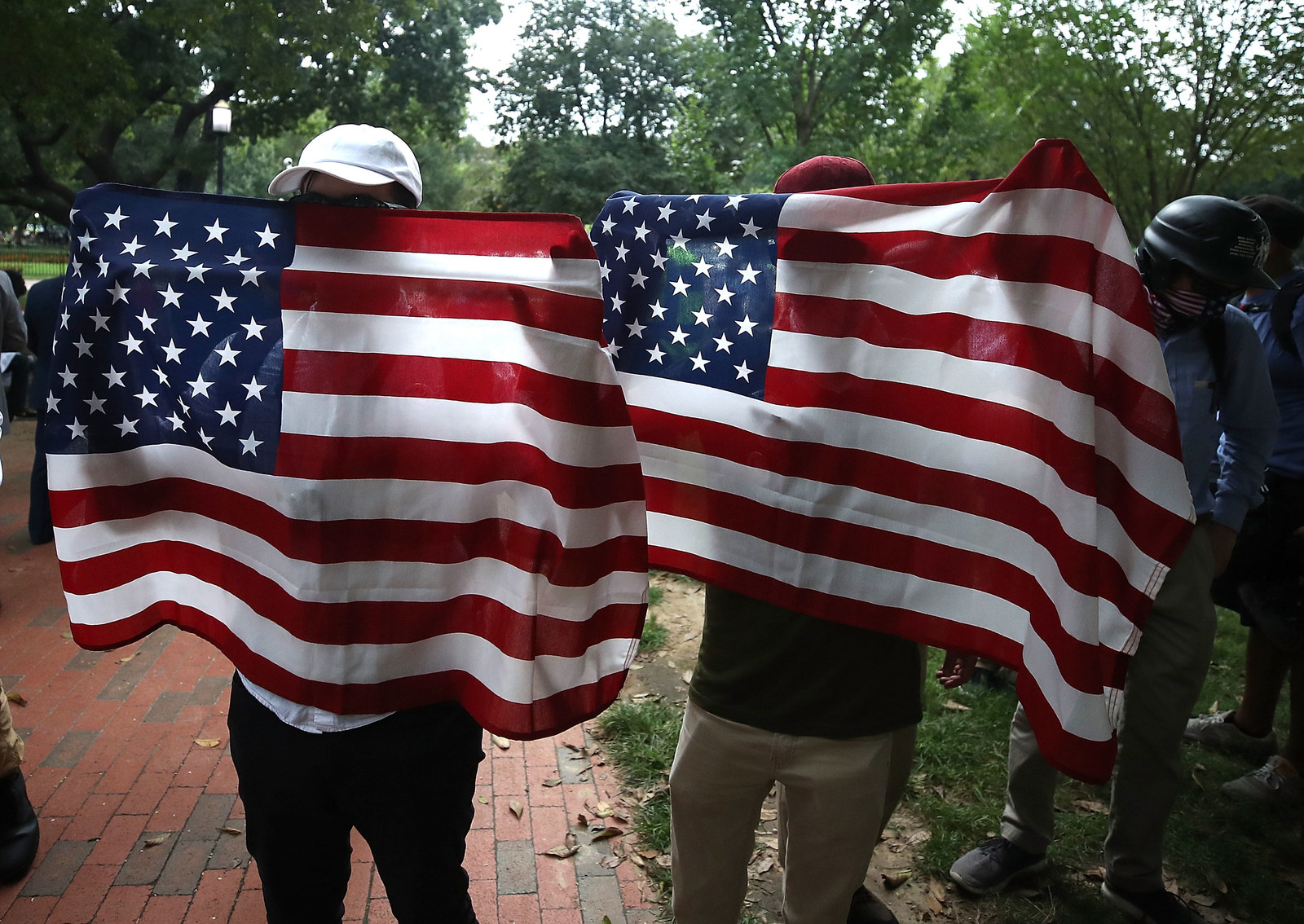 As for Kessler, he said at the start of his speech, "I organized last year's rally and this year's, and I'm going to tell you why I did that."
He never did fully explain.
CORRECTION
Heather Heyer's name was misspelled in a previous version of this post.