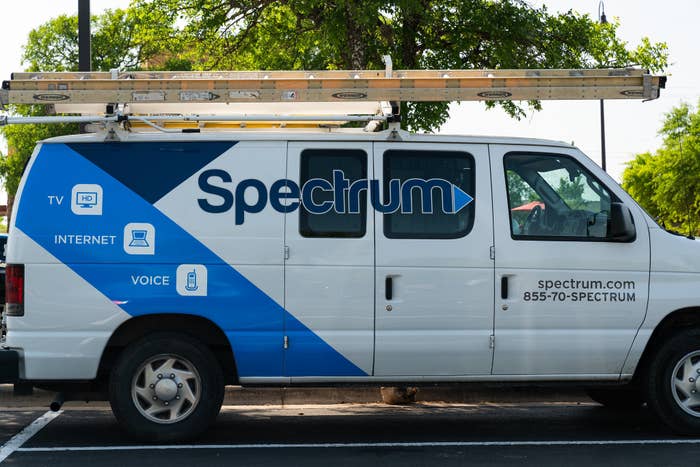 The journalists at BuzzFeed News are proud to bring you trustworthy and relevant reporting about the coronavirus. To help keep this news free, become a member and sign up for our newsletter, Outbreak Today.
Spectrum technicians connecting cable and internet for customers during the coronavirus outbreak will receive a $25 gift card for a local restaurant as a "token of our appreciation" from management, after staff called for hazard pay and protective equipment.
"These gift cards never expire, so if you choose a restaurant that is currently not open, the card will remain valid for future use," read the Monday night internal staff email from Tom Adams, the executive vice president of field operations. "Please take some time out of your busy day to enjoy a meal and recharge."

Spectrum employees have been speaking out against the company's response to the COVID-19 pandemic for several days now, begging to be allowed to work from home if their jobs allow it and calling for safety measures to be implemented for those in the field.
Field technicians told BuzzFeed News on Monday night they feared going into people's homes during the pandemic to fix their internet and cable without gloves, a mask, or hand sanitizer in case they got sick or carried the virus to other customers or loved ones.
On Monday night, the company announced it was offering a $25 weekly gift card as a thank you — an initiative that left many workers who spoke with BuzzFeed News unsatisfied.
"Would you do it for $25?" asked a field technician from Irwindale, California, who asked to remain anonymous, along with the other technicians quoted in this story, to protect his employment. He called Spectrum management "vultures."
"It's really insensitive, it shows they don't care," said a Spectrum technician from New York City, who spoke to BuzzFeed News earlier this week. "You think a gift card is supposed to make us feel better?"
He said it was a "slap in the face," and that management thought they could "give a gift card, shut them up."
One technician from North Carolina described his reaction to reading the email announcing the gift card initiative as "a lot of satirical laughter."
"It's quite literally the least they could do," the North Carolina tech said, pointing out that to even use a gift card from a local restaurant would likely involve having close contact with restaurant staff or drivers.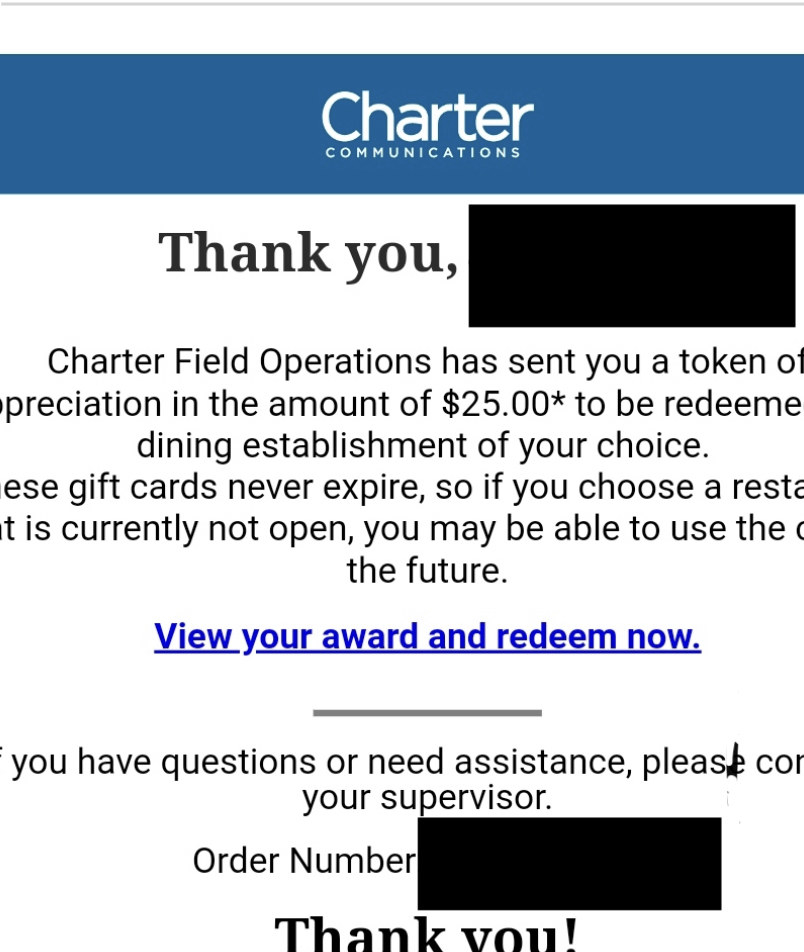 Four employees complained to BuzzFeed News that Spectrum had failed to address safety concerns raised over recent weeks as the coronavirus has spread around the country and placed huge demand on the company, with a working internet connection now crucial for those suddenly working from home or relying on school classes via video.

Spectrum, which is owned by Charter Communications, is deemed an essential infrastructure service, meaning that its workers are not covered by state-mandated lockdowns to close businesses.
"Your efforts are courageous and highly valued," wrote Adams in his Monday email to staff. "We greatly appreciate your dedication to serving our customers and your diligent focus in performing this work during a difficult time for our country."
Adams said that self-installation by customers was increasing, and calls were being reviewed to clarify if a field visit was required.
"The response from the technicians to all our recent changes, along with the gift card gesture has been very positive," said Cameron Blanchard, a spokesperson for Charter, in a statement to BuzzFeed News.
Adams also noted Spectrum had secured access to hand sanitizer and gloves, which would be available for workers to use "in the next few weeks."
Blanchard said supplies had been delayed due to priority "understandably" given to healthcare providers and government agencies.

But more delays did not satisfy workers who feel like there is no time to wait.
"'Weeks from now' — it's not too late, but it's kind of too late," said the NYC technician. (New York City is currently the US hotspot for the coronavirus outbreak, with local hospitals struggling to help the thousands of ill patients.)

Do you have questions you want answered? You can always get in touch. And if you're someone who is seeing the impact of the coronavirus firsthand, we'd also love to hear from you (you can reach out to us via one of our tip line channels).
Spectrum workers say they are relying on homemade masks and dwindling sanitizer purchased by family members.

"First and foremost give us supplies to protect us," said the New York City technician. "If anything, give us a bonus or something for working through this."
Competitors such as AT&T are paying 20% hazard pay to staff, and Spectrum staff wanted the same treatment.
"If they're going to do anything, give us more protective equipment and pay us hazard pay," said the Irwindale technician. "That's it."
The Irwindale technician said in recent days he'd received a "handful" of gloves, and a half-filled 3-ounce bottle of soap from Spectrum. "We would have to find our own water to wash our hands," he said.
The North Carolina technician believed Spectrum should openly acknowledge the risk to workers and pay them fairly for it.

"If we're going to have to be exposed to people and places that might have a decent infection rate," said the technician, "just saying, 'I'm sorry we're having to expose you to this,' and some form of compensation that readily accepts that."
He called Spectrum's response "a lot more reactionary than preventative," and said despite Spectrum's claims, lots of nonessential visits are still going ahead, such as techs doing a home visit for someone who can't remember a password or because of slow internet, or the area continuing to work on long-term infrastructure upgrades with no immediate benefit.
The company is offering three weeks of paid COVID-19 leave for staffers who are sick or need to be quarantined or care for a family member.
The NYC technician said he's aware of multiple employees already just using it to avoid work and stay home in safety.
He believes that, as a billion-dollar company, Spectrum should be focused on protecting its staff, not its profits, right now.
"You could at least give us time and a half for working through this time," he said. "You have the money to do it, you have the means to do it and you want to give gift cards. It's not right."
UPDATE
This post was updated to include more of the original Spectrum statement.