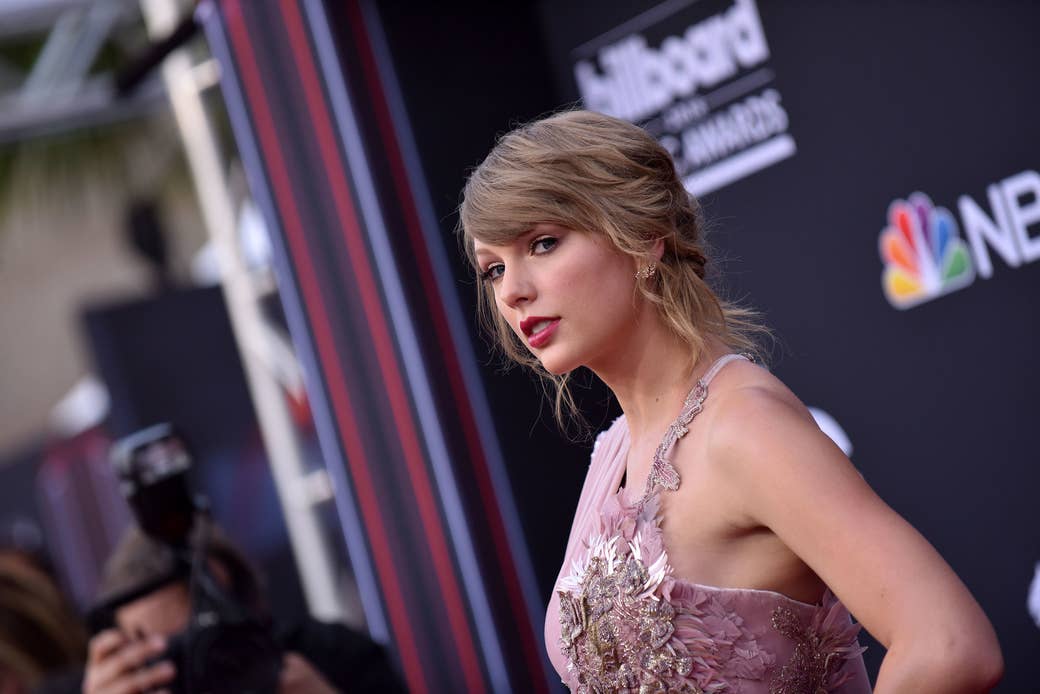 On Sunday night, Taylor Swift announced her intention to cast her vote for the Democratic candidates for the House and the Senate in Tennessee. In the statement (posted on Instagram), Swift made the post about values rather than partisanship. "I always have and always will cast my vote based on which candidate will protect and fight for the human rights I believe we all deserve in this country," she wrote. "I cannot vote for someone who will not be willing to fight for dignity for ALL Americans, no matter their skin color, gender or who they love."
Given Swift's famous reticence on electoral politics, the statement has been taken as her big coming-out moment. It has already inspired everything from thinkpieces about whether she can mobilize young voters to jokes juxtaposing woke Taylor with MAGA hat–wearing Kanye West. Unsurprisingly, it has also prompted a conservative backlash (as well as President Trump making it known that he "like[s] Taylor's music about 25% less now"). As one dissatisfied Fox News talking head put it, "This is what I used to love about Taylor Swift, is she stayed away from politics — she was all about music all about, you know, female empowerment."
And this is true. As Swift transitioned from tween country princess to full-fledged, mainstream pop queen, she made her narrative about the kind of blandly universal women's empowerment that nobody could disagree with. But after her 2016 feud with Kim Kardashian and Kanye West, Swift was called out on the way that supposed empowerment was actually dependent on a long history of white feminine victimhood, and she got locked into that narrative. After Trump's election, which made questions about race and gender front and center in cultural conversation, Swift's silence seemed to be turning her into an inadvertent alt-right poster girl, and her inability to situate herself in the cultural conversation carried into the release of her latest album, Reputation.
Swift's current coming-out — in a social media post, rather than in a song or a performance — is part of her long history of being forced to grapple with the implicit politics of her persona and music. And it's also a very specific kind of damage control for a multimillion-dollar brand that must retain relevancy in a changing pop landscape where you ignore politics at your peril.
Swift's first public tussles with any kind of politics were about her feminism. Both she and the press, through her early career, emphasized her songwriting as a kind of women's empowerment. "When someone breaks up with me, I like to write about it, because I feel like I have the last word," she told one journalist in 2009. And indeed, with irresistible pop songs like "Love Story," and "You Belong With Me," Swift played up her agency, asserting her point of view as a young woman.
As she transitioned from the country stardom of her self-titled debut album, questions began to arise about Swift's cultural politics. Critics started pointing out the limited nature of her songwriting, and specifically the gendered conservatism of her songs — with lyrics about white horses and Prince Charmings — as well as what many people interpreted as slut-shaming. When asked point-blank whether she was a feminist, her answer to the Daily Beast was most revealing about her desire not to appear divisive: "I don't really think about things as guys versus girls. I never have. I was raised by parents who brought me up to think if you work as hard as guys, you can go far in life."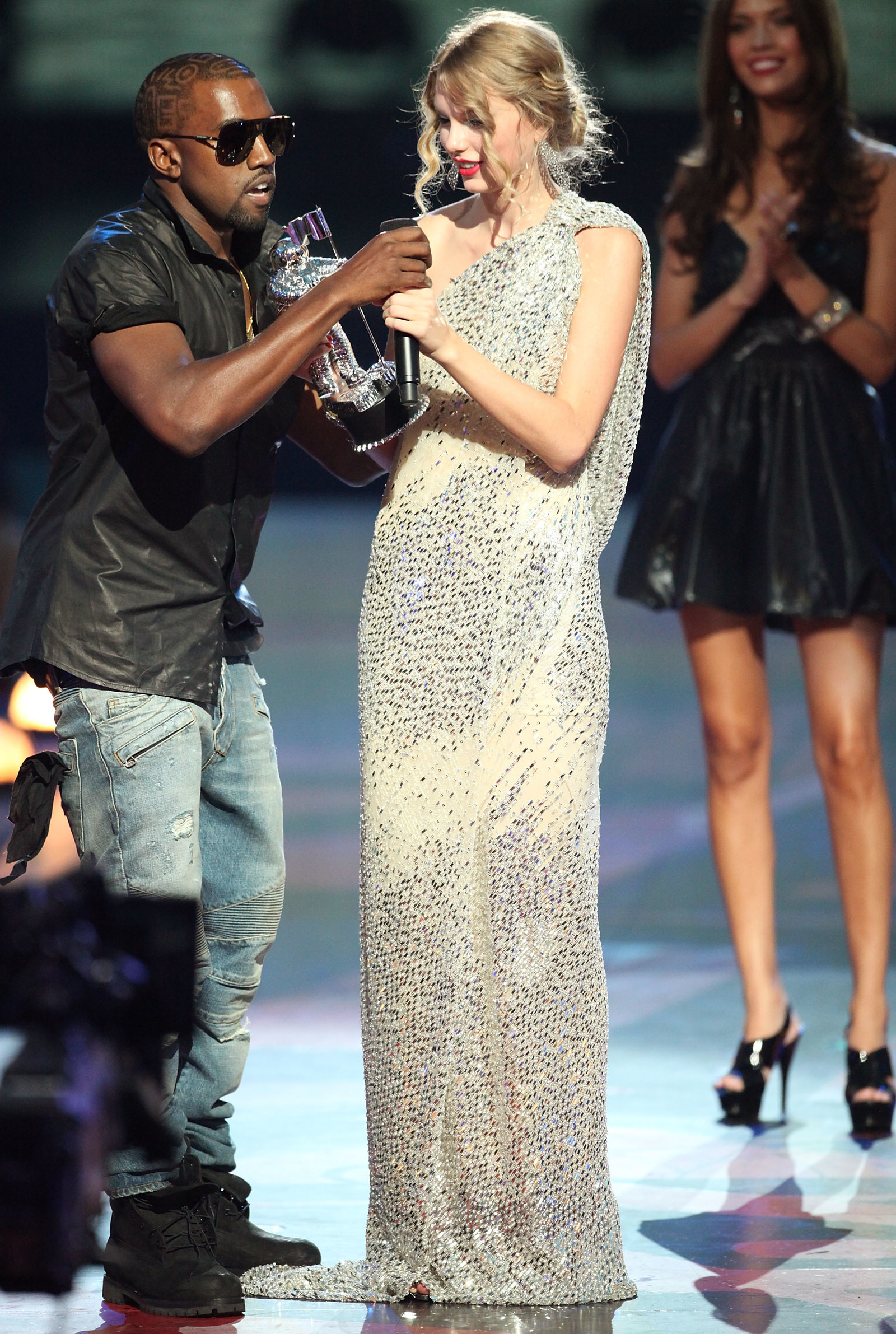 With 2012's Red, Swift increasingly made her very public love life part of her musical mythology, through songs like "We Are Never (Ever) Getting Back Together," and "I Knew You Were Trouble," which played into public speculation about her relationships with Jake Gyllenhaal and Harry Styles. As the tabloid narrative about her started spiraling out of control, she turned to gender politics to frame what she viewed as the sexism of her press coverage. In 2013, she got her first Vanity Fair cover, in which she talked back to the critics and jokes about her love life. "For a female to write about her feelings," she said, "and then be portrayed as some clingy, insane, desperate girlfriend in need of making you marry her and have kids with her … that's taking it and turning it and twisting it into something that is frankly a little sexist."
In that interview, she famously responded to Tina Fey and Amy Poehler's 2013 Golden Globes monologue by quoting Madeleine Albright's line about there being a "special place in hell" for women who don't help other women. By the time of her next album, 2014's 1989, Swift was publicly grappling with the meaning of feminism again. She expanded on her evolution for Maxim magazine in 2015, saying, "I think that when I used to say, 'Oh, feminism's not really on my radar,' it was because when I was just seen as a kid, I wasn't as threatening. I didn't see myself being held back until I was a woman."
But just as Swift had finally become comfortable aligning herself and her girl-power narrative with feminism, the conversation about pop politics was already moving to the intersections of race and gender, and Swift was once again left behind. She inserted herself into Nicki Minaj's Twitter feed after feeling called out by Minaj's statement about the politics behind the nominations for Video of the Year at the 2015 MTV Awards. Minaj then criticized her for not speaking out about the marginalization of artists of color at the VMAs, and Swift apologized. Then, in 2016, came the backlash to Swift's surprised and damning reaction to Kanye West's song "Famous." Kim Kardashian successfully framed her as a "snake," saying that Swift had approved the song's problematic lyrics ahead of time, and then complained afterward because of the backlash to the song.
Swift became trapped in a narrative about being the ultimate self-victimizing white girl. She disappeared for a while and was notably silent during the 2016 presidential election and its aftermath, as racism and misogyny were seeping into the political conversation in terrifyingly overt ways that prompted most other pop stars to speak out. A timid (and since-deleted) tweet supporting the Women's March, in January 2017, mostly annoyed her detractors. As the political center shifted, Swift's oblique relationship to politics was threatening to overtake her image.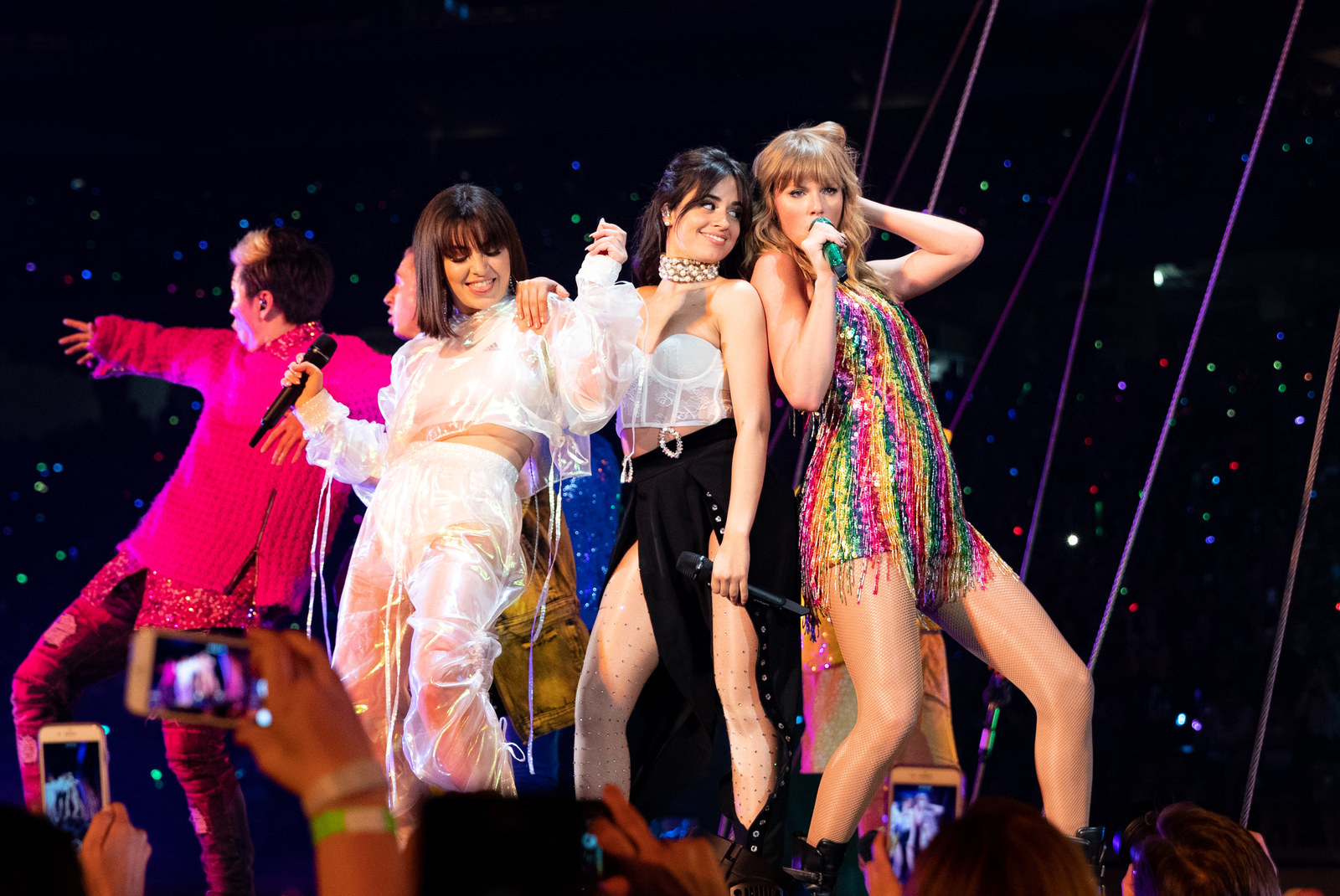 The Trump era has been a complicated time for all white women pop stars (and other celebrities) to navigate the intersection of pop, politics, and culture. Lady Gaga's Joanne, released soon after the election, failed to spark the kind of excitement of her previous releases, in part because its intimate and personal focus seemed so removed from the current conversation. Conversely, Katy Perry wearing a "Resist" armband during her Grammys performance, as she promoted her lead single "Chained to the Rhythm," with its veiled allusions about white picket fences, didn't help with her album sales and was critically panned as an inauthentic bid for relevance. Kelly Clarkson dealt with pushback from some of her fanbase after being explicit about her own increasingly liberal politics.
Swift never explicitly talked about current politics while promoting Reputation, and she did not allude to them in her work, even as she attempted to disentangle herself from her image as a victim of the media's interpretation of her, which she mocked in the video for "Look What You Made Me Do." That first single, buoyed by the excitement around her return, shot to No. 1, and so did the album. She played directly to her fanbase, and it worked, but as a pop persona she had become culturally toxic to a widespread and influential segment of social media.
The dancer and YouTube personality Todrick Hall, for instance, faced backlash for appearing in Swift's music video, and was accused of selling out as a queer black man for supporting Swift's apolitical stance. "Look, I'm not Taylor Swift, so I can't speak for her and why she does or does not choose to speak or not speak about any specific subject matter," he explained in a bit of damage control after the criticism. Still, acting as a kind of mouthpiece for her, he talked about spending Thanksgiving with her accepting family, who had no problem with his gayness and openly talked about racism. But there was widespread skepticism, at least in the critical conversation around the album, about Swift's politics and the limitations of her "girl squad" feminism. Even Swift's emotional trial testimony about being sexually assaulted, which led to Time magazine naming her one of the year's "silence-breakers," prompted some backlash about her opportunistic feminism.
There were also questions about her declining relatability and the softening ticket sales for her tour. And after the initial burst of attention for her music, Swift's album singles failed to have the kind of legs of her previous work. This all raises questions about whether Swift's recent and much more explicit political statement is a calculated decision, at a moment when her silence was becoming more costly for her cultural capital and relevance than any potential backlash to her speaking out. Despite the (misogynist and out-of-date) jokes about her supposed 13-year-old girl fans, Swift wading into electoral politics is partly a result of the fact that her image has evolved from the one that first won her that fanbase. She can no longer function as the adult and relevant artist she aspires to be without taking a political stand.
This coming-out is uniquely Swiftian. Most pop stars demonstrate their political support through fundraisers for a particular party — Katy Perry performed for Hillary Clinton throughout her campaign, Beyoncé sang in a pantsuit for Clinton (and has Instagrammed about police brutality). Swift has taken a decidedly less partisan, and more open-to-interpretation, route: In her Instagram post, Swift doesn't declare herself a Democrat, and goes out of her way to point out, "For a lot of us, we may never find a candidate or party with whom we agree 100% on every issue, but we have to vote anyway." She also ends it as a kind of universal "register to vote" message.
For someone whose music has always worked through a nontransgressive, inherently broad appeal, Swift has tended to inspire deeply divided reactions among different audiences. So it makes sense that the reaction to her weighing in on this election has been predictably mixed. But it's one thing to come out politically as a celebrity and a citizen, and quite a different thing to integrate that vision into a performance or an album. Will this be the beginning of a new political era for Swift as an artist, or just the end of nearly a decade of frantic speculation? That remains to be seen and heard. ●