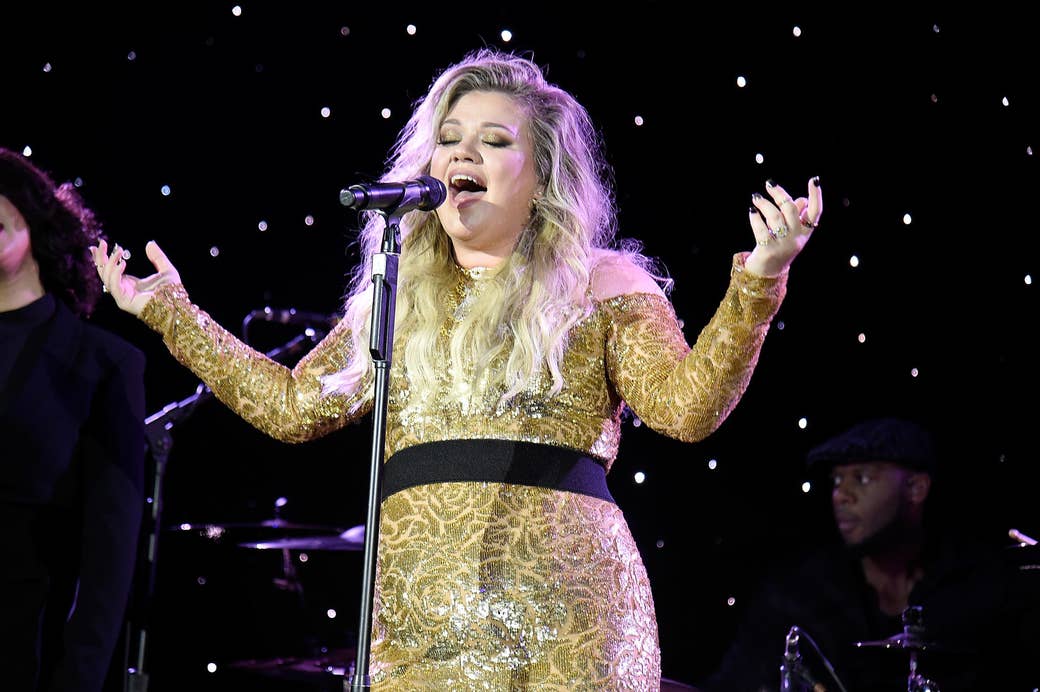 Kelly Clarkson loves to tell us how ordinary she is. The pop star, whose eighth studio album Meaning of Life is out today, listens to Pink, watches Game of Thrones, reads Jane Austen, and posts gifs proclaiming how nervous she gets around famous people on Twitter. In a New York Times interview published last week, Clarkson returned from a bathroom break, proclaiming "Wow, I really had to pee! That was a lot!"
Since she first beamed into viewers' homes on American Idol 15 years ago, Clarkson's forthrightness — paired with her powerhouse voice — has been a large part of her appeal. Like a slightly more conservative Adele (Clarkson still sometimes says "frigging" instead of the other f word), she has always been lacking in pretension. And it's worked for her; she's had three No. 1 hits, won three Grammys, and sold more than 25 million albums worldwide.
In the last two years, Clarkson's outspokenness has begun to take on a more pointed political and cultural — as opposed to purely personal — bent. She's spoken out about legalizing marijuana, putting a woman on the $20 bill, Hillary Clinton's run for president, the NFL protests, Heather Heyer and, well, pretty much everything. "I actually came with a brain, not just vocal cords, and it would be silly not to have an opinion," she told the New York Times. "It would be a disgrace if I didn't have an opinion." Her new album — the first on her new label Atlantic Records — suggests that she's firmly embracing her autonomy and willing to subtly address some of the larger cultural conversations she's begun to be a part of.
In an era where every aspect of American culture is politicized, some celebrities are navigating how to present their political opinions publicly for the first time. Throughout the 2016 election, many celebrities were vocal about politics, but few had a background similar to Clarkson's: a white woman from a big red state (Texas), with a fanbase all over the country. Taylor Swift remained notably silent during the entire 2016 campaign, and the only public comment Carrie Underwood made about the election was a joke about running herself. Clarkson could have stayed quiet too, and her politicization is a risk. With artists' political views so woven into the perception of their art, what she does or doesn't say could determine not only whether her current fanbase stays loyal, but whether she continues to be relevant in the pop music landscape at all.
Kelly Clarkson first came to the public's attention as a spunky 20-year-old cocktail waitress from Burleson, Texas, who just wanted to sing. In the intro for her American Idol audition, Clarkson chats with a frosted-tipped Ryan Seacrest, wearing a denim shirt she made out of a pair of pants. Before belting out a verse of Madonna's "Express Yourself" for the judges, she responds to their small talk with a "Cool beans." She's gregarious, thrilled to be there, and in seconds has somehow switched spots with Randy and is sitting behind the judge's desk. It's a stunt that works. She's believable, relatable, and she gets her golden ticket to Hollywood.
"She had that kind of spunky Texas personality very much intact, and it gave people an authentic feeling that was easy to root for," says Richard Rushfield, who covered American Idol for the Los Angeles Times and wrote the book American Idol: The Untold Story. [Editor's note: Rushfield also worked for BuzzFeed News from 2012 to 2013.]
Viewers liked Clarkson on Idol — she was never at risk for elimination by being in the bottom three — but most of the initial buzz was around fan favorites Justin Guarini, Nikki McKibbin, and Tamyra Gray. "Four or five weeks before the finale, no one was talking about Kelly Clarkson," Rushfield says. "So it ended up being this kind of beautiful underdog story: The farm girl from Texas upset this glossy pretty boy and anointed winner." Clarkson eventually won the popular vote in the finale with 58%. Her winners' performance of "A Moment Like This" was classic, unfiltered Clarkson. Overcome with emotion, she let out happy squeals and could barely sing the lines, apologizing into the mic.
But even though the contestants' inexperience was part of the inherent appeal of Idol, Clarkson — like her peers in future seasons, Carrie Underwood and Jennifer Hudson — had more professional experience than the producers let on. After high school graduation, Clarkson produced a demo and sent it to record labels. She was offered a couple of recording contracts, but none to her liking, and even moved to Los Angeles to try to make it big. She failed, and returned to Burleson, but she wasn't naive about how the music industry worked. That's likely part of why Clarkson's been able to survive in a volatile industry since winning Idol, while many of her fellow finalists have not. (Of the 42 American Idol finalists, only 14 have been on tour in the last three years, and only 19 have produced new music since 2013.)
Almost every Idol finalist struggled to make it past their second album. Season 2 winner Ruben Studdard's first album, for example, went No. 1 and sold almost 2 million copies; his second sold almost a fourth that. Kelly Clarkson didn't fall off that cliff. Her 2004 album Breakaway was a massive success, hitting No. 3 on the Billboard 200 and producing some of her most famous singles, like "Since U Been Gone" and "Because of You."
But Clarkson had to fight to get the album she wanted, employing (behind the scenes) the same outspokenness that has become a more and more central component of her public image. There was a well-publicized feud with music executive Clive Davis, who took over her record label in 2004, in which Clarkson later suggested that Davis and other producers (Dr. Luke and Max Martin) discredited her songwriting ability and tried to force her to make pop songs instead of the soul music she loved.
"A group of men thought it was OK to sit around a young woman and bully her. I was told I should shut up and sing," Clarkson told Variety last month. Instead of backing down, Clarkson demanded that she at least get to cowrite the songs on the album, and later that Davis release her third studio album, My December, in 2007 after he tried to bury it.
In 2009, Clarkson cowrote her 2009 single "My Life Would Suck Without You" with producer Dr. Luke (née Lukasz Sebastian Gottwald), who has since been accused of sexual assault and harassment by Kesha (Dr. Luke denied the claims; Kesha eventually dropped her lawsuit against him). When the label tried to give Clarkson credit for cowriting the song, though, she refused. She wanted to make "a point to the people working with me," she told Z100 in September, that she didn't want her name next to his. During Kesha's trial against Dr. Luke, Clarkson publicly and adamantly took Kesha's side, claiming that Clarkson's label forced her to work with the producer.
Though Clarkson has always been noticeably outspoken compared to other pop stars with a similar audience and reach, for years that manifested almost entirely in speaking about her own career. When Live Nation canceled her 2004 My December tour because of low ticket sales, Clarkson told Elle magazine that Clive Davis offered her $10 million to drop five songs he didn't like off the album in favor of poppier hits. "My resistance upsets a lot of people, because we could make a lot of money," Clarkson said in the interview, "And I'm not hatin' on money. ... I'm just not comfortable doing things that don't feel like me."
More recently, Clarkson has commented not just on professional issues, but on personal ones too. After extensive comments about her weight fluctuations, Clarkson shut down body-shamers on Twitter, and recently told Attitude magazine that, at the beginning of her career, "When I was really skinny, [...] I was miserable, like inside and out, for four years of my life. But no one cared, because aesthetically you make sense." On her new album, she addresses those conversations head-on in a song titled "Whole Lotta Woman." And she's not afraid to dig into the larger cultural implications of her own experiences. Talking about the song to Rolling Stone this week, she said, "I am a whole lot of woman — I have a big personality, I'm a grown-ass woman that can pay her bills, and I make a lot of money. That's intimidating."
"I'm not a puppet" is one of Clarkson's favorite phrases. She said it in 2009 during her album promotion as well. But only recently has her candidness translated into the political sphere, where it has the potential to wipe away some of that public goodwill she's spent so much time building up.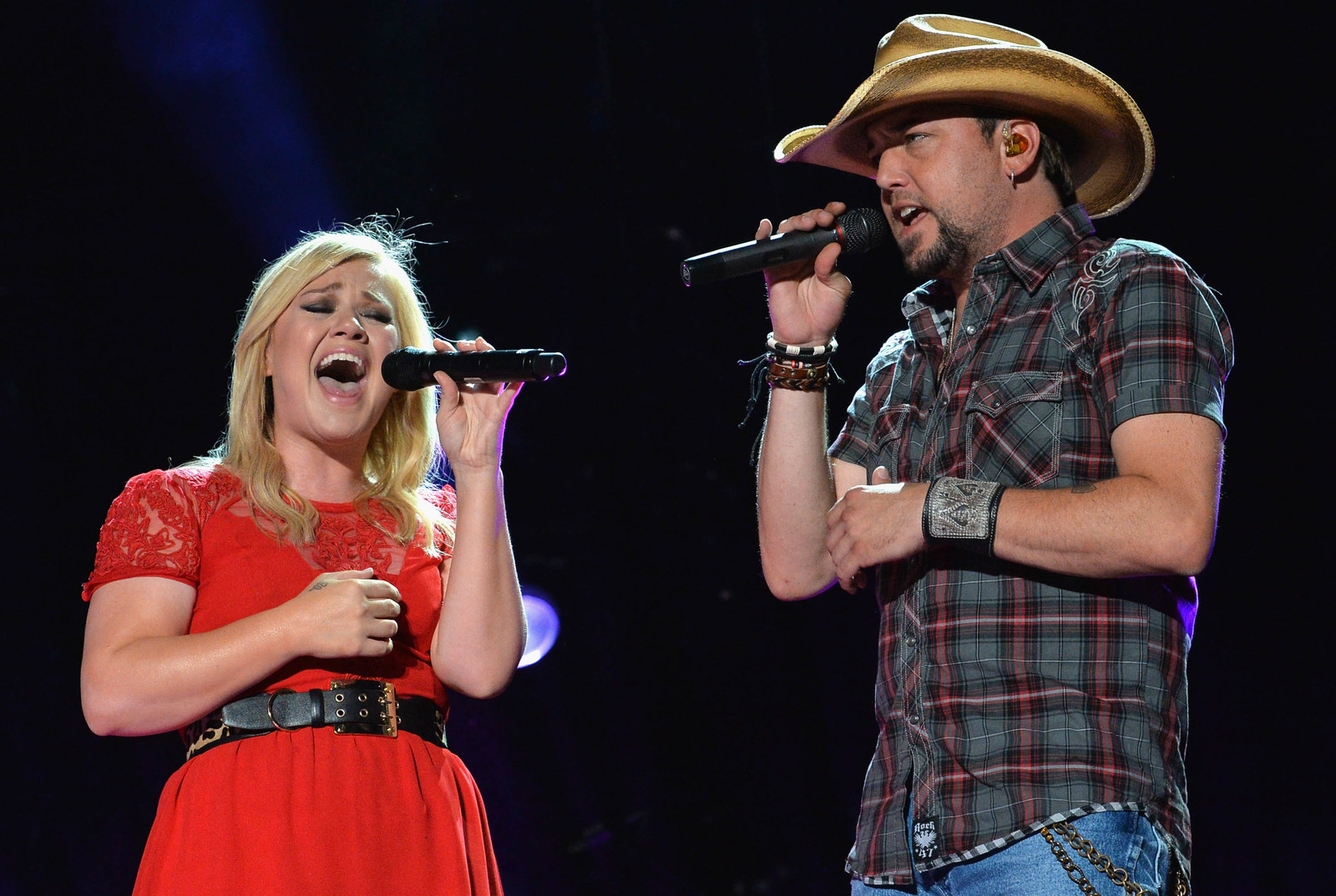 For the first decade of her career, as she released hits like "Since U Been Gone," and "Stronger (What Doesn't Kill You)," Clarkson remained mostly silent on political matters. "My family was highly conservative; I had to go to church on Sunday and Wednesday," she told EW in 2004. Her home town of Burleson, just outside of Fort Worth, Texas, bleeds into two counties, both red: Tarrant County went 52.2% for Trump, and Johnson County went 77.5%.

But since 2008, Clarkson's public politics have increasingly leaned left. "I'm probably going to vote for Obama again, even though I'm a Republican at heart," she told a British reporter in 2012. She also tweeted favorably about Ron Paul, which created some backlash, and said that she couldn't vote for Mitt Romney because of her belief in LGBT rights. "I have a lot of gay friends and I don't think it's fair they can't get married," Clarkson told the Daily Star in 2012, a year when only 48% of Americans believed gay marriage should be legal. When Obama was reelected, she sang at his inauguration ceremony. In 2016, she cast her vote for Hillary Clinton after tweeting that Donald Trump made her "genuinely frightened for our nation." She performed on Michelle Obama's female empowerment song "This Is for My Girls," and one of the songs on her new album, "Go High," is inspired by the former first lady's "when they go low, we go high," speech — which Clarkson calls "the speech heard round the world."
Staying moderate, for any person, much less a celebrity, is becoming more and more difficult. According to a recent poll by the Pew Research Center, the country's partisan divide on fundamental political values is greater than it's ever been, and "in Donald Trump's first year as president, these gaps have grown even larger." It seems clear which side of that divide Clarkson has settled on. When the president tweeted that NFL attendance was down because of peaceful protests during the playing of the national anthem, Clarkson mockingly quote-tweeted him: "The NFL is obviously super poor guys and in need of our attendance/ratings .....said no one ever. #billiondollarindustry"
When a fan replied, asking "why must you celebrities spew negativity? Do you recall the Dixie Chicks?" Clarkson didn't let up. "Who's spewing negativity? & please stop using the 'celebrity' thing," she tweeted back. "I'm a Texas girl who loves football & the NFL is doing just fine."
Staying moderate, for any person, much less a celebrity, is becoming more and more difficult.
Clarkson's political awakening comes at an interesting time for white female celebrities, many of whom have stayed strategically silent as the country becomes more polarized. While having a political opinion seems almost like a requirement for pop stars in 2017 — Katy Perry, Beyoncé, Lady Gaga, Rihanna, and Nicki Minaj all announced their support for Hillary Clinton during the 2016 campaign — white female celebrities with more conservative fanbases have been noticeably quiet. And because white women in particular as a group are divided politically (53% of white women voted for Trump), there's extra incentive for the celebs who appeal to that fanbase to keep their views to themselves. As Anne Helen Petersen argued earlier this year, the country's polarization has made a white female celebrity's political role much less clear, and a little more fraught.
It's difficult to get firm stats on who Kelly Clarkson's fanbase is; both Spotify and Atlantic Records (Clarkson's label) did not respond to multiple requests for data. But recently, Julie Greenwald, cohead of Atlantic Records, told Variety that the streaming numbers for Clarkson's single "Love So Soft" surprised her because "It was down the middle, men and women. By the way, I would have bet the house that it was going to be all women." On a purely anecdotal basis, past concerts where I have seen Clarkson live certainly tended to skew heavily white and female. Clarkson has a lot of fans, and it's likely that most of them don't fit into a single demographic bracket. But Clarkson lives in Nashville, the heart of modern country music and a Republican stronghold. She has been nominated for six Country Music Awards and has identified in the past — as a "Republican at heart," and a "Texas girl" — aligning her public image with categories of Americans whose politics may no longer match her own.
Clarkson ignored her Twitter critic's reference to the Dixie Chicks, but their experience is certainly a haunting one for white female musicians with conservative fanbases. In 2003, just at the beginning of Clarkson's career, the Dixie Chicks' Natalie Maines criticized President George W. Bush's invasion of Iraq and the band was immediately ostracized from the country music community. Their music was pulled off country stations, fans disowned them, and soon after they went on a six-year hiatus.
"Really? I was a fan. Deleting all your songs off my iPod," a former fan wrote on Twitter after Clarkson endorsed Hillary Clinton in July 2016. "Getting rid of your music as I was once a fan," another wrote. Clarkson tweeted back after her endorsement backlash, saying, "If u don't agree w/me about voting4 @HillaryClinton thats okay but instead of attempting 2shame/insult me, just go ur own way #FleetwoodMac."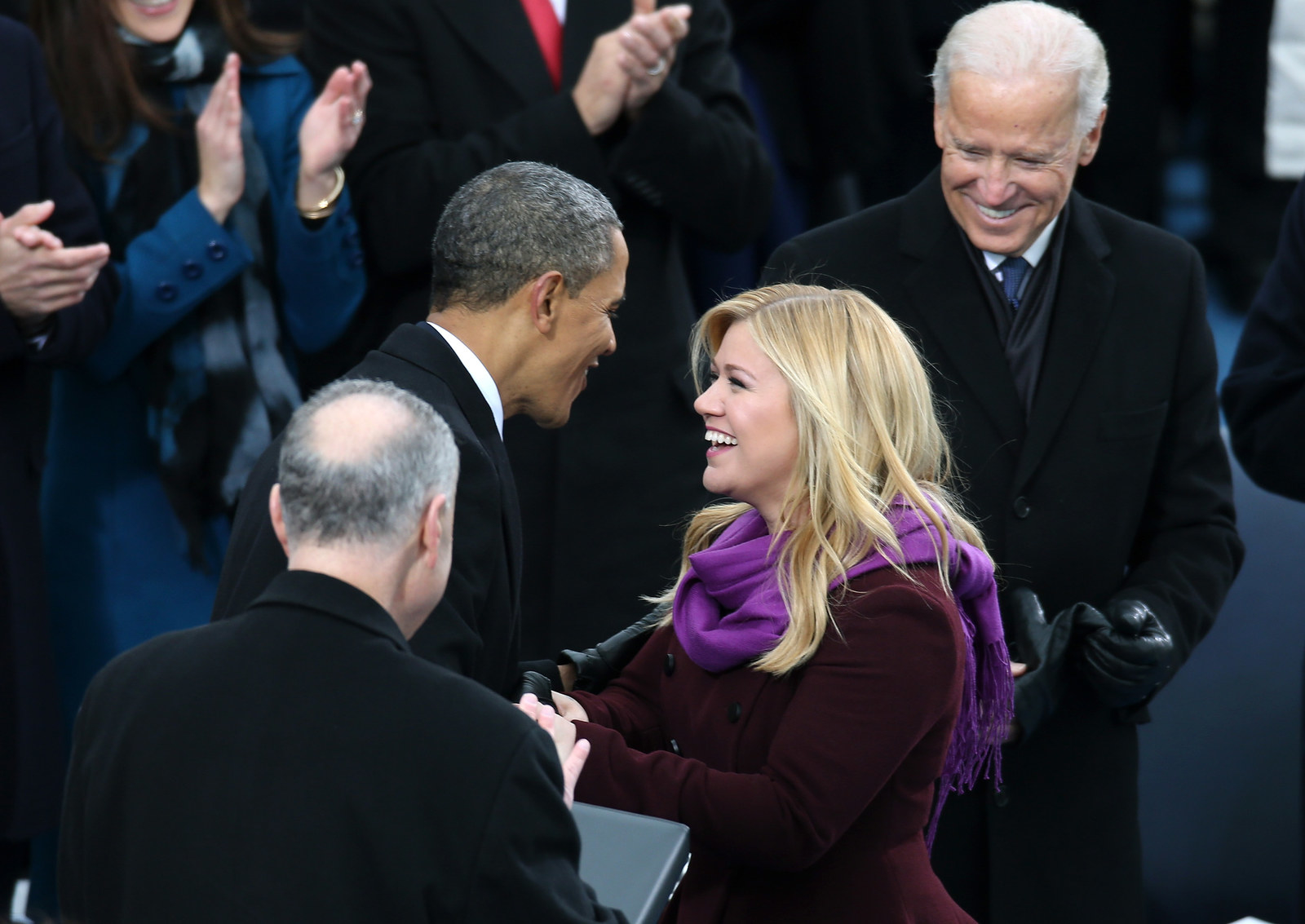 I spoke with 15 of Clarkson's fans to try to gauge how her more political statements might influence their feelings toward her. "I was a little nervous when she started getting political, because I don't really agree with some of her opinions," says Bailey Mason, a 32-year-old Clarkson fan from Birmingham, Alabama, who identifies a moderate and voted for Trump. "Honestly, I miss the old Kelly. I don't really think she needs to be commenting on this stuff." But Clarkson's fans span both sides of the aisle, and those who identify as liberal say they are glad Clarkson was speaking up. Fans more in the middle, like Theresa Duncan from Indianapolis (who says she's not registered with either party), says that even if she didn't agree with Clarkson, that wouldn't "change [the fact that] she's an amazing talented powerhouse vocalist."
It's worth noting that perhaps Clarkson has been able to be politically outspoken without major backlash because she's not constant tabloid fodder the way Taylor Swift, Beyoncé, or Rihanna are. When a massive, politically alienating event occurs, Clarkson is not the celebrity everyone anxiously awaits comments from. And Clarkson's approach when she does address controversial topics tends to be diplomatic. In the midst of Kesha's battle with Dr. Luke, she tweeted "Trying 2 not say anything since I can't say anything nice about a person ... so this is me not talking about Dr. Luke." Even her tweet mocking the president wasn't a direct endorsement of the protests against police brutality; rather, she agrees that the players should be allowed to do it. (Of course, the freedom to take that moderate position is a privilege she has, as a white woman, that is not available to everyone.) "It doesn't matter to me at all if Kelly shares my beliefs. I don't look to artists for that," says Karen Howells, a 40-year-old Kelly Clarkson fan and a self-identified Democrat. "I think what I love the most is that she seems to be the same person all the time. She isn't putting on a façade."
And on her new album, Clarkson gives a hint of what this newly honed autonomy and outspokenness could look like in musical form. It's not quite a political manifesto — the 14 songs are still largely about self-empowerment, love, and broken hearts. But Meaning of Life is more soulful, more emotional than anything Clarkson's ever produced. She still has those full, octave-jumping belts, but there's none of the light-rock sound that defined her earlier career. The album seems more in line with what Clarkson says she's always wanted: a sound more akin to black soul singers like her idol, Aretha Franklin. It took a long time to find the label support and artistic freedom to do that; over 13 years, Clarkson had to produce seven albums to fulfill her contract with RCA and Clive Davis (signed when she won American Idol).
Throughout her career, though, Clarkson has shown that remaining authentic to herself and her beliefs is more important to her than money. Now with Atlantic Records, Clarkson told Rolling Stone she's proud that her album "doesn't really sound like anything on the radio." It's not yet clear what effect her political outspokenness will have on her career, but in all likelihood, Kelly Clarkson will continue to make herself heard. ●
Kelsey McKinney is a writer in Washington, D.C.